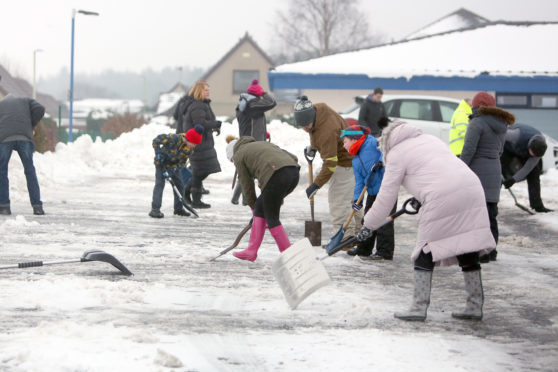 Sir, – Having read recent letters about the complete shutdown due to snowfall, I would like to make a few observations. I am 85 years old and have lived 70% of my life in the village of Balmullo.
In my younger days we always had loads of snow but at no time were the school closed as much as they are now, what with in-service days etc.
Education was what mattered most and this is obvious in that Scotland always had a very good name for children having a good knowledge of 'the three Rs'.
The youngsters in this village all had to walk to school. Some had more than a mile to go as not many people had cars in those days.
We also had limited buses: one went from the ferry at Newport to Cupar and returned.
When my mother and I decided to go to the cinema in Cupar, we went out to get the bus. Quite often it was too full so we then set off and walked to Dairsie, about one and a half miles away. If we liked the film and stayed to the end, we missed the last bus so had to walk five miles home.
These were things we just got on with.
I personally think we are more of a namby-pamby nation now, being told what to do and when. Not many of the youngsters go out and play for hours after school. They are so taken up with smartphones and so on. I decided a long time ago that I did not want a phone that was smarter than me so my phone makes calls. I have a camera for photos and when I go to a restaurant I sit and speak to my companion, not playing with a piece of equipment at the table.
Yes, thing are all different now but I am not sure they are for the better.
Ina Cameron.
Lucklaw Road,
Balmullo.
Advantages of electric cars
Sir, – Malcolm Parkin (Letters, March 5) raises the question of how electric vehicles (EV) may be adversely affected in cold weather and if stuck in snowy conditions.
Firstly, EVs consume no drive energy whatsoever while stationary in traffic, as their drive motors are not running, unlike an internal combustion engine vehicle (ICE), which consumes fuel while stationary with the engine running.
The ICE needs to keep its engine running in cold weather to heat the interior of the vehicle, whereas the EV is only using a tiny proportion of battery energy to run the heater, and possibly heat the seats and steering wheel.
Thus the bulk of the battery storage is available for onward travel when needed, unlike the ICE, which may have run out of fuel.
Various estimates show that an EV could sustain heating for 15-20 hours and still have drive energy remaining.
Secondly, the EV is not pumping out emissions that would be sucked into the heater intakes of the vehicles behind.
Even worse, ICEs may draw in their own fatal emissions if stuck in a snow drift, which an EV wouldn't.
Any worries about range apply more to the ICEs in these situations.
An EV snowplough, if based on Tesla's articulated tractor unit technology, would have a range of 300-500 miles and enough oomph to move 40-plus tonnes.
As for the police car – they are unlikely to patrol for 24 hours, as they are often stationary, dealing with incidents, paperwork at the station and meal breaks.
David Churchill.
Kirktonhill Road,
Kirriemuir.
Diesel is not dead yet
Sir, – Lots of Courier articles have covered the recent snowfall. Some are bad stories where people have been blocked in or cut off.
In some cases public transport has been called off or curtailed and the supermarkets have run out of bread, milk and other essentials.
There are also some good stories where the community has come together to help each other out during this difficult period.
The one thing that has struck me over the last few days is that in many cases farmers and those who have 4×4-type vehicles have been heavily relied on to help out during these difficult times.
Perhaps they cleared a local road or maybe they transported nurses to a hospital or maybe they ensured that a pregnant woman in labour got the help she needed.
When it comes to tax on vehicles, these are the people who are facing the highest taxes and potential new legislation banning diesels from our cities and town centres.
Perhaps we should remember what they did during the 2018 snowstorm before rushing ahead with new legislation and taxes which hammer the users of these vehicles.
Interestingly, I have not heard of any owners of electric vehicles helping out during the recent severe winter weather.
Where were those vehicles and their owners? Stuck in a snowdrift somewhere with flat batteries, awaiting a diesel tow truck to rescue them?
Alastair Macintyre.
18 Webster Place,
Rosyth.
Resources could benefit Scots
Sir, – In 2014, before the Scottish independence referendum, Sir Ian Wood, described by David Cameron as "the (oil) industry's foremost expert", stated that there are "only 15 years of reserves left (in the North Sea) before its decline starts wreaking major damage on the Scottish economy".
Since then the oil price has risen to a four-year high in January, several major new oil discoveries have been made in the North Sea – it is predicted that there will be many more – and the regional president of BP said a couple of months ago that the company hoped to double production.
And today I read that the Norwegian national oil fund had another wonderful year in 2017, about £95 billion pounds of profit, bringing the fund up to a massive £750 billion. Yet in 2016, the last reported year, rather than make a profit, the UK Government actually paid £396 million to the oil and gas sector.
Most of the oil and gas in the UK sector of the North Sea is in Scottish waters, yet all Scotland has to show for almost 50 years of oil production is a share of the UK's £2 trillion debt.
The Norwegian Government uses its resources for the benefit of the people of the country; the UK Government uses its resources to enrich the few rather than the many.
It's time for Scotland to manage its own affairs: it is inconceivable that it could do a worse job.
Les Mackay.
5 Carmichael Gardens,
Dundee.
Beach plan is madness
Sir, – I had occasion to check the date after reading the Courier's front page on Monday March 5. Yep, it was not April 1.
Sadly, the urban beach and dunescape is one of the more sensible ideas Dundee council officials have come up with since I moved here some 45 years ago.
Oh, I can just see it now. German tourists sneaking out of the surrounding hotels at 6am to reserve their sunbeds.
Local DCC wardens will need to be appointed urgently to patrol and lift the towels if unoccupied by noon.
You could not make this stuff up.
S. Crawford.
9 Sandhaven Gardens,
Dundee.
All change in athletics world
Sir, – Even as Roger Banister was electrifying the public and inspiring young runners heading for international status, the age of the amateur was already passing.
In spite of his performance at Oxford and at both the Empire and European games later that summer, the arrival of the Russian full-timer Vladimir Kuts heralded a new age.
The domination of Herb Elliot and Peter Snell in the early 1960s meant that the all-day training of Antipodean coaches Percy Cerutty and Arthur Lydiard replaced Franz Stampfl's high-intensity interval training, which had allowed Mr Bannister – and later Ming Campbell – to pursue exacting professional careers while competing.
Rev Dr John Cameron.
10 Howard Place,
St Andrews.
The mighty have fallen
Sir, – Upon listening to all rhetoric from the right wing of the Conservative Party, we were promised that leaving the EU would result in us walking into the sunlight and a new prosperity.
After listening to Secretary of State for Exiting the European Union David Davis et al, the new promise is merely that we will not fall into a "Mad Max-style world borrowed from dystopian fiction".
Oh dear, how the mightiest have fallen – and been found out.
Bryan Auchterlonie.
Bluebell Cottage,
Perth.