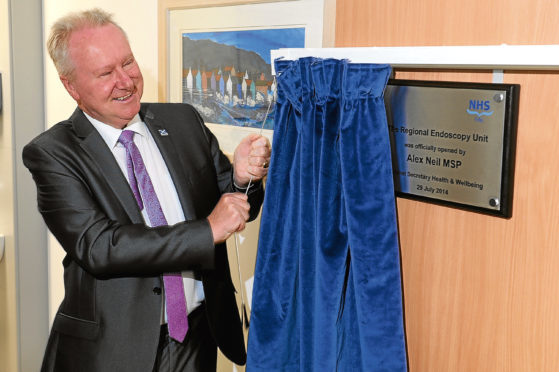 Sir, – The problems in NHS Tayside are well documented but the ills in the NHS generally are more deep seated, and relate to management.
Alex Neil, Scotland's former health secretary, recently suggested that Scotland's 14 regional health boards should be reduced to three larger bodies, with Tayside, Fife and Grampian coming under an east Scotland super-board, to improve scrutiny, and presumably be more economical, accountable and better managed ("Plea for merger of NHS Tayside", The Courier, April 9).
He is quite correct in his views, but why didn't he do something when he was in charge?
We have multiple layers of management and duplication in 14 health boards, with antiquated computer systems, and more managers than doctors.
Perhaps a solution is to follow the French system. There, those who use the health service make a small contribution to the costs of treatment.
This way the NHS would have more money and on a Sunday the queues in A&E would likely vanish.
James Macintyre.
21 Clarendon Road, Linlithgow.
Stop fiddling, find a solution
Sir, – Alex Neil must be joking when he says that "radical surgery on the bureaucracy" is required ("Former health secretary calls for NHS overhaul", The Courier, April 9).
I am certain this was a reason various health secretaries have used for their interference/ tinkering over the years, and the many changes brought.
Were we not assured that the formation of trusts was the solution?
In my time, between 1974 and 2011, we groaned when we heard about the "new improvements" that were planned.
There was a time when you knew who did what and their job title was clear on that point.
The health secretaries never seemed in post long enough then for the problems they created to be laid at their door. The only one who seemed any good was the late Sam Galbriath, a brain surgeon who worked in the NHS and who understood the problem.
Look at the problems with Police Scotland where we were assured that bigger was to be better? Now there is the fear of the planned so-called super Fire Service.
A Tayside health super-board would be even more remote from the people it should be serving, but would be loved by the bureaucrats.
Perhaps it is time for politicians to ask the people on the front line what is wrong with their heath board, as the days being lost due to stress surely prove, and not just assume they know the answer – which is this obsession to keep tinkering.
Alfred Small.
8 Claypotts Terrace,
Broughty Ferry.
NHS money well spent on IT
Sir, – It was good to see Dr Wardrop speaking up for hospital IT systems ("NHS bosses weren't wrong", Letters, April 9).
I have been selling IT for 40 years and spent a lot of time with NHS Tayside.
I would say their IT department was the best in NHS Scotland.
In contrast to the Scottish Government issues with EU Common Agricultural Policy (CAP) farm payments, Police Scotland and NHS 24, they delivered reliable systems and the innovative solutions they created were often adopted across the country.
I also agree that, in these difficult times, priorities need to be set and a good, efficient patient management system is much more likely to save a life by finding a bed, highlighting a risk or saving valuable medical staff time than a teddy bear.
Allan Sutherland.
1 Willow Row,
Stonehaven.
Managing without sugar
Sir, – I would like to point out to previous correspondents Catriona Morris (Letters, April 6) and Kathleen Perry (Letters, April 9) that long before excessively sugary drinks were invented, people like me were able to deal with pending hypoglycaemia due to type 1 diabetes with other speedy sources of carbohydrate.
To this day, more than 70 years later, I have not had to resort to a can of a sugary soft drink, said to be harmful to the general population.
People's welfare should certainly be taken into consideration by us all, including those of us who have diabetes.
Any measure which might reduce the consumption of too much sugar should surely be welcomed.
Eileen Williams.
5 Walnut Grove,
Perth.
Chemical weapons claims
Sir, – The claims by the US Government that the Syrian Government carried out a chemical weapons attack on Douma have been backed by non-stop media propaganda, as well as uncritical support, across the official political spectrum.
It's the usual mix of crocodile tears and feigned moral outrage from a government responsible for more civilian deaths and war crimes than any regime in the world today.
Within western legal systems, two principles are sacroscant.
Firstly, the presumption of innocence.
Secondly, that both sides get to present their evidence.
With the nerve agent poisoning of the Skripals in the UK, and the alleged Syrian gas attack, both of these principles have been jettisoned.
In the US when a policeman shoots down some unfortunate youth, it takes months, sometimes years, to complete the investigation.
In the case of the Syrian events, it required only minutes for the US government to affix blame.
From a military standpoint, the resort to chemical weapons is pointless.
From a political standpoint, it is counterproductive, to say the least, for the Assad regime.
For the US-backed Islamist "rebels", however, such an atrocity is a political goldmine, potentially providing a pretext for US and eventually Nato intervention into a civil war that the rebels are losing badly.
Alan Hinnrichs.
2 Gillespie Terrace,
Dundee.
The right to a merciful death
Sir, – In her new book, All That Remains: a Life in Death, the famous Scottish forensic scientist Dame Sue Black predicts that assisted suicide will eventually be legalised.
She warns that the desperate attempts by people dying in extremis, or their loved ones, to end the nightmare without professional help can be "traumatic and violent".
In fact, physician-assisted suicide for an adult in a rational state of mind, whose terminal suffering is unbearable despite the best medical efforts, is surely an idea whose time has come. We spend our lives making decisions which govern our fate so why should the morals and standards of strangers govern the way we die?
Medicine keeps us healthy and living longer but the problems of terminal distress and quality of life remain.
Far too often, as a parish minister, I saw it getting in the way of nature's merciful release.
Religious leaders may prevent their own people from accepting help, but they've no right to block the escape hatch for others.
Rev Dr John Cameron.
10 Howard Place,
St Andrews.
Don't feed the seagulls
Sir, – I welcome the visitors who come to enjoy our lovely town of Anstruther.
But recently I saw a chap exit his car on the beach front and deposit a pile of chips on the floor, which where, obviously, pounced on by the seagulls.
I pointed out Fife Council have issued various statements not to feed the seagulls.
The answer I got was: "Well, there are no signs here and everyone else does it."
Maybe a local by-law making it an offence and more signs to instruct visitors not to feed the seagulls may help?
Charlie Burton.
Fowler Street,
Anstruther.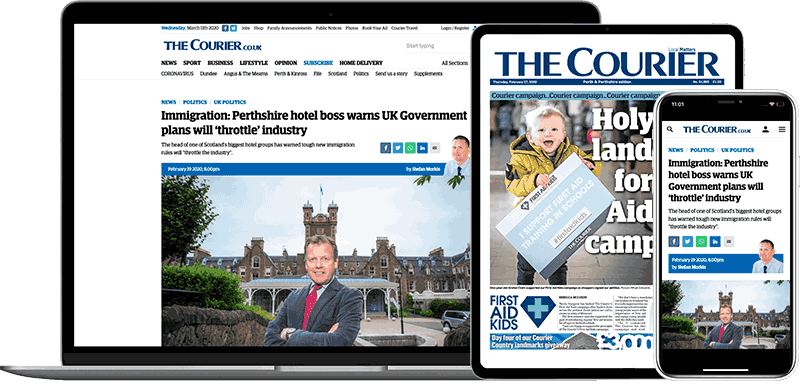 Help support quality local journalism … become a digital subscriber to The Courier
For as little as £5.99 a month you can access all of our content, including Premium articles.
Subscribe