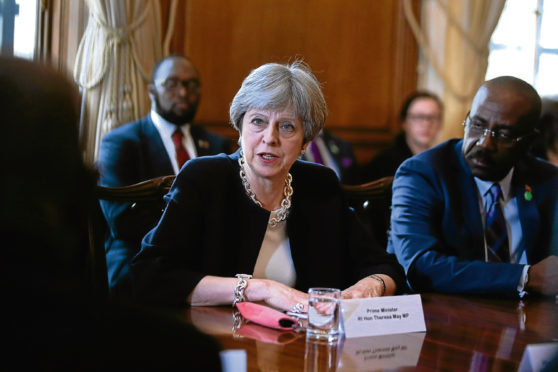 Sir, – I have been appalled by this week's revelations about the "Windrush" immigrants.
These were people who were actively encouraged to come to this country and rebuild the infrastructure after the last war.
However, they ended up facing alienation from this government.
The Windrush generation came from Commonwealth countries in the 50s and 60s to help build and run our public services like the NHS.
After decades of living and working in the UK, thousands of people have been wrongly told they are here illegally – and some may even have been deported.
One wonders who will be next?
The Westminster Government has already alienated our European friends with veiled threats surrounding their future in this country.
Again these are people who are working in our NHS, the soft fruit sector, in hotels, cafes and so on.
They have made this country their home and contributed to our economy.
The question now is where will this stop?
Will it extend to the Welsh, Northern Irish and indeed Scots, with the powers of their respective devolved administrations stripped of any meaningful powers, instead being dictated to from Westminster?
Are we going to just sit back and let the Tory Government do their worst?
Alternatively, is it now time to make our case for a separate path for Scotland?
Graham Smith.
135 Charles Avenue,
Arbroath.
Offices will spoil prime location
Sir, – It seems that Dundee Council's planning department has once again scored an own goal by allowing a hotel and offices to be built directly across from the V&A.
Millions have been spent on bringing the flagship V&A to Dundee and to erect such a high building right in front of it is a disgrace.
The location will of course suit the office workers and hotel guests who will have a great view of the museum and the river, but at what cost?
Thank goodness I don't live in Dundee where I would be forced to look at yet another office block in a prime location on the city's waterfront.
Al Buntin.
7 Provosts Walk,
Monifieth.
Intervention was unedifying
Sir, – Esther McVey's appearance at Holyrood's Social Security Committee was reported on the BBC's Reporting Scotland.
The report concentrated on the unseemly heckling she was subjected to by members of the public, causing proceedings to be suspended on more than one occasion, as she addressed the so-called "rape clause".
Firstly, it baffles me why there is a public presence at these serious meetings when the inevitable consequences are disrupted by an ill-informed and boorish element with either personal axes to grind or who are there for party propaganda purposes.
Either way it is unedifying, unhelpful and preventable but sadly gives the TV producers what they would mistakenly describe as "good television".
Secondly, no mention was made in the BBC report of Prof Tompkins' question regarding the likelihood of Holyrood being ready and able to take over the benefits system by 2021.
Ms McVey said: "We need more information coming forward and we need it quicker and with greater clarity."
She added: "At the same time we will have to put measures in place to ensure that, if the Scottish Government can't do it, we will no doubt end up doing it through agency agreements."
With the well- documented list of SNP failures – farmers' payments, Police Scotland, NHS, the education system and so on – one wonders what possible hope there is that this most complicated of all their challenges so far will not result in anything other than another hopeless debacle with Westminster providing the safety net once again.
Donald Lewis.
Pine Cottage,
Beech Hill,
Gifford.
Coverage was intrusive
Sir, – Can someone explain to me the meaning of "in the public interest?"
This week, in all our newspapers, was the heart-rending picture of a young man who is broken.
Ant McPartlin's picture represented an intrusion that neither he nor his family deserved.
We talk about mental health issues and yet we expose a struggling young man to gross media attention.
One wonders, is this exposure to enlighten or to titillate?
Barbara Sturrock.
12 Invergowrie Drive,
Dundee.
Councillor is mistaken
Sir, – I am appalled at the treatment meted out to Reverend Mike Goss of Barry linked with Carnoustie just now.
I am particularly upset at some of the things Councillor Brian Boyd has been saying.
Mr Boyd states (Courier, Tuesday April 17) that Mike Goss does not enjoy a good relationship with other ministers of the town.
I wish to put the record straight on that.
I am an ordained local minister and work in churches throughout Angus Presbytery, where I am required.
For a four-year period Mike and I made up the team ministry at Barry and Carnoustie.
During that period I had the greatest respect for all his work.
He always had advice for anyone who asked and I can assure everyone that Mike has a big heart for all who are in any kind of need.
He and I had some disagreements during our time together but always resolved them through discussion.
I sincerely hope that people throughout this town will remember Mike and his family in prayer; just as Mike prays for all others in need.
I wish to say also that Councillor Brian Boyd should not include me when he says that there is a poor relationship between Mike and other ministers of this town.
I don't believe I have ever had a conversation with Mr Boyd, and I can't remember ever having seen him in any church either.
Rev Dougal Edwards.
25 Mackenzie Street,
Carnoustie.
Scots will be hard to silence
Sir, – With regard to the Scottish Government's EU Continuity Bill, it was this week claimed that: "The SNP pushed its alternative to Westminster's Withdrawal Bill through the Scottish Parliament" (Courier, Wednesday, April 18).
However, the EU Continuity Bill is not only an SNP motion; it was a Scottish Government plan, opposed only by the "Scottish" Tories.
The bill safeguards Scotland's powers after Brexit, from a power grab by Westminster.
The Bill was passed overwhelmingly by 95 votes to 32, showing the Parliament's vow to protect Holyrood from the claws of Mrs May's minority Government.
The legal challenge to this bill is a blatant attack on both Scottish and Welsh devolution, and the EU Continuity Bill designed to stop this assault is within the legal remit of Holyrood, according to Lord Advocate James Wolffe, the Scottish Government's top legal adviser.
Attempts made by Westminster to strip the Scottish Parliament of powers is a direct attack on democracy (as they have already recently bypassed Parliament), and the Scottish Parliament's ability to act in the best interests of Scotland, rather than serving the current occupant of the Oval Office.
If the minority Tory Government continues to pursue this policy of forcing subservience to their malign Withdrawal Bill, and to a government that Scotland didn't vote for, they will find us difficult to silence.
Lloyd Melville.
East Garden Cottage,
Duntrune.
We must share responsibility
Sir, – A few days ago, Nicola Sturgeon told the Chinese that China and Scotland "face similar challenges".
She doubtless tells her friends in the Nordic Council the same.
The one country she will not admit "faces similar challenges" is the UK, or, more accurately, England.
This is the country with which we in Scotland have most in common, with whom we share our island.
Yet the outgoing and "inclusive" SNP will embrace any other country in the world while turning its back on England – the country whose taxpayers fund Scotland's so-called "free" services.
Jill Stephenson.
Glenlockhart Valley,
Edinburgh.