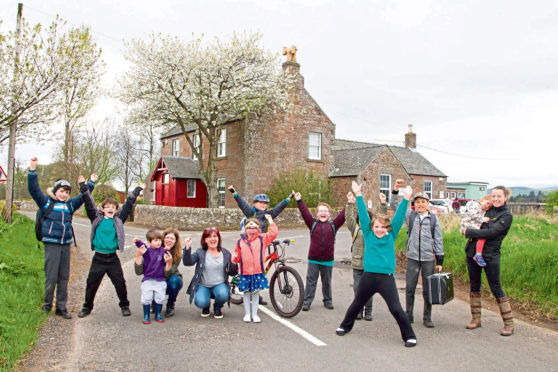 Sir, – Our Angus councillors are to be congratulated for rejecting the ill-founded and deeply unpopular decision by officials to close Stracathro School.
The proposed closure was not based on financial concerns we were told, but on the disadvantages the pupils suffer by going to Stracathro.
Judging by the 100% support for keeping the school open by present and past parents, and by the excellent record of former pupils, this reason seems flimsy.
To have closed the school would have ripped out the heart of a strong rural community. This was never considered by the decision makers, and it reinforces the perception that there is a clear preference for centralisation among many employed by Angus Council.
This can be shown by the irrational reorganisation of the recycling provisions in Angus and by the presumption against housing, even affordable, in rural areas.
More than a quarter of the residents in Angus live in the countryside (40% if small rural towns are included), and it is time their interests are also recognised. Rural areas in Angus face unprecedented threats (and opportunities) through Brexit and we all need to work together to ensure that rural communities are not disadvantaged. We must encourage development, and ensure there is a sufficiency of affordable houses to achieve this. There has to be a change of attitude by officials, and the end to irrational decisions such as closing thriving country schools.
Hughie Campbell Adamson.
Millden of Stracathro,
Brechin.
Hard facts of austerity Angus
Sir, – I have observed with some despair the recent decisions of Angus Council to restrict the opening hours of the tips and to propose imposing parking charges.
Both courses of action are counter productive. Making it less convenient for people to use recycling centres may result in more fly tipping in our countryside. The proposed parking charges may impact further on the viability of local shops that are already struggling.
However, I do understand that local councillors face difficult decisions trying to balance what they cut with ways to increase income. These decisions are in the context of 10 years of cuts from Westminster. The austerity policies of the UK Government have also brought increased child poverty, stagnant wages, standstill productivity and increased government borrowing and the more Westminster sticks to these policies the more our standard of living is eroded.
The overwhelming opinion of economists is that "austerity" as a policy does not work – it stifles growth, increases inequality and results in stagnation, at best, depression at worst.
The more these policies continue, the more we will face cuts in local services.
Austerity means the only arguments to be made locally among the political parties are over what bits to cut and what charges to increase – parking charges here and cut backs in recycling services there. It is of no credit to our MP, who criticises councillors about decisions on cuts to local services when she is part of the governing party that has imposed austerity on the many while giving tax cuts to the rich.
"Austerity" as a policy is only supported by one political party in Britain. So the solution to this politics of despair is deceptively simple – don't vote Tory.
Brian Batson.
Lour Road,
Forfar.
Who needs the Lyon's den?
Sir, – I read the article on Craigie Primary School which will have to pay an outdated quango £1,800 to retain its school badge, which has been in place since 1952.
What a nonsense to apply a 300-year-old act of a defunct Parliament. Do we really need such an office, whose only practical function is to look after the Queen's official duties in Scotland, which I am sure could be handled by many others?
What does it cost per annum to keep this outdated facility operational? What does Joseph Morrow (Lord Lyon) get paid for his office?
The parent who suggested letting the children design their own badge makes a lot of sense – as does the idea of telling the Lord Lyon to look for income elsewhere.
George Sangster.
Logie,
Montrose.
Dundee stars deserve acclaim
Sir, – I read the recent article on the Discovery Walk of Fame, and would like to nominate two Dundonians worthy of plaques in the walk.
The plaques have to be merited regardless of sex, and my two nominees are both gentlemen in every sense of the word.
George Kidd was a gentleman of the wrestling world and winner of many international titles; and boxer Dick McTaggart was a very highly-regarded Olympian, having won gold in the Melbourne Olympics in 1956.
It would be lovely to honour two locals in this wonderful walk, and I hope consideration will be given to their admission into the Walk of Fame, Dundee.
Norma Duncan.
Well Street,
Monifieth.
Referendum remains a goal
Sir, – My wife and I took part in the "All under one banner" march in Glasgow on Saturday. It was one of the biggest political demonstrations in Scotland's history: 91,000 people (the initial police assessment of the numbers) of all parties and none, Scots of all nationalities, marching for the right to run our own country.
And they say there is no demand for another referendum.
Les Mackay.
Carmichael Gardens,
Dundee.
Independence numbers game
Sir, – As thousands march in favour of separatism in Glasgow, Nicola Sturgeon will nonetheless be painfully aware opinion polls are consistently against her teenage independence dreams.
However enthusiastic Ms Sturgeon's devoted band of dyed-in-the-wool supporters may be, in the event of another independence referendum, let's all remember it would be one person, one vote.
Martin Redfern.
Woodcroft Road,
Edinburgh.
Waiting for an opening
Sir, – Lesley Laird complains that I haven't raised her attendance as a councillor "in an open forum". The only "open" events where I come across Mrs Laird these days are council meetings with fixed agendas and rules. It would be inappropriate to raise the subject there.
After the recent meeting in Inverkeithing there was a non-public workshop for councillors. I stayed and took part; Mrs Laird left.
The only other times we see her are at the informal, non-public ward meetings that the councillors have every six weeks. In Ward 6, these are on Fridays to fit her parliamentary week. We had one on Friday and I was looking forward to asking Mrs Laird how she fits the duties of a councillor into an MP's spare time. Unfortunately, she didn't show up.
Perhaps I'll get a chance next month.
Cllr Dave Dempsey.
Carlingnose Park,
North Queensferry.
Remembering not just the Few
Sir, – Thomas Brown's fine letter (May 5) about his encounter with a Lancaster bomber at Strathallan airfield would have struck a chord with many.
Andrew Mitchell, my mother's first husband, lost his life along with thousands of others in Bomber Command, while serving as a mid-upper gunner in a Lancaster.
She'd watch his Lancaster take off on each raid and when elderly and in tears she would sometimes sing "When you come home once more…"
We should always remember The Few, but we should also remember our Many. Strathallan, I am sure, served well in that regard.
Leslie Isles Milligan.
Myrtlehall Gardens,
Dundee.
Entertainment wins the day
Sir, – I was disappointed to read Steve Scott's negative and parochial comments re the European Tour Golf Sixes on the basis that no home grown or women's team reached the semi-finals. It was great entertainment irrespective of who was playing. All of the teams displayed fine sportsmanship aligned to a very high standard of play and Ireland ran out worthy winners.
Ian Stewart.
12 Boyack Crescent,
Monifieth.