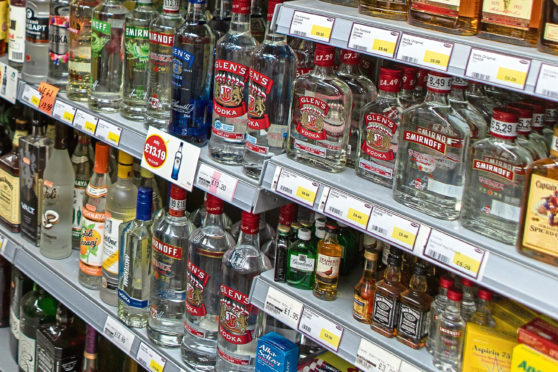 Sir, – I have rarely seen in your columns a letter so steeped in ignorance as that from Chris Sutherland (May 4) criticising minimum pricing for alcohol.
I would suggest he familiarises himself with some life stories of those whose lives have been blighted by alcohol, whether drinkers, former drinkers, families or friends.
Alcohol contributes significantly to crime, domestic violence, dysfunctional families, broken homes and relationships, homelessness and destitution, bankruptcies, significant mental health issues and suicide, as well as the commonly reported stresses and strains on our NHS.
Alcoholism has long been recognised as an addictive illness yet treatment is considerably under-resourced with privately funded rehabilitation generally well outside the resources of the majority of sufferers of this potentially fatal disease.
Mr Sutherland also demonstrates a strange class arrogance by claiming the introduction of minimum pricing is laced with hypocrisy, with middle-class health professionals trying to save the working class from their own self-destructive tendencies.
Alcohol misuse is by no means the prerogative of the working class but the availability of cheap booze is a recognised route for many people into alcohol abuse, crime and violence. It is morally reprehensible and unacceptable that supermarkets should be allowed to continue to offer low-priced alcohol knowing it has the potential to cause so much physical and mental damage.
Contrary to Mr Sutherland's views, the Scottish Government should be congratulated on a pioneering strategy.
M Duncan.
West Huntingtower,
Perth.
Twenty is not always plenty
Sir, – I refer to the plan by Mark Ruskell MSP to roll out 20mph speed limits in residential areas throughout Scotland.
An obvious question, is how will such limits be enforced when Holyrood has presided over continuing cuts to local policing in favour of centralisation of services?
He takes his idea from the Fife Council practice of erecting 20mph signs in towns and villages and seems to advocate a voluntary code of adherence. I can tell your readers, since I live and drive in Fife, that such adherence is patchy at best, and ignored by drivers who see little point in reverting to horse and cart speeds when modern vehicles have much enhanced braking systems.
A further question is, if we have 20mph limits, why do we also need speed bumps, such as those in the village of Largoward?
I could agree with such constructions in the immediate area of the village school, but in this case the bumps are throughout the village main road and, of course, are ignored by HGV, high-clearance vans and 4×4 vehicles that are comfortably able to drive over them at 20-30mph.
Instead of holding up Fife Council as a shining example of road and traffic management, Mr Ruskell might be better employed in persuading the authority to improve the dire state of Fife's road surfaces, which by themselves are a traffic-calming measure because of potholes, flooding and lack of proper surveillance of road works carried out by utility companies whose contractors regularly bodge the restoration of road surfaces.
Derek Farmer.
Knightsward Farm,
Anstruther.
Green light for reasonable view
Sir, – I read Jenny Hjul's column every week, hoping that, if I persist, I might find something with which I agree: but to no avail.
So it was with this week's missive, in which she attacks Green MSP Mark Ruskell for being, well… green. After berating him for the eminently sensible proposal that speed limits in built up areas should be reduced, she suggests "his priority is the planet, not the people who live on it". If we don't prioritise the welfare of the only planet we have, we really will be heading for catastrophe.
She goes on to complain that the Green Party "with just six out of Holyrood's 129 MSPs…holds undue sway over policy because of its willingness to prop up the minority SNP government". She conveniently forgets the DUP, with 10 out of 650 MPs, holds her beloved Tory government in Westminster to ransom, bribed with £1 billion of taxpayers' money.
She goes on to lambast him for wanting a small tax rise for the better off, to be spent on public services, as opposed to the UK Government who favour tax reductions, but only for the very rich.
She accuses him of being a "fan of land redistribution", as if this were unreasonable in a country where 50% of the land is owned by fewer than 500 people.
And she is unhappy about his views on "a citizens wage", which is indeed untested but given the many challenges ahead, surely we need consider radical measures.
She concludes by suggesting Mr Ruskell is "the most extreme green". He seems perfectly reasonable to me. I would suggest that, in modern Scotland, Ms Hjul's views are the ones which are out of line.
Nevertheless, I will look forward to her next column, ever hopeful.
Les Mackay.
Carmichael Gardens,
Dundee.
Tories own issues on race
Sir, – The Conservative Party and its supporters are loud in attacking the Labour Party for the occasional wrong judgement and slowness of internal procedures in investigating allegations of anti-Semitism.
So it's interesting to see how the Conservative Party deals with the racist element inside its ranks. When London Tories tried in vain to prevent the election of Labour's statesmanlike London Mayor Sadiq Khan, they ran a campaign soaked in racism and anti-Muslim prejudice.
In Brighton this month, Tories ran a council candidate who had written an article claiming Enoch Powell's "Rivers of Blood" speech was correct. And in Lancashire when a Conservative councillor in Pendle retweeted comments portraying Asian people as dogs, she was merely suspended for three months and then reinstated, turning up at the vote count of local elections this month wearing a blue rosette. That allowed the Conservatives the majority of one needed to take control of Pendle Council, and the chairman of the party nationally tweeted that it was victory for a great team.
It's no coincidence that this happened in the party of a Prime Minister who refused to take action when a Caribbean man who came to Britain in 1974 to join his mother, an NHS nurse, was told he would not get radiotherapy for his prostate cancer unless he paid £54,000. Or that they then held a vote in the House of Commons allowing them to cover up documents showing Theresa May's role in the unfair treatment of Windrush generation immigrants.
Phil Tate.
Craiglockhart Road,
Edinburgh.
Optimism from a dinosaur
Sir, – As a member of the "order of ancient dinosaurs" I feel that the once upon a time known world is fast disappearing. Today's state of the art communications and computing technology, with ever more people spending much of their time staring at screens, seems most peculiar.
Effective person-to-person communication has, unfortunately, become a thing of the past with, it would appear, mainly negative results. While endeavouring to remain optimistic, an outlook which may now originate from "Another World", we trust and hope the future turns out well.
Kenneth Miln.
Union Street,
Monifieth.
Dunkirk facts remain unclear
Sir, – The recent film on Dunkirk rightly pays tribute to the many small craft and their crews, who so greatly assisted the evacuation, but it leaves out most of the inconvenient facts.
Dunkirk was a disaster on an unimaginable scale. Yes, 338,226 troops were evacuated, two thirds of them British. But they had been sent to fight the Germans and instead they abandoned 472 guns, 63,879 vehicles and an incredible 76,097 tons of ammunition.
Even Churchill was obliged to state that it was far from a victory but a defeat.
What I found even more disappointing in the film was there was not so much as a "PS", pointing out that for 10 days after the evacuation was completed, the Highland Division, alone and deserted, continued to fight the might of Rommel and his Panzers, but I suppose that truth doesn't fit so well with the myth.
Joseph G Miller.
Gardeners Street,
Dunfermline.