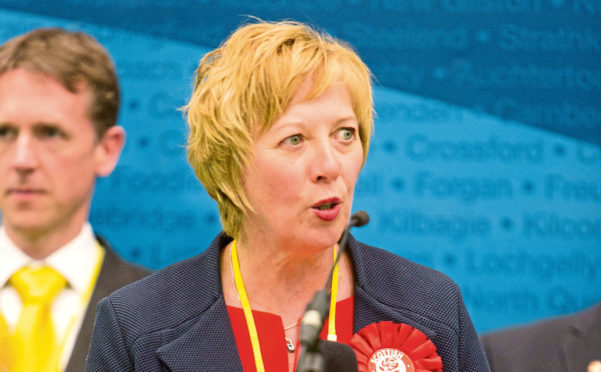 Sir, – I am interested in the article in The Courier (May 12) about the councillor who lives here in Fife but is representing people in Cambridge almost 400 miles away.
I would agree with calls that Mr Adey should step aside and allow someone more local to do the job and in the interests of local democracy it would be the fair thing to do. On the other hand can any of us here in Fife complain about this? Our very own Fife councillor Lesley Laird is doing a very similar thing in that she holds four different jobs and is an MP at Westminster.
She now spends more time at Westminster and much less time representing the constituents of the Inverkeithing and Dalgety Bay ward and I believe she has only attended the minimum amount of council meetings that entitle her to retain her councillor status.
If people are calling for Mr Adey to resign his seat in Cambridge then surely Ms Laird should be doing the same up here and allowing someone who spends more time in Fife a crack at the whip? How can she be at Westminster and represent the people of Fife at the same time?
Perhaps the rules regarding who can become a councillor, where they live and what other offices they can hold need tweaking.
If Mr Adey still has an interest in politics then why not stand for office here in Fife instead? I am sure he would make a great councillor/local representative here in Fife and would be a welcome addition. He certainly could not be any worse than those currently serving.
Alastair Macintyre.
Webster Place,
Rosyth.
Students are victims too
Sir, – Following the debate surrounding Fife Council's decision to impose a threshold on HMO properties in St Andrews, I wanted to give the perspective of a St Andrews student living in private accommodation.
This is not a direct response to Councillor Holt's letter to the paper, as she seems to have made up her mind that students are nothing but troublemakers who should be locked up safely in halls of residence.
Instead I would like to respond to Councillor Thomson's claim that "there is currently no shortage of accommodation for students in St Andrews".
This betrays a deep lack of understanding for just how difficult it is to find affordable student accommodation in St Andrews.
The discussion around the HMO ban sometimes seems to suggest that students are choosing to push up prices in residential areas. Please understand that I did not choose to move into a bungalow near a primary school next year. I did so because exceptionally high competition and extortionate rates in the town centre forced me to.
St Andrews has a housing problem, but the students are not the problem. Like the rest of the town's wonderful and diverse community, they are the victims. A long-term solution will require the university and local authorities to work together and I hope all parties realise this before St Andrews becomes an option for only the wealthiest of students.
Euan Notley.
Largo Road,
St Andrews.
Where is the evidence?
Sir, – Having served in the police service in Scotland for over 30 years, and being the father of a current full time student at St Andrews University I feel I must comment on the update provided in Saturday's Courier by Councillor Holt as I am somewhat astounded by her sweeping and unfounded statements.
As I anticipated this elected member is representing the views of the Scottish Conservative Party first and foremost.
Whilst I am in agreement that the cost of student accommodation in the town is extreme I feel that it is reflective of other similar top performing university towns and cities across the United Kingdom.
The main area of my concern is the stereotypical statements made by this councillor with regard to the students "lack of regard for St Andrews' permanent residents". That is utter nonsense. In my four years' close connection with the area I have found that all the various students and officers from the university that I have met are acutely aware of the need to be very respectful and treat all of the permanent and transient residents with very high regards.
The sweeping statements about reported incidents of anti-social behaviour in the town being triple the next highest rate in Fife and triple the Fife average seem to suggest there is a direct correlation to the students of St Andrews University. Again this is ill-founded and stereotypical nonsense.
Where is the hard evidence, survey data and analysis to support these statements? Has this come from Police Scotland or has the councillor been keeping her own statistics as a qualified expert in criminology and psychological analysis of incidents of anti-social behaviour?
Grant Edward.
Arbroath Road,
Broughty Ferry.
Voters ignored over eyesore
Sir, – I really don't know where to start on this issue but here goes.
I pass the new office block under construction at the waterfront in Dundee a couple of times a week and I am absolutely appalled and disappointed this was given permission.
What are Dundee councillors and planners thinking about passing this monstrosity? We just pulled one down a while back in the case of Tayside House.
It more or less obstructs the lovely view we had of the new Victoria and Albert Museum from the Union Street area and I cannot understand for the love of me how this got the go-ahead. Is it because Dundee City Council is moving there or is this a rumour?
I have spoken to numerous Dundonians about this structure and they are unanimous in the opinion that it is an eyesore in what was and could have been a lovely grassed area from which to enjoy the view of the waterfront in all its glory.
That's Dundee City Council for you. They do not listen to the people who voted for them, which is a pity
Bill Lumsden.
Pedwarden Road,
Perth.
Troubles go on for the troops
Sir, – It is little short of a national disgrace that our government is ensconced yet again in what can only be described as a "witch hunt" of our soldiers (following its refusal of an amnesty for those caught up in the Northern Ireland Troubles).
Having not taken any lessons from the spurious charges laid against our soldiers in Afghanistan and later discharged, attention has turned to the brave troops who fought the IRA.
This was a bloody and ferocious campaign with no quarter given by the IRA, who sought to kill and maim indiscriminately.
In the main and by contrast our soldiers fought under "the Marquis of Queensbury Rules" and discharged their duties with honour and dignity and in horrific circumstances.
Now an amnesty given to IRA members has been refused to British soldiers, and prosecutions are in place, some going back some 40 years.
Our soldiers did not use explosive devices, nor car bombs against civilians, nor threaten teenagers with power drills, nor use kneecapping and other ruthless and indiscriminate methods.
Many terrorists were given pardons when patently found to be guilty.
This is an indictment on a government which would happily choose to appease its past enemies rather than uphold and defend its troops.
One wonders, as these cases proceed, if we will even have an army in the future. For who will serve in the face of such political disloyalty?
David L Thomson.
Laurence Park,
Kinglassie.
Soldiers back in the firing line
Sir, – Northern Irish terrorists and suspects were pardoned in the 1998 Good Friday peace deal while others were given "letters of comfort" by then Prime Minister Tony Blair guaranteeing they would never be prosecuted. The fact is civil wars are ghastly and at some stage both sides have to draw a curtain over the past.
Sadly British soldiers caught up in the nightmare 40 years ago are again in the firing line. Theresa May, desperate to keep Sinn Fein politicians sweet as the Brexit fiasco staggers on, has thrown our geriatric veterans under the bus. A new "legal" witchhunt will now review every death attributed to our squaddies.
You couldn't make it up.
Rev Dr John Cameron.
Howard Place,
St Andrews.