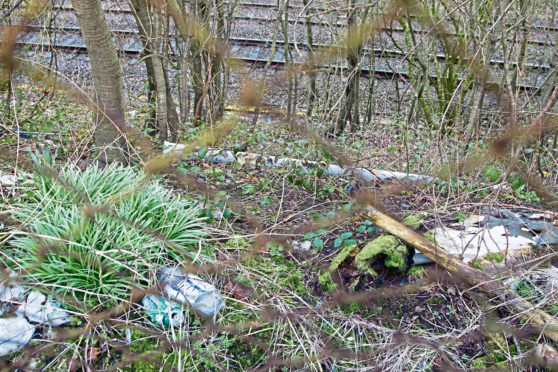 Sir, – Dig around the hedgerows of Scotland this spring and summer and you will be in for a surprise.
Hidden behind foliage and at the bottom of ditches is a huge volume of litter that has been building up for many years.
In recent years, however, the amount of rubbish seems to have been increasing.
On a walk around country roads near Arbroath I was puzzled to see the type of material that is being dumped.
Much of it seems to have been thrown out of vehicles' windows.
I came across beer cans at the bottom of a roadside ditch.
By their faded appearance, these seem to have been there for many years.
Are drivers really having a swig at the wheel and tossing out their empties?
On a verge, miles from the town, there was a carrier bag of six empty super-strong cider bottles. Odd place for a party.
Further along the road, someone had dumped a fish tank. We really need to clean up our act.
Robert Anderson.
Kirkton,
Arbroath.
In defence of university
Sir, – Councillor Linda Holt's claim that St Andrews University and its students have engaged in the "social cleansing" of St Andrews has caused palpable anger amongst our students and staff.
Social cleansing is defined as "class-based killing that consists of elimination of members of society considered "undesirable," including but not limited to the homeless, criminals, street children, the elderly, sex workers and sexual minorities."
Councillor Holt should of course unreservedly withdraw her deeply offensive and inappropriate remark, but there is as yet no sign of the Tory councillor doing so.
Regrettably it was one of a number of serious howlers she made in her statement to north-east Fife area planning committee during the HMO debate last week.
In these columns, others have already capably addressed her erroneous claims about the anti-social behaviour of students.
Her further claim that St Andrews University has "the lowest proportion of students from poor backgrounds" is also false.
By the Scottish Government's own measures, St Andrews admits a greater proportion of students from deprived areas than a number of other leading universities. 49% of our current first year class of Scottish students came from a deprived area, a low progression school, had a background in care or were in receipt of free school meals.
Niall Scott.
Director of Communications,
St Andrews University.
Renewables starved of aid
Sir, – Once again I am confused by the woolly thinking and rambling nature of Alex Bell's latest column (SNP policy has proven to be a complete waste of energy, May 15).
I would have thought that in mentioning the Norwegian wealth fund figure of "a trillion dollars" he might at least have commented on why the UK Government didn't introduce such a scheme or look at the massive benefits reaped by Norwegian society.
But no, as usual he attempts to denigrate the Scottish Government and – even more galling – talks of the SNP's "abject failure to capitalise" on renewables. This is without any mention whatsoever of the colossal 56% slump in one year of investment in renewables since the UK Government – not the Scottish Government – slashed the help available.
Perhaps Mr Bell should ponder why the UK Government seem to be so keen on hampering the renewables industry in Scotland. But then he probably couldn't get a story that painted Scotland in a bad light out of that, could he?
Graeme Finnie.
Albert Street,
Blairgowrie.
Some lessons for councillors
Sir, – I was saddened though not surprised to learn some councillors in Angus are in favour of charging teachers to park at their schools.
I know Angus, like most councils, is strapped for cash, but surely they can't fail to realise how downright stupid this would be.
At a time when teacher recruitment is in crisis, don't they realise it would be another barrier in the way of attracting fresh faces to the area? It might also quicken the departure of those experienced teachers already buckling under excessive demands.
I acknowledge that budgets are tight and a combination of cost-cutting and revenue-raising is essential for even the most basic services to continue. However, I wholly disagree with this intent to inflict more misery and hardship on teachers, many of whom already dip into their own pockets to top-up classrooms with much needed stationery and books.
Of course, it's easy for armchair critics to simply slam suggestions and so I have some ideas which might help. Firstly, instead of their Education Directorate spending most of their time tweeting and facebooking about this all-expenses-paid learning fair and that all-expenses paid teaching conference they're just back from, what about getting them back in the classroom? I'm sure that those worthy of their executive-salary promoted posts would relish the chance to lead the learning and teaching process, and to show support by working alongside teachers.
As for the councillors, what about some prudent housekeeping? I shan't hark on about the empty floor space at the multi-million-pound Orchardbank Forfar HQ as it's easy to be wise after the event. However, if Angus councillors wish to be wise before the event, they'll resolve not to splash out on corporate hospitality at the forthcoming Open golf championship at Carnoustie.
Now what a rare and noble cost-cutting act that would be and one to which we all might raise a Pimms or two.
Jamie Buchan,
Grove Road,
Dundee.
A Scotland open to all nations
Sir, – GM Lindsay, in response to my letter about the SNP march last weekend, asks what I meant by "Scots of all nationalities".
As a point of accuracy, the organisation of the march had nothing to do with the SNP, but was a non-party initiative, welcoming participants from all parties and none.
But, to the question: in the 2014 Independence referendum voting was open to anyone who was resident in Scotland and over the age of 16, including citizens of the EU and the Commonwealth.
If these people are considered to be eligible to vote on such a crucial decision as the future of Scotland, then I think they should be considered as Scots.
I would contrast this with the Westminster government's encouragement of a "hostile environment" for these particular groups, as well as many others.
Les Mackay.
Carmichael Gardens,
Dundee.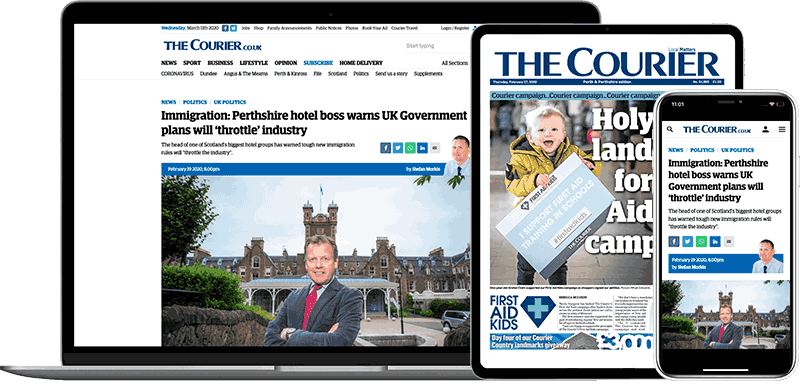 Help support quality local journalism … become a digital subscriber to The Courier
For as little as £5.99 a month you can access all of our content, including Premium articles.
Subscribe