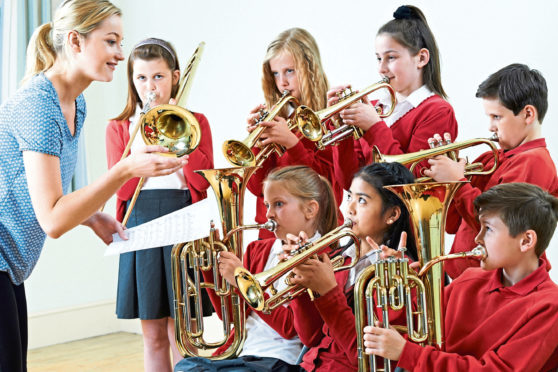 Sir, – Having read in The Courier the article about the 60% increase over three years to instrumental tuition fees in Perth and Kinross, I would like to add my own expressions of disappointment and anger at this outrageous proposal by the Tory-led council, which is a "back door" way of making instrumental tutors redundant.
The councillors know that many not-so-well-off families are going to struggle to pay the over-inflated fees; they also know that pupil numbers will drop, affecting the pupil/teacher ratio, thus giving them the excuse to pay off tutors.
As an ex-principal teacher of music at Blairgowrie High School, I would like to remind the council that the instrumental music service is the greatest educational success story in our county. I add my support to the communications it has already received from the Perth and Kinross Music Foundation, the Young Musicians' Parents Association and Perth Youth Orchestra, and if any protest march is to happen I would like to be a part of it.
Alister Y Allan.
Castle View,
Perth.
Calling time on carbuncle
Sir, – Has the planning department at Dundee City Council lost the plot?
I refer to the carbuncle which is currently under construction directly opposite the new V&A Museum.
I cannot believe the planning department approved this structure.
At present the V&A Museum and the new train station compliment each other.
Unfortunately this is about to change as the new building will block out what was a marvellous view from the city side.
I would be very surprised if the architect for the V&A museum had any idea what was to be built in front of his amazing iconic building.
I just hope the planning department have the common sense to salvage any credibility that they still have and review this application before it is too late.
Anthony O'Shea.
Farington Terrace,
Dundee.
Mixed messages for motorists
Sir, – I note from the news that Keith McNamara of Perth and Kinross Council has advised people not to travel into Perth between 10am and 2pm this Saturday, due to the BBC music event at Scone Palace.
Yet in The Courier on May 23, I see the first Fair City Market of the year is to be held in King Edward Street from 9am, with organiser Adeline Watson saying: "We will be encouraging visitors to come into town and experience what Perth has to offer".
Left hand, right hand anyone..?
Duncan Cameron.
Haddon Road,
Perth.
All signs point to traffic chaos
Sir, – The complicated road traffic restrictions issued by Perth and Kinross Council for the BBC Big Weekend at Scone Palace read like a script for a vintage Laurel and Hardy movie.
They have advised motorists to avoid coming shopping to Perth from 10am to 2pm.
Now we learn that the Perth Farmers Market will be in the centre of Perth on Saturday and they are also hoping for visitors at much the same times.
It all sounds like the last line of one of those old-time comedies: "Another fine mess you have got us into…"
Robin Valentine,
Burnbank.
Bridge of Earn.
A question of integrity
Sir, – Much of the comment on the resignation of Conservative MSP Peter Chapman as opposition spokesman on rural affairs has implied that because he was lobbying on behalf of Aberdeen and Northern Marts (ANM) he may have been in some way trying to further his own interests.
Well here is a different perspective on the matter.
Peter Chapman puts £50,000 of his own money into a NE farmer's co-operative group that exists to support the rural economy. During his continuing efforts to support the NE farmers by assisting the group, he forgets to mention that like many other farmers he has a stake in this co-operative. When this is pointed out, he realises that it could be interpreted as conflict of interest (is it really?) and resigns.
Contrast this to the SNP ministers who, despite being responsible for delivering other people's (taxpayers) money back to the farmers in the form of CAP subsidies, repeatedly failed to do so. No one resigned over the issue although Richard Lochhead did resign for personal reasons.
Readers can decide for themselves who takes the interests of people they represent and their own personal integrity more seriously.
Mark Openshaw.
Earlswells Road,
Aberdeen.
NHS crisis doesn't add up
Sir, – I could not believe that – with the NHS in Scotland in such a dire state – the assertion in the column by Jenny Hjul (Courier, May 23) that only one in six Scots applicants are admitted to study medicine here was accurate.
What was the reason for rejection? Where did she find these statistics and, if true, what is our Scottish Government doing about it?
Garry Barnett.
Campsie Hill,
Guildtown.
Reality behind royal fervour
Sir, – There was a film out last year which won the Oscar for best film, it was called La La Land, which I think is where your letter writer Mr Ian G Richmond of Monikie is living. He seems to think all the world's ills can be washed away now we have had a royal wedding.
I believe strongly in the sanctity of marriage and wish the royal couple all the happiness in the world but why on earth would this make me feel any more "British"? Why on earth would this make me feel that we have a wonderful Government in Westminster just because someone has got married?
People are still calling in at food banks to feed their families and his wonderful Britain still wants to spend billions on Trident missiles and drag us out of Europe.
I wonder too just how the happy couple will be in a few years once our tabloid press get their teeth into Meghan's family history or other happenings in her past.
Bob Donald.
Denhead Farm,
Ceres.
Credit for compassion
Sir, – I am almost 80 and for the first time last week found myself a patient in Ninewells. I was in awe of the kind, caring and considerate staff in each of the wards where I was treated (wards 15, seven and eight). The staff all worked like a compassionate machine and I have nothing but praise for these people.
I often read criticism of the NHS but in my experience the staff in this hospital go above and beyond what is necessary. So thank you very much.
Margaret McKay.
Boyack Crescent,
Monifieth.
A price paid for potholes
Sir, – I am writing to thank all those motorists and motorcyclists who stopped to help us just outside Spittalfield last Sunday afternoon when the nearside front wheel decided to leave our car and fly over the nearby hedge.
Thanks in particular must go to the driver travelling behind us who saw it all, stopped to help us and retrieved the wheel from where she had seen it land.
No one was hurt, and the AA got us back home very efficiently. The car is now being put to rights for future journeys.
The only realistic explanation for what happened is that bolts on that wheel had been loosened by a couple of recent potholes – damage which would not have been obvious when it occurred – and that these had then worked themselves loose over time.
It is good to know that so many people are kind and helpful when trouble strikes.
Dr Clive R Sneddon.
Hepburn Gardens,
St Andrews.