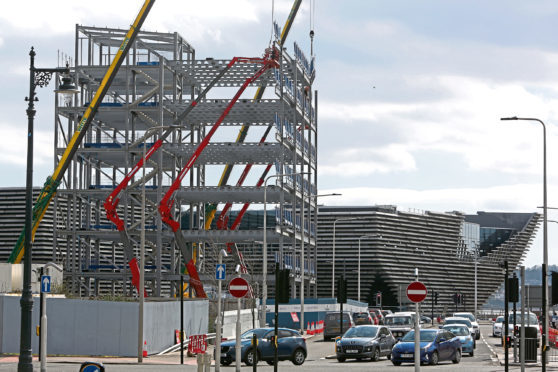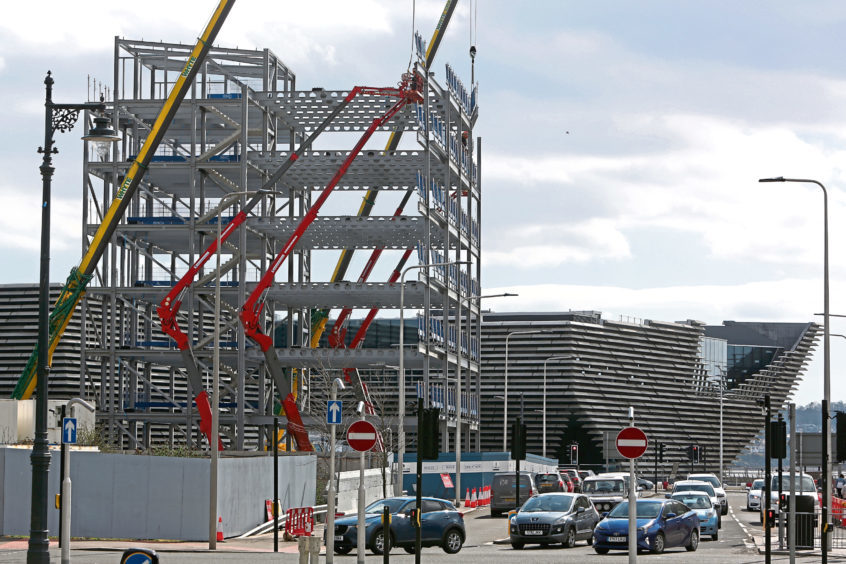 Sir, – I lived and worked in Dundee in the 1970s.
I couldn't wait to leave. Then, the city was not a great place to be.
Fortunately, having retained friends in the area I have revisited regularly and in recent years was delighted to see the renaissance which was taking place.
The city was becoming unrecognisable from the 70s and I began to wonder why I was in such a hurry to leave.
I was thrilled with the announcement of Kengo Kuma's V&A and have watched with excitement as this emblematic phoenix rose from the ashes of Dundee's depressed waterfront.
However, whilst visiting our friends in Dundee at the weekend my excitement turned to dismay and indeed anger.
In any other city the V&A would be complemented by wide open spaces, the aspects uninterrupted, all the better to appreciate what will surely become a world famous structure.
However, what have Dundee Council in their wisdom decided to do? They have given permission for a six-storey office block to be built yards away, thus obscuring the view from Union Street and in general greatly diminishing the ability to appreciate the building.
I believe, many citizens of Dundee share our anger.
What is it about Scotland's councillors and planners? Can they not take lessons from the great European cities and let their great buildings "breathe"?
Instead, it seems we must insist on squeezing the life out of any great architectural project in order to wring the last pound of commercial gain.
I despair.
William Thomson.
Lithgow Place,
Denny.
Care debate no place for politics
Sir, – I joined the Fife Council/NHS Integrated Joint Board, as an elected member, on Tuesday for the first time.
I listened to the arguments over out of hours urgent care coverage for Fife and North East Fife in particular.
Should St Andrews retain that role? Should it be Victoria Hospital only, or Dunfermline as well? Glenrothes?
These are matters of critical importance to residents and my main concern was to make sure that the consultation document under discussion accurately reflected the real life constraints and viable options. We will fail the public if we are not completely honest with them on such an issue.
My motion to delay for four weeks to improve the consultation document was approved. But here's the rub. There are those who would make political capital over this. Who would score cheap political points by "standing up" for local solutions? This is too important for that.
We don't have enough GPs, nurses or support staff to cope with the rapidly increasing age and needs profile of our population. Working out who to hold responsible for that is a separate issue. So we must find ways to make our available resources stretch further.
There are some excellent ideas contained in the soon-to-be- released consultation document. You will have the opportunity to make your views known. But there is no point in howling at the moon. The choices offered have to be affordable and sustainable and real. Otherwise your elected members will be guilty as charged for claiming to support solutions that are a fantasy.
Cllr Tony Miklinski.Whitehill Farm,
Cupar.
Give it five to save lives
Sir, – This month, Scotland's Charity Air Ambulance (SCAA) marks its fifth anniversary – a significant milestone made possible by the support of the people of Scotland.
This outstanding support has enabled Scotland's only charity-funded helicopter air ambulance to respond to nearly 1,800 emergency call-outs in every corner of the country since it launched in 2013.
You may have heard of SCAA's recently-announced fundraising drive to launch a second helicopter to expand our life-saving work – providing additional pre-hospital cover for your community.
So, as we mark five years of saving and improving lives, we're asking everyone to get behind our "Give Us Five" campaign and help us fly into the future.
Consider supporting us by climbing five Munros? Swim, run, cycle, ride or walk 5k for SCAA? Volunteer five hours to help? Donate £5? Give up your favourite thing for five hours, five days or five weeks?
SCAA has given you five years service. Now we're asking you to "Give Us Five" in return by creating your own five-themed fund-raiser.
We need £6 million to launch Helimed 79 and with your support we will see a second people's helicopter take to the air – saving time and saving lives.
To find out more about the Give Us Five campaign, visit
scaa.org.uk/support-us/GiveUsFive
Thank you, on behalf of SCAA and the many hundreds of people we will help in the future.
David Craig, SCAA chief executive.
The Control Tower,
Perth Airport.
Still hope for humanity
Sir, – I understand that many of the public invited into the grounds of Windsor Castle last weekend were in fact there due to their acknowledged public spirit and previous charitable deeds.
That being so, surely Gordon Kennedy (Letters, May 22) must recognise that such people are most likely to realise that, while retaining the memories of their day, selling a memento of it to someone who was not there is as good a way as any to extend the spirit of the day while raising further cash for the very cause which sent them there in the first place.
The best of humanity might still reign Mr Kennedy.
Tom Gray
West Park
Braco
SNP must get on with the day job
Sir, – The "Come Back Kid", Eck Salmond is threatening to re-appear on the SNP stage; Nicola Sturgeon is indicating another independence referendum is imminent. But who cares?
The majority of Scots voters have become immune to the sting of Scottish nationalism. The polls indicate nothing much has changed since the SNP cause was defeated in the referendum four years ago.
Under the present minority SNP administration at Holyrood there are problems in most areas.
The health service is constantly under pressure from the public; performance levels are well below the required standard; Scotland's economy can only be described as lacklustre, trailing well behind the rest of the UK.
Local authorities struggle to provide adequate public services, mainly due to Holyrood interference.
Police Scotland, an ill-conceived experiment of the SNP administration struggles to provide the service expected by members of the public. It lacks control, judgement, and apparently has difficulty in conforming to budgets.
I could go on but all I will say is that it will be a blessing to Scotland when the SNP cease to have a controlling role at Holyrood.
What Scotland needs is to get back to the regional parliament envisaged by the late Donald Dewar and his cohorts, in which Scottish affairs were handled – well – by the Scottish Executive.
Nicola Sturgeon should try to forget about her "nationalist dream" and get on with her job to improve Scotland's administration. If she fails to produce, then she should stand down. The electorate expect results – not political dogma.
Robert IG Scott.
Northfield,
Ceres.
Independence case still strong
Sir, – Maaike Cook (letters, May 22) could not be more wrong in her dismissal .
The push for Scottish Independence is not coming from the SNP; it is being driven by independent grassroots organisations who understand that Westminster is corrupt and incompetent, and that Holyrood will be able to better serve the people of Scotland without interference from London.
The taxes from people and businesses in Scotland already pay for all our public services, like the NHS.
The only change with independence will be that the money stays in Scotland instead of going down to London and (most of it) coming back to us.
Maaike mentions the cost of the armed forces, but this will probably cost us less, not more, because an independent Scotland would not waste our taxes on WMDs and illegal wars.
Andrew Collins.
Skinners Steps,
Cupar.