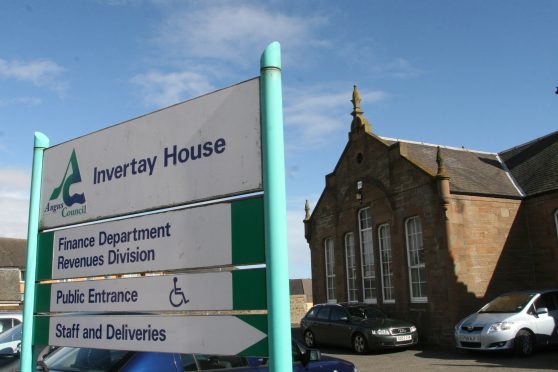 Sir, – The dream is over. Monifieth will not get use of the old Invertay School, having been turned down by the Big Lottery for funding towards a Community Centre. Apparently Monifieth is too affluent to receive Lottery funding. Did the people of Monifieth realise that they have never had it so good?
Monifieth Community Resource Group (MCRG) put in a power of work to achieve funding for a new community centre, and some readers may remember that the main Lottery funding went to a pub in Lanarkshire. This was reported in the papers a few weeks ago.
MCRG operate out of "the Cabin", but this facility is over subscribed, and can only hold one event at a time. What will happen to the hundreds of people who currently use the Cabin on a weekly basis?
Angus Council, who own Invertay House, will probably put it on the market to the highest bidder, so where do all those people go for their meetings once Invertay has gone?
It was stated that MCRG have plans to look into a new-build near the Blue Seaway. This will still cost a lot of money, and will take time to complete.
If the people of Monifieth still want some sort of community centre, then they should get behind this project and make their voices heard.
Al Buntin.
Provosts Walk,
Monifieth.
City history repeats itself
Sir, – Poor Dundee has never been blessed with councillors and planners of great vision.
I am of the generation whose parents sat back and watched as Dundee's heritage was torn down by a council whose lord provost had a demolition business.
And now I am of the generation watching as our waterfront , which is second to very few, is being ruined by the construction of oppressive hotels and office blocks near a world class facility in the V&A.
This is Dundee's only chance to redress the past and create a centre that is stunning and which can "breathe" in the proximity of a wonderful new museum.
Also, to all those who will come to "Vegas on Tay" to take up all these new hotel rooms, be sure to bring a book for an early night. There's nowt else to do unless you want to wander down Reform Street to peruse the for rent signs.
Eveline Davies.
Station Road,
Dundee.
No festival fun for Perth traders
Sir, – It is time to get rid of these Perth and Kinross councillors before they do more harm to Perth.
Their latest big idea was the suggestion for shoppers to stay away from Perth on Saturday between the hours of 10am and 2pm since there was a festival at Scone Palace and, sorry to say, the farmers' market, which is monthly anyway.
The shops are already struggling to make ends meet – or closing down. Perth is definitely on the down and are the councillors going to reimburse the shops for the time that the roads are closed?
Norma Farquharson.
The Horn,
Errol.
Taken to task over tax
Sir, – How instructive to see politicians at work.
Take, for example, the SNP's Growth Commission, which proposes tax breaks to migrants to help boost the economy.
They decide to tax high earners, give each other a congratulatory slap on the back and pass a law to that effect.
They then see that it drives away the high earning, skilled workers the country needs and prevents high earning, skilled workers coming to Scotland from other parts of the United Kingdom where they pay less tax.
Oh dear, what to do?
Why, just do what politicians always do after they pass a law. Drive a coach and horses through it and make exceptions and exemptions.
Somewhere down the line it might occur to them that it probably would have been simpler not to have passed the law in the first place.
George Dobbie.
Airlie Street,
Alyth.
Tory tinkering falls short
Sir, – In response to Ruth Davidson's call for the UK to become less London-centric, history would suggest that any attempt to move institutions, political or otherwise to Scotland would never happen.
I am afraid, as usual, it is a cynical Tory ploy to promote the union in Scotland but we will not be conned.
It is far too late to suggest Scotland takes its rightful place as an equal partner in the union, or that the transfer of a museum or two or some other sweetener would do the trick.
The fact of the matter is that Scotland, up to the creation of its parliament and devolution, did not vote for the Westminster party that came to power and little attempt was made to make Scotland feel part of the so-called "union". The monotonous return of Labour MPs to London with a sprinkling of Tory and Lib Dems did nothing for our sovereign nation nor its people.
You just need to look at the voting records of our current 13 Tory, seven Labour MPs and four Lib Dems, to see their indifference to Scotland's needs.
Ruth Davidson and her MPs and MSPs do not want devolution, do not want Holyrood and loathe the idea of independence. How do they believe her union dream will be achieved by tinkering at the edges and transplanting UK institutions into Scotland that will never support our growth and economic development?
There is no such thing as a Scottish Tory, there are only Tories in Scotland and they wish to oversee the complete destruction of our devolved parliament, a parliament they never wanted in the first place.
Daniel A Wood.
Charles Melvin Gardens,
Kirriemuir.
Charity should start at home
Sir, – Well done to the Scottish charity that got rid of the rats on South Georgia. How about coming to my street and doing the same?
I have seen rats in broad daylight in my garden that backs on to the railway. I emailed the council weeks ago and they have failed to answer. We need the government to tackle vermin and kill off grey squirrels, rats and mink.
John G Phimister.
St Clair Street,
Kirkcaldy.