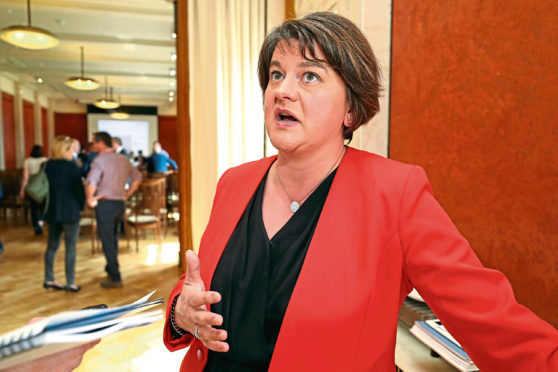 Sir, – When DUP leader Arlene Foster visits Fife later this month to take part in the Boyne March(Courier, June 2), she might want to reflect on a number of points. When she looks at the condition of Cowdenbeath High Street, she might think that Northern Ireland isn't treated so badly after all. She seems to have been much more successful in getting resources for Northern Ireland than local politicians have for the regeneration of what was once a proud thoroughfare. Those same politicians might want to reflect on why so many people are prepared to march in support of the Orange cause when it is so difficult to get them to march in support of their own causes.
Controversy over Orange marches in Fife has been an annual ritual for as long as I can remember. There are two points the critics of Mrs Foster's visit should take into account. The first is the simple democratic principle that we must respect the right of those with whom we fundamentally disagree to march peacefully through the streets.
The second is that it is important to hear what the DUP leader actually has to say. Her remarks may mitigate some of the some of the worst aspects of Orange Order rhetoric. She can be held only partly responsible for the impasse that has led to the suspension of the Northern Ireland Assembly. She showed magnanimity by attending the funeral of her late deputy leader Martin McGuinness. We don't know whether her remarks will heal or divide, but all democrats should treat her trip to the east of Scotland with the dignity it deserves.
Bob Taylor.
24 Shiel Court,
Glenrothes.
No place for old bigotry
Sir, – I read that Arlene Foster, Mrs May's best mate and supporter, will lead a march in Cowdenbeath. How can any politician who believes in democracy and equality align itself with people dressed up in cheap nylon quasi-military uniforms who march down streets spreading their bigotry and hate for the whole world to see?
It's like watching some throwback to the Southern states of America in the grip of the Klu Klux Klan.
The honest and good people of Fife must be appalled with this event and I trust they will turn their backs to it.
Scotland has been moving forward over the past 20 or 30 years to a more equal and understanding society. It does not need these events that have shamed us over the past years.
Thankfully the vast majority of Scots find these marches an embarrassment and do not support them.
I understand the DUP and their leader act like Calvinists and have got the Conservatives by the throat but surely the Conservatives in Scotland must be equally appalled at this, because if they are not it certainly would show voters what kind of people they are.
Bryan Auchterlonie.
Bluebell cottage,
Perth.
Democracy with a difference
Sir, – Once again it was up to Carnoustie Independent councillor David Cheape to question how decisions are made to spend quite large amounts of our cash on projects that no councillors are aware of – in this case a request for £24,500 for a path to Carnoustie House which was put on hold by Angus Council's communities committee (Courier, May 30).
Council officers claim the decision to lay a path to Carnoustie House was the result of consultation from various sources. Surely the first consultation would have been with the Carnoustie councillors, yet Cllr Cheape said he was not aware of a need, or demand for this path and that the money would be better spent on a more popular path by the Panbride Church.
So no consultation there then.
It appears to have been the same situation in the other districts since Forfar councillor Lynn Devine said "the report came as a bit of a surprise" to her.
Cllr Cheape is relatively new to Angus Council and is now realising how it works. Decisions are made by the unelected who keep the councillors in the dark until the committees sit. At this point, the expectation is that decisions will be rubber stamped unanimously, giving a false presumption that democracy is in good health on Angus Council, when the opposite is apparent.
This is not the first time we have had to thank Cllr Cheape for bringing to our attention through The Courier decisions made in this way. The most curious was to use two years' roads budget to realign the junction at the A92 at the Westway. As Cllr Cheape when, as he remarked, it came out of the blue with no consultation, no consideration for traffic calming or road safety and no explanation for why it has become so urgent that the whole two years' budget must be spent on this one junction.
I would suggest these roadworks have more to do with the coming council sale of the Elliot Industrial Estate. With improved road access it would be a very valuable piece of land for the buyer.
Robert Alexander.
39 Barry Road,
Carnoustie.
Empty shelves a taste of future
Sir, – I was more than a little surprised when, on my weekly shopping trip to a Blairgowrie supermarket, I found several large areas of empty shelves.
In light of this weekend's media coverage highlighting the UK Government's "Doomsday" plans for a no-deal Brexit leading to petrol, medicine and food shortages, could it be the supermarkets are just getting us used to life under the upcoming Brexit?
And to think the main plank of the UK's argument against Scottish independence was the strength and stability we would have if we voted No.
Anybody out there still think we couldn't do a better job on our own?
Graeme Finnie.
Albert Street,
Blairgowrie.
Testing limits of technology
Sir, – Wrecking an economy – and therefore a country – is easier for an enemy now.
With digital money, cloud-based accounting, and transactions in cyberspace, it takes just a few computer keystrokes. In the old days, you had to print millions of fake high denomination banknotes and throw them out of an aircraft.
The recent TSB, RSB, and Visa problems are a serious warning about our reliance on vulnerable new technologies.
Power cuts don't help either, but for as long as the wind blows and the windmills work, at least electricity should be OK.
Malcolm Parkin.
Gamekeepers Road,
Kinnesswood.
Cracks in Brexit looking glass
Sir, – Just as we are turning our back on the EU, Mrs May's new best friend and trading partner Donald Trump initiates a trade war with Europe – and Britain.
At the same time, Marc Carney warns weaker income growth is likely to accompany new trading arrangements with the EU.
What trading arrangements, one wonders. We're still in limbo, with no sign of a solution regarding post-Brexit arrangements, such as the "frictionless" Irish border question.
While our PM appears unable to tell fact from "friction", a senior EU official declares the UK is living in a "let's just keep everything we have now" fantasy.
One is tempted to pen a new version of Lewis Caroll's tale for the journey to Brexit: "Malice in Wonderland –Border Ramblings of a Pointless PM."
Remember, folks, our PM is just a backward MP, easily DUPed.
James Stevenson. Drummond Avenue, Auchterarder.
Bigger powers are at play
Sir, – While we obsess about taking ourselves out of Europe, or the even more absurd prospect of hiving Scotland off from the UK, the future is being shaped by the rivalry between America and China.
Trump's steel and aluminium tariffs are simply payback for his supporters in America's "rust belt".
The 21st Century economic battle will certainly not be about metal but the new technologies.
The fact that China is pursuing that strategy on the back of stolen US technology and intellectual property is ominous. Silicon Valley's blend of innovation and finance will be hard to beat.
In comparison, the Growth Commission report is trivial.
Its only effect will be to kick the prospects for Scottish independence into the long grass but for that it deserves our thanks.
Rev Dr John Cameron.
10 Howard Place,
St Andrews.