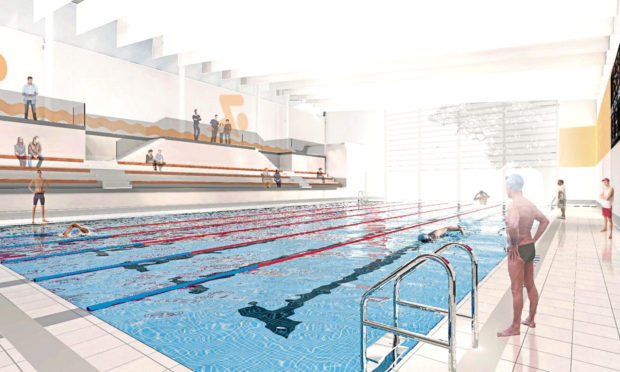 Sir, – Your recent reports regarding the future of the proposed PH20 leisure project in Perth does not tell the whole story.
The council is facing undoubted pressure on capital funding.
However, capital funding for new schools cannot be regarded as an optional extra.
Schools must be built and financed from capital funds serviced by revenue expenditure over many years.
The funding for the new community swimming pool and ice rink, with complimentary facilities, can and should be supported by loan funding.
Live Active Leisure has set aside £5 million towards the PH2O project, as has the council.
It now seems that the council's £5 million for the project is at risk and will be reallocated to the new High School.
This must not be the end of the road for the PH2O project.
Loan funding through the council can be arranged at well below commercial rates.
A loan to LAL for the PH2O new facility should be provided, after all LAL is the PKC's leisure provider and has been for more than 50 years.
The loan and interest are planned by LAL to be repaid through efficiencies, gained from the operations and use of the new facilities.
This is surely a win win situation for residents of Perth and Kinross.
I hope the council will see the wisdom and benefits of this proposal at their meeting on Wednesday and vote for both school and pool.
David MacLehose.
Beech Grove House,
Dundee Road,
Perth.
Plastic, but no fantastic saving
Sir, – I was interested to read the article "Fifers ditch plastic bags for compostable carriers" (Courier, June 16).
It is great to see Fife businesses in the Cardenden area taking part in a trial of compostable bags.
We must, where possible, protect our environment and look for alternatives to reduce the amount of plastic packaging used on products.
A question that needs to be asked is "will the people of Cardenden and any other area where this is trialled still be expected to pay the 5p per bag tax?"
The 5p tax was billed at reducing our use of plastic bags.
However, if the bags now provided are non-plastic and compostable then there is no justification in charging the 5p anymore.
Any shop that was still charging 5p a bag whilst handing out compostable non-plastic bags in my view would be stealing from their customers.
The Scottish Government may now have to review the legislation to ensure shops are not profiteering and that the 5p does not just become a general tax after serving the initial purpose.
Alastair Macintyre.
18 Webster Place,
Rosyth.
Let's start with the councils
Sir, – A report by Green campaigners has suggested that a "workplace parking levy" be charged on every space provided by employers.
A levy of £400 for each parking space is being proposed.
This would represent yet another burden on businesses or, if it was passed on, to their employees.
Scottish council leaders are already jumping with joy at the thought of millions of pounds worth of more income to spend.
Here is a thought.
Since one of the aims of this idea is to reduce the use of private cars in urban areas why not run a test programme with councils?
All 32 councils in Scotland have exclusive car parks for the use of senior staff (reserved) and also for employees.
Start charging all employees for parking and then you would have statistics before hammering businesses which drive the economy.
Dundee council would be a good start.
Clark Cross.
138 Springfield Road.
Linlithgow.
Stracathro is a success story
Sir, – So it appears from reports in The Courier last week that Stracathro may be under threat once again.
It is heart breaking when one thinks what it was like in its heyday.
The treatment patients received was second to none, the peaceful surroundings, the self- sufficiency (including from the gardens) all contributed to a well-run hospital.
The nurses' training school was renowned all over the world, the orthotic department was known throughout the UK, with the pioneering work on hip joint surgery widely described as the "Stracathro Approach".
The honours that were given – Miss Prentice became a Dame, Dr Cyril Cohen was awarded an OBE, Miss Aiken was awarded an MBE for services to nursing, David Begg, Head of the Orthotic Department, was awarded an MBE for his invention of a special support for children – speaks volumes.
Is there another hospital which could rival this?
Betty Cohen.
Mansefield,
Aberlemno.
Airport traffic is a shambles
Sir, – Edinburgh international airport is a gateway to Scotland.
Sadly, I spent as much time last Thursday trying to get out on to the main road as I did driving to Kirkcaldy.
The road system in the area cannot cope with the traffic.
Going in I picked up an elderly gentleman who had abandoned his taxi that was stuck in traffic.
He thought he could make better time walking but his age and the distance had caught up with him.
He said he could not believe this was the main entrance to the country for many travellers.
I hope he managed to catch his flight.
Is it not time that our MPs, who travel to London weekly, did something to make the road network fit for purpose with a new road system?
The number one priority should be to get rid of the parking toll that causes chaos and all the roundabouts.
Trams were a waste of money – money which would have been better spent on new elevated roads and electric buses.
Just who wanted trams? The people of Edinburgh?
I don't think so.
John G Phimister.
63 St Clair Street,
Kirkcaldy.
A meaningful comparison
Sir, – Your regular correspondent Derek Farmer last week suggested that Scotland is not fit to be independent, basing his argument largely on the fact that Scotland is a small country, and "smaller economies and smaller population numbers cannot match the performance of larger economies".
In their 2017 "Inclusive growth and development report", the World Economic Forum, the prestigious Swiss-based foundation Davos ranked the world's advanced and developing countries on their "inclusive, advanced economies", but, importantly, not on just how rich these countries are, but on how these riches benefit the people of that country.
Norway, with a population of five million, the same as Scotland, came top, followed by Luxembourg, Switzerland, Iceland and Denmark, all small independent European nations.
On average the top ranking countries have a population of just under four million.
The UK, with a population of 64 million, was ranked 21st.
Scotland is a similar small European nation, blessed with significantly more natural advantages than a country such as Norway, for example.
So why does Mr Farmer think that Norway, and these other small countries are the best in the world, while Scotland, as part of the UK, is an also ran?
The answer seems obvious to me: Norway is an independent country, managing its own affairs, for the benefit of its people, and Scotland is not.
Les Mackay.
5 Carmichael Gardens,
Dundee.
The result of a lack of respect
Sir, – After the complete disregard shown for democracy by the British Conservatives, both in Scotland and Westminster, it is little wonder that people are flocking to join the SNP.
It is now clear that British Conservatives are intent on wrecking devolution under the guise of Brexit and many Scots are sick to the back teeth of their attempts to destroy our parliament and Scottish democracy.
However, to some of us this is unsurprising as the British Conservatives in Scotland never wanted devolution in the first place.
What we saw during the Westminster SNP walk out was the frustration of many, many Scots. It has certainly reignited the independence issue.
Bryan Auchterlonie.
Bluebell cottage,
Perth.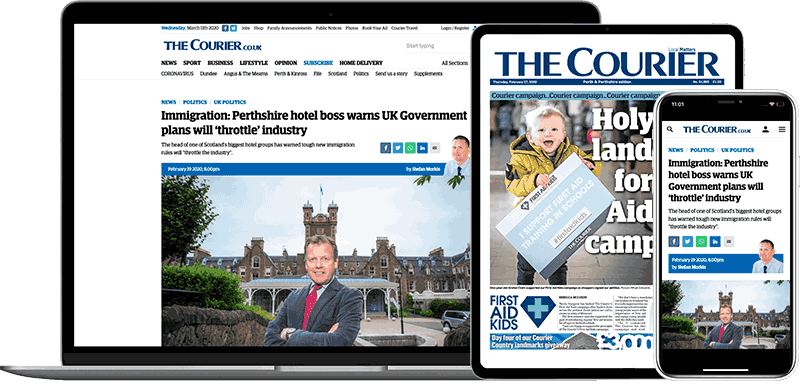 Help support quality local journalism … become a digital subscriber to The Courier
For as little as £5.99 a month you can access all of our content, including Premium articles.
Subscribe