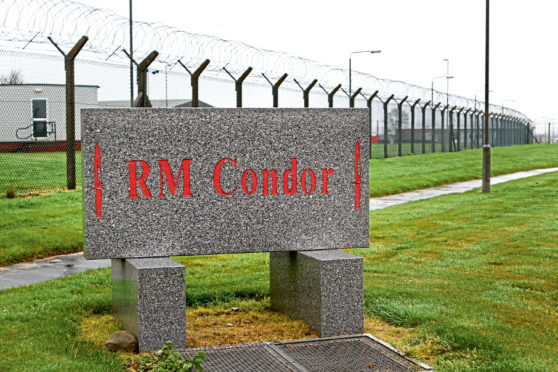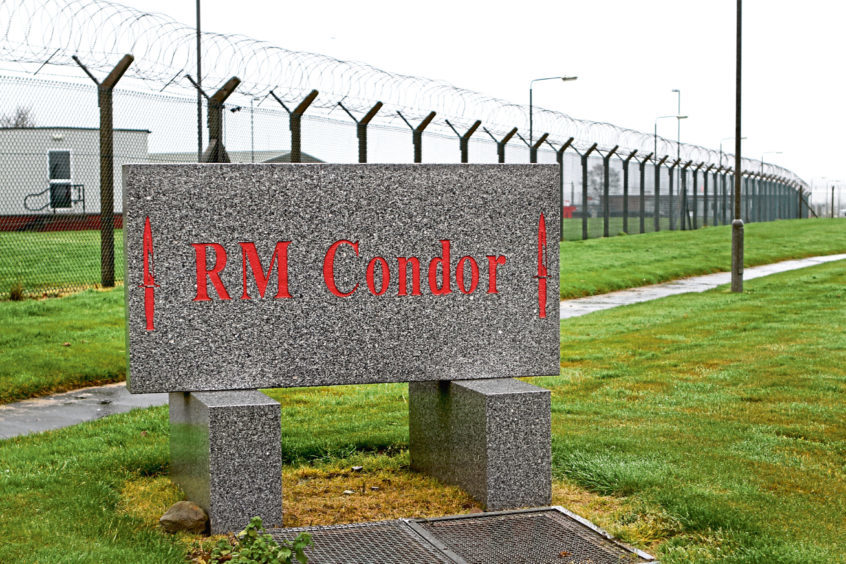 Sir, – Through my letterbox yesterday came a leaflet printed and published on behalf of the Scottish Conservative and Unionist Party telling how our local Tory MP Kirstene Hair had secured the future of RM Condor at Arbroath, among other ripping yarns.
It features a photo of Kirstene Hair beside defence minister Gavin Williamson (known as Private Pike to his chums at Westminster) speaking to a slightly apprehensive-looking Marine.
Let's examine this story a little closer: The future of RM Condor is not secure. The Ministry of Defence has released an area of land including the airstrip at Condor and surrounding woodland and suggested it be used for private housing while the remaining part of the site is retained by the MoD.
It is highly questionable whether the reduced base will be of sufficient size to provide a proper training facility for the Royal Marines.
While the offer to decontaminate the site and offer it free of charge for housing to Angus Council or any other developer sounds generous, it leaves a huge question hanging over the future of the base, whatever Kirstene Hair may believe.
Under the present Conservative Government the following Scottish military bases have been closed or their closure has been announced: RAF Leuchars; Glencorse (Penicuik); Redford Barracks (Edinburgh); Meadowforth (Stirling); Fort George (Inverness); MOD Caledonia (Rosyth); Craigiehall Camp (near Edinburgh); Forthside Barracks (Stirling).
Kirstene Hair might do well to reflect that accepting Gavin Williamson's assurance that RM Condor is secure is like believing Private Pike would keep us safe from the Third Reich.
Alexandra MacRae.
Jubilee Park,
Letham.
Spread spend to ease pressure
Sir, – Recent reports show Edinburgh is the second fastest-growing city in the UK after Manchester, with a 12% rise in inhabitants since 2006 and the attendant boom in house prices and congestion.
Only an hour's potential train journey from the capital, Levenmouth folk must wonder why growth is so unbalanced. I would suggest two critical drivers of this process.
The first is the deliberate fuelling of centralisation and the absence of any serious regional policy for Scotland.
Official decisions to site the Scottish Parliament and Scottish Executive in Edinburgh and the relocation of 3,000 HMRC jobs to New Waverley involve public funding which fuels the boom in one overheated location.
Since the UK has long suffered from the over-centralisation in London and the absence of any regional policy since the 1960s, you would have hoped Scotland would have learned this lesson and used its discretionary spending actively to seek greater geographic balance.
Secondly, in the era of city regions and city deals, transport links are vital in spreading the load any one location must bear. Yet transport investment has lagged and been concentrated on the main cities or city corridors.
For example, the latest City Deal for Edinburgh and the SE included £140 million for Edinburgh transport but none to connect major outlying urban areas such as Levenmouth. Yet house prices and rentals there are 35-40% of Edinburgh's and a one-hour commute by train which is not currently in place would relieve pressure on the capital.
We need to take every opportunity to relocate public bodies and any discretionary spend out of Edinburgh and use this vast public resource to regenerate lagging areas.
Ken Maclagan.
Union Place,
Leven.
Politeness goes both ways
Sir, – In response to his letter of June 30, I would like to see Dr Charles Wardrop offer a well- mannered and friendly discussion to President Trump if one of his female relatives had been subjected to his assertion that "she wouldn't even mind being grabbed by the p***y".
The man is a sex pest and a misogynist and regardless of his elected position and the fact he has never been called to account because of his financial status and political allies, a "polite reception" is not warranted and should not be afforded.
Jim O'Rourke.
Slatefield Gardens,
Forfar.
Oversupply or  in demand?
Sir, – It is being forecast that food and drinks are likely to be in imminent short supply due to the lack of carbon dioxide sources.
On the other hand, politicians and their green advisors are littering our countryside with wind turbines, installing expensive smart meters and invoking policies to foist electric cars on us, all in an effort to reduce C02 emissions. Is it time for some joined up thinking?
GM Lindsay.
Whinfield Gardens,
Kinross.
Status quo for voting
Sir, – Malcolm Parkin raises an interesting point about the days of one-man, one-vote democracy having had its day (Letters, July 2).
Should we go back to the days when voting was confined to the titled, the wealthy and the landed gentry or should we, as Mr Parkin suggests, allow the more enlightened to have a more meaningful vote?
But then who decides who are "the more enlightened"? Is it the more enlightened themselves?
No, democracy, for all its imperfections, stumbles along surprisingly well, given the vagaries of human nature. Even Margaret Thatcher, for all her autocratic tendencies, recognised that ultimately you have "to trust the people."
George Dobbie,
Airlie Street,
Alyth.
Truth scarier than fiction
Sir, – What an extraordinary collapse there has been in Cabinet discipline over the last few weeks, if you believe the reports.
The Foreign Secretary attacking the Chancellor for pointing to the economic damage which would be done by a hard Brexit and describing the Prime Minister's plans as "crazy".
The Foreign Secretary reportedly saying "F*** business" after Airbus warned 11,000 jobs are at risk, and 100,000 more in the supply chain, from a bad Brexit. Another Minister saying Business is entitled to comment when millions of jobs and the country's economy are at risk.
The Prime Minister slapping down the Foreign Secretary while a former leader of
the Tory party compares businessmen to Hitler supporters.
The Defence Secretary allegedly boasting to astonished Armed Services chiefs that he "made" the Prime Minister (in his previous job as Chief Whip) and equally he can now "break" her.
This Friday's Cabinet meeting at the Prime Minister's country home, Chequers, to hammer out a policy (any policy) on Brexit sounds like an Agatha Christie novel – a bunch of upper-class people gathering in a stately home, with multiple hatreds and hostilities, as several of those present plot to knife their hostess and inherit her role.
Perhaps Hercule Poirot will gather everyone in the library at the end to announce who did it, although with so many suspects, even he might struggle.
Perhaps it will instead be like Murder on the Orient Express, in which everyone on the train had a hand in stabbing the victim.
Or if you prefer a more 21st Century simile, it's like Love Island but with even more rivalries – you could call it Hate Island. Yet while these people play politics, real jobs and real people are on the line.
Phil Tate
Craiglockhart Road,
Edinburgh.
Running out of steam
Sir, – Nicola Sturgeon's Cabinet reshuffle reminded me of a rugby captain towards the end of a long tour trying to field a team with most of his players banged up and playing out of position.
It's over a decade since the SNP gained power in 2007 with a minority government before going on to win in 2011. Forming our first majority government, the party basked in the halcyon days before the bitter referendum defeat in the 2014.
Once again in a minority government, room for manoeuvre is limited and a Green tail all too obviously wags the SNP dog. Ms Sturgeon needs to be pragmatic but ideologists in her own and her partners' party curtail new ideas and genuine flexibility.
Rev John Cameron.
Howard Place,
St Andrews.