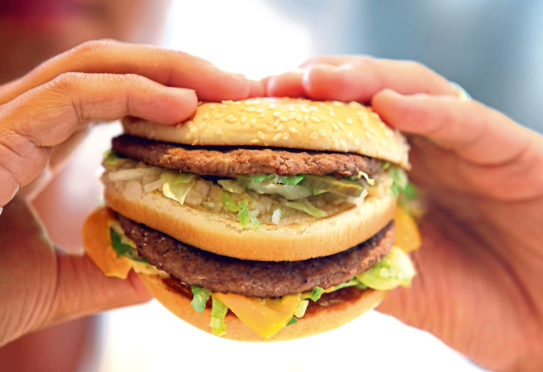 Sir, – The SNP's new, comprehensive strategy on obesity includes restrictions on fast food outlets, pricing, promotion, manufacture, education and support, including regularly weighing schoolchildren.
They should be congratulated for risking votes and accusations of nannyism to tackle a problem that annually costs the economy £4.6 billion, the NHS £600 million and its people 700 amputated limbs.
Opposition reactions were lukewarm and grudging, bemoaning lack of action so far. But they haven't been pushing the issue either.
They happily huddle round Nicola Sturgeon to virtue signal on global warming, LGBT, immigration and the Holyrood Christmas card but when it comes to unpopular measures to save lives, they and their policies are nowhere to be seen. So as a show of solidarity how about a photo of Messrs Rennie, Davidson, Sturgeon, Harvey and Leonard getting weighed at Holyrood?
Allan Sutherland.   
Willow Row,
Stonehaven.
Return of the ration book
Sir, – The SNP have a "think tank", which is seeking to prevent people overeating with a warning on the consequence of becoming obese.
Warning people of the danger is welcome.
However, trying to ensure people do not eat too much by setting limits on the size of portions or instructing food and drink providers that they should take account of the calories in what they serve is bordering on lunacy.
How can anyone police such a situation? Are we going to be issued with ration books setting a daily limit which require to be stamped every time we eat food not coming from our own kitchens?
A A Bullions.
Glencairn Crescent,
Leven.
Taking measure of speed claims
Sir, – Recently, The Courier reported on a young woman who had crashed into two pedestrians on an unclassified road, killing one and severely injuring the other.
What was a life worth on this occasion? A two-year driving ban and 200 hours of unpaid work to be completed over 12 months.
According to the report, the car she was driving became airborne. I except it was only doing 30mph. So many accidents seem to happen when a car, supposedly doing 30mph, becomes airborne.
Perhaps the time has come to fit all vehicles with a tacograph if speedometers are so unreliable.
How many man hours could be saved by the police if a reliable machine was able to reveal the unarguable truth?
Money could also be saved by the National Health Service at accident and emergency units if the number of road accidents dropped as a result.
Marion Wallace.
Whitelums,
Kirriemuir.
Party rights are all that matter
Sir, – The SNP used its opposition debate on July 4 to stir yet more grievance in Westminster, arguing over the principles of the Claim of Right for Scotland and enabling Ian Blackford to make yet more pronounce- ments to the gallery of the SNP faithful.
This time he claimed that "Scotland's independence day is coming soon". Actually the SNP motion was knowingly disingenuous, as in speaking of "the sovereign rights of the Scottish people", it should more accurately have referred to the political rights of the SNP to get its own way, which is all these SNP MPs are ever really concerned about.
Keith Howell.
White Moss,
West Linton.
Opponents must learn to listen
Sir, – Having watched PMQs on Wednesday (not usually a must-watch in my house) I found it hard to see how Westminster can be regarded as a democratic forum.
Every time Ian Blackford got up to speak he was met with a cacophony of noise from the mainly Conservative benches.
This mule-like braying continued through his question and I am led to believe some of the language was agricultural.
This behaviour maybe acceptable at a football match but it certainly does not belong in the so-called mother of parliaments.
It is clearly obvious that the majority of Conservatives, when hearing something they do not like, are determined to drown out honest debate.
This behaviour takes place for all the world to see and I would think those watching would certainly be inclined to side with those whose voices are not being heard.
In the longer term, the action of these mules must have an effect on how the UK is viewed. Perhaps people will come to see that it is the Scottish MPs whose different ideology is being drowned out who are the true democrats with valid arguments that are worthy of support.
Bryan Auchterlonie.
Bluebell Cottage,
Perth.
Expansion is pointless
Sir, – The new Scottish Government is larger than any of its predecessors. Ms Sturgeon has added two cabinet secretaries and various ministers.
This suggests that government business is expanding, which gives the lie to Ms Sturgeon's claims of a "power grab" by Westminster.
Some posts are occasioned by the SNP's insistence on interfering in areas that are reserved, ie that are not within the competence of a devolved executive.
Ms Hyslop retains in her title "External Affairs", regardless of the fact that foreign policy is a reserved matter.
Mr Macpherson is Minister for Europe, Migration and International Development. His entire brief is reserved, so one wonders what point his appointment serves – other than to extend the Scottish Government's reach into areas for which it does not have formal responsibility.
Jill Stephenson.
Glenlockhart Valley,
Edinburgh.
Brexit chaos closing in
Sir, – Tomorrow's Brexit Cabinet meeting will be the last stand for Theresa May.
She is caught on the one hand between those demanding a deal which will involve unrestricted access to European markets. The EU bureaucrats know this and will make free-movement a pre-condition of any final deal.
On the other side are the Hard Brexit headbangers lead by Jacob Rees Mogg, who anticipate the revival of a mythic past. A land where the capitalist oligarchy is free to exploit the population and pollute the environment to its heart's content and where the basest prejudices are cynically encouraged.
A taste of what no deal means has been spelled out. The Home Office has announced that EU citizens currently living in Britain and intent on remaining will be required to register during the "transition" phase of Britain's exit from the EU.
Failure to do so will mean, post-Brexit, these EU citizens, many of whom have lived in Britain for decades, face losing access to healthcare, schools, public funds and pensions.
The Hard Brexit faction are pinning their hopes on a trade deal with Trump. However, the escalation of his trade war is starting to have an affect.
Chinese stock markets have continued the fall over the first six months of the year that has wiped some $2 trillion off market valuations.
Trump is now also trying to reduce Iran's oil output to zero. Even a 50% cut would have a devastating impact on the global economy, fuelling a surge in oil prices. Commodities analysts are projecting a 20-25% spike in the price of oil, which is already high. but it could be worse.
The reality of the chaos that Brexit is about to unleash is suddenly starting to dawn on May. Her response is to put her fingers in her ears and sing.
Alan Hinnrichs.
Gillespie Terrace,
Dundee.