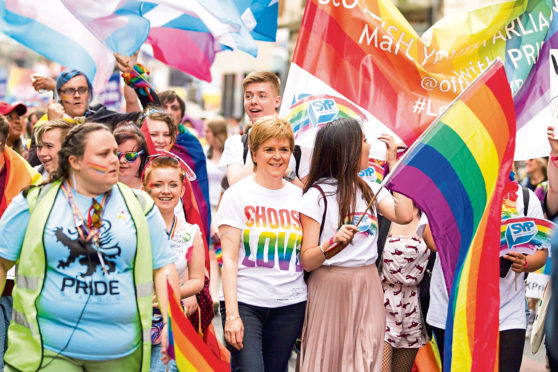 Sir, – At the gay pride event in Glasgow, Nicola Sturgeon said she was "proud to lead this march today celebrating and reaffirming the values of tolerance, diversity, equality, love and respect".
I suspect that she would not include in these sentiments the democratically-elected President of the United States, the legitimate Constitution of Spain, The Orange Order, Tories, England, Westminster and the outcome of the 2014 referendum.
Ms Sturgeon would do well to follow her own advice and curb the hateful and intimidating activities of SNP xenophobes, nasty internet trolls, and the "All under one Banner" marchers who are normally led by placards declaring, rather objectionably, "Tory Scum Out!".
The gesture and grievance politics combined with virtue signalling that Ms Sturgeon seems to revel in does little to address the problems that affect our nation and its people.
Ms Sturgeon may well feel that the gay pride march was far more important than publicly inviting President Trump to meet her in Bute House where she intends to have talks with the separatist Catalonian Leader, no doubt to the annoyance of the Spanish Government and oblivious to the unfavourable consequences which will surely surface at some future point.
It's as though Ms Sturgeon has asked the President for directions and he's told her to get lost.
Iain G Richmond.
Guildy House,
Monikie.
Freedom of speech abused
Sir, – I wonder how many of the Trump protesters would be so brave if they were in Russia, Turkey or Hungary holding up such vile signs against Putin, Erdogan or Orban.
Freedom of speech is precious – even in Trump's USA.
Don't abuse it, just make your point.
Allan Sutherland.
1 Willow Row,
Stonehaven.
US could make a big saving
Sir, – At the recent NATO summit President Trump chided the other members for not meeting up to US levels of military expenditure.
Given that the US in 2017 spent 35% of the total world spending – equivalent to all of the next eight biggest spenders, including Russia, China, UK, France, Germany etc – surely the obvious answer to the President's complaint is for the US to reduce their spending to the levels of the other NATO members, thus saving themselves a lot of money, and making the world a safer place.
Les Mackay.
5 Carmichael Gardens, Dundee.
Protests will help Trump
Sir, – The UK's perpetually outraged, intellectually challenged, leftist "rent-a-mob" were largely silent when Presidents Robert Mugabe, Nicolae Ceausecu, Joseph-Désiré Mobutu, Muhammad Suharto and Bashar al-Assad were received by the Queen – to say nothing of Vladimir Putin and Xi Jinping.
Their histrionics were reserved for a democratically-elected US President.
As Lord Macaulay wrote: "We know no spectacle so ridiculous as the British public in one of its periodical fits of morality."
The unintended consequence of such hypocrisy is to assure President Trump a second term.
Rev Dr John Cameron.
10 Howard Place,
St Andrews.
Time to pay some credit
Sir, – Clark Cross questions the estimated cost of rebuilding the Glasgow School of Art (Letters, July 13).
It is a legitimate query during these times of austerity, when protecting our artistic heritage flies in the face of cuts to our public services.
However, the legitimacy of his argument falls away at his attempt to use the issue to have a sly dig at the present Scottish Government.
He cites the mis- management and spiralling costs of both the Holyrood Parliament building and the Edinburgh tram project as reasons as to why any rebuilding of the Mackintosh facility should be viewed with caution.
Mr Cross should bear in mind that both these projects pre-date the current administration, and were opposed by the SNP at the time.
The tram fiasco, like so many other examples of unionist folly, is yet another fine mess being tidied up by the SNP.
The most striking example of a project being wholly run by the current Scottish Government is of course the Queensferry Crossing, which was hounded by criticism from the unionist parties and their media allies.
Now completed it has been lauded by the World Economic Forum as "an exemplar of how to do major infrastructure projects" and named as the "Project of the Decade" at the recent Ground Engineering Awards.
Once again this shows an honest appraisal of the Scottish Government occurs when political axe grinding is absent.
Mr Cross rounds off by proposing that any funding shortfall incurred in rebuilding the GSofA should be covered by Nicola Sturgeon and her ministers, not by taxpayers.
I will leave aside that the FM and her ministers are also taxpayers, but if tokenism is what it takes to satisfy the gentleman, will he demand "large donations" from Theresa May and co, or indeed the Queen and her family, to aid the renovation of the palaces of Westminster and Buckingham?
Ken Clark.
15 Thorter Way,
Dundee.
A little common sense required
Sir, – Councillor Bill Porteous's letter about Syrian refugees being unsuitable for Kingsbarns (Letters, July 16) reminds me of an incident related to me by late father Robert Ovenstone who was St Monans' Community Council chairman for many years.
Some time ago the community understood that Fife Council wanted to set up a hostel in Elmgrove for all the local psychopaths when what was actually proposed was a hostel for those with conditions such as Down's Syndrome.
Had Fife Council communicated such a fact and explained such things to the community they would have been immediately supportive rather than initially opposed to such an idea because they got the wrong end of stick, as it were.
How many Fife councillors actually live in Kingsbarns and understand the community there?
Yes, it is understood that people should not have to explain who they are when they move in beside you but a little common sense goes a long way.
I am sure if the Scottish Government explain why it is, apparently, a good idea to put all your emergency control rooms in Central Scotland they might understand the rationale behind the move, bonkers though I believe it is.
Peter Ovenstone.
6 Orchard Grove,
Peterhead.
May has played her hand well
Sir, – Is the UK Government really in disarray ("May staring at political devastation", Courier July 10)?
For the past two years, political commentators have pointed to the divisions in the UK cabinet, predicting these would come to a head at some point.
We now have a situation where the whole cabinet have signed up to an agreed position, and those who feel they cannot support it have resigned and have been quickly replaced.
With Boris Johnson in particular, his ungracious resignation letter and wider buffoonery confirm what we have all known all along, namely that he should never have been in a position of authority in the first place.
He will never find a higher office, not even in the Conservative Party.
We can all agree that we are better off without him.
David Davis was a more rounded character, but his resignation was gracious and honest, as was the PM's reply to him.
Theresa May has a team around her who are all on the same page now.
If we step back from the political hyperbole for a moment, the path to Brexit looks a lot clearer.
We are going to get a softer Brexit than many might have predicted, and that will suit Scotland in particular just fine.
Mrs May has taken a difficult hand and played it well. That might not be the fashionable thing to say, but it is undoubtedly true.
Victor Clements.
Taybridge Terrace,
Aberfeldy.