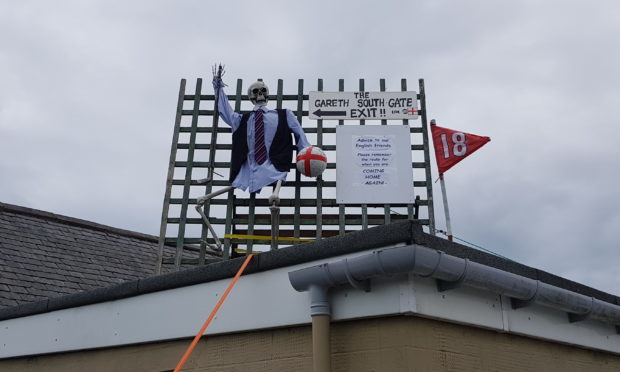 Sir, – I read with complete disbelief your article in The Courier ("Skeleton held as body of evidence in roof row case", July 17).
How much more stupid can Police Scotland make themselves look?
If your house gets broken into, car or other property get stolen, your property gets vandalised, or you are assaulted, or are the victim of any other crime that impacts seriously on your life, then call the police and they may turn up soon, within days or sometimes not at all, and they will give you either an incident number or crime number.
Place a skeleton on your garage roof as a bit of humorous banter and within a three-day period you will get a total of 12 police officers at your house, removing your property, charging you and spending who knows how many thousands of pounds of public money taking you to court.
Whatever happened to common sense and discretion? Surely this matter could have been dealt with by way of a verbal warning, and the owner instructed to remove the skeleton?
As for the people who made the complaint, well all I can say is get a life.
Robin Rodger.
24 Honeyberry Drive,
Rattray,
Blairgowrie.
It's political (in)correctness
Sir, – The charging of Carnoustie man Kenneth Whyte for displaying a skeleton depicting England manager Gareth Southgate with a couple of captions that can only be described as banter is political (in)correctness gone mad.This shows you how far PC nonsense is at the top of our institutions.
I'd hazard a guess most of the local constables had a right good laugh at this but had to follow their orders from above.
George Aimer.
82 Kinghorne Road,
Dundee.
Remain, and audit the EU
Sir, – Having voted to Remain I have taken a keen interest in news and opinions of those of both sides of the Brexit ''debate'' (is there one?) and am somewhat flummoxed and very disappointed by the lack of decision, procrastination, lack of leadership and tenuous arguments of all concerned, as well as the unseemly infighting in government circles.
It has taken two years to get to this point, which should have been discussed at length before the referendum, and then declared in an obvious Statement of Intent (my phrase) put to the country many months ago.
The "offering" from Chequers and later, plus the late distribution of the White Paper in the Chamber, adds the dimension of Whitehall "farce" to the mix.
It all only points to our semi-detachment from the EU, and the Common Rule Book implies that we would be carrying out the administration for both the UK and the EU.
Where's "Brexit" in that?
UK businesses wishing to make a five-year plan must be very concerned for themselves and their employees.
Either the whole idea should be scrapped or we, the UK voting public, should have another vote when it is eventually announced what "Brexit" really means. Does anyone know?
My preference would be to remain at the EU table with the whole EU bureaucratic machine having to undergo a business and financial audit, as many members, including the UK, are very unhappy at the extortionate sums to be paid to it.
Beth Boylen.
40 Fintry Place,
Broughty Ferry.
Forfar's war memorial
Sir, – Hooray and hoorah – at long last Angus officials have taken cognisance of local opinion on the removal of trees from the north side of the "Balmashanner" War Memorial, to allow the public an unobstructed daytime view of it. They have also installed floodlights to show it fully during the hours of darkness.
I totally agree with the suggested removal of nine trees to allow the memorial to stand out proud and majestic, like the Dundee Law Memorial and the Airlie and Wallace Memorials.
One hundred years on, let us view the memorial with pride, and honour in remembrance of all involved in that horrendous period 1914-1918, and the other wars that have followed.
John Whitton.
9 Turfbeg Avenue,
Forfar.
You can't please everyone
Sir, – The old joke says that if a politician offends opposing factions equally, he must have got it about right.
Theresa May's problem with Brexit is that having displeased both extremities of MPs, both are going to vote against her solution. And it is impossible for her to please both factions.
You know, I'm starting to feel a wee bit sorry for the poor lassie.
Gordon Cook.
Gowanlea,
Friockheim.
Politics? It's a playground
Sir, – Why do we have a Parliament ? It is a very expensive playground for politicians.
Currently Theresa May is playing hopscotch with Brexit , and players who fall out start to call her names.
On a larger part of the playground players on both sides are playing tug-of-war, trying to pull the other side off their seats. If the team wearing multi-coloured shirts win they would expect to exchange seats with the losers.
In the background there are players who prefer to avoid making, and being responsible for a wrong decision, by asking all the non-players in the county, who have less knowledge and experience , to make the decision for them.
It makes television reports on the proceedings something we can avoid by watching CBeebies television, which is much more interesting .
A A Bullions.
6 Glencairn Crescent,
Leven.
How could they miss this vote
Sir, – I was disappointed to read the leader of the Liberal Democrats, Sir Vince Cable, was not at work in Westminster on July 16 to vote against two hard Brexit amendments, a vote that was won by just three votes.
Liberal Democrats have helped the Conservatives and Brexiters escape defeat and now we will get an even harder Brexit which will cause, even by the UK Government's analysis, huge damage to the country's economy, jobs.
You have to wonder if the Liberal Democrats are not as pro-European as they say they are, if they don't turn up for such important votes.
Their claims of being the party against Brexit are now laughable, and I'm beginning to think their calls for a second Brexit referendum are just opportunistic.
Alan Ryley.
2 Durham Gardens,
Lower Largo,
Leven.
Lord Carrington saved Unicorn
Sir, – Lord Carrington's recent death has been widely reported but I have seen no mention, even in The Courier's obituary, of his important contribution to our nation's maritime heritage. During his time as First Lord of the Admiralty he made the personal decision, against his staff's advice, that HMS Unicorn should be saved.
In 1962, when Dundee's western docks were to be filled in to make way for the Road Bridge, it was recommended that the Unicorn should be disposed of , and there was much doubt as to whether she could even be moved after almost a century in the same berth.
The subsequent chain of protest led to Lord Reith (of BBC fame) making an appeal to Lord Carrington, who decided the Unicorn should be saved. She was towed downriver on 13 November 1962 to a new berth in Camperdown Dock.
Unicorn's survival again came under threat in the late 1960s when she was finally "placed for disposal" by the Navy, and was saved by the formation of the Unicorn Preservation Society, but that is another story. Dundee owes a great debt to Lord Carrington's decison.
Lt Cdr Roderick
Stewart.
Dronley House,
Dronley,
Angus.