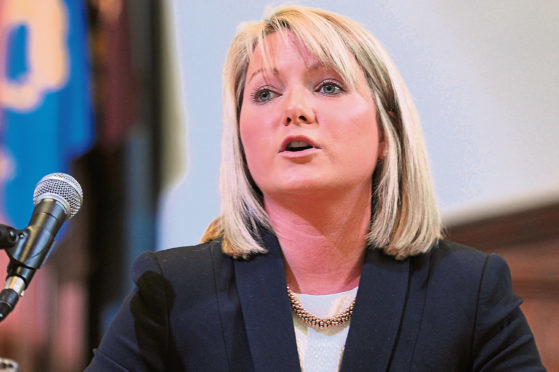 Sir, – Ms Kirstene Hair, Angus MP, is championing the cause for salary equality across the country for military personnel.
The MP blames the SNP Government, saying they cannot be trusted to deliver for our Armed Forces.
A broad-brush statement invites us to believe that increased taxes will affect all personnel.
I did some digging and found that the first increase is for a Staff Sergeant who will pay £20 more on a salary of £36,988.
What Ms Hair fails to tell us is that, like the rest of us here in Scotland, military personnel enjoy the priorities that same SNP Government has chosen to implement for all of us who live here.
These priorities to ensure we all have free prescriptions and eye tests, and families with young school-children have free school meals.
If those military families have young children planning on going into further education, those children will not pay tuition fees.
The latest proposal by Defence Secretary Gavin Williamson to "ameliorate" the effect the tax will have on military personnel living in Scotland sadly was not discussed with the Scottish Government, so no dialogue was possible.
Ms Hair's job is to represent Angus constituents, and as she is a member of the Conservative party in Westminster she will naturally blame all ills on the SNP in Holyrood.
This is not unexpected, it's politics.
Nevertheless I might be more inclined to respect a parliamentarian who, despite being polar opposite in her political aspirations, would champion the cause of military veterans who are forced into begging on our streets as they are left on the scrap-heap post service.
Linda Clark,
16 Inchgarth Street,
Forfar.
An insult to devolution
Sir, – What lies behind Defence Secretary Gavin Williamson's decision to compensate armed forces personnel in Scotland for tax increases introduced by the Scottish government ("Armed forces personnel to get top-ups on salaries", The Courier, July 19)?
This is not simply disrespectful to devolution north of the border.
It will require taxpayers here to finance the compensation.
The money for defence comes from the Treasury in London to which Scotland pays a considerable share.
So Holyrood (that involves you and me) takes money away from those in the military earning above £33,000, but Westminster (that involves you and me too) gives it straight back to them.
Why give the Scottish parliament the powers to raise and lower taxation if it is then to be treated in such a disdainful way?
Everyone living north of the border, whatever their occupation, ought to be equal before the law. This certainly applies to fiscal measures.
To be blunt, we should all be prepared to take the rough with the smooth.
People in the armed services may, like others, have to bear the brunt of taxes, but they can also avail themselves of the free services those taxes help to finance.
If it was the intention to treat the armed services differently from other sections of the population, this should have been considered when the devolution legislation was drafted.
As it is, Mr Williamson seems intent on giving them preferential treatment to appease his Scottish Conservative MPs, who have so faithfully supported the prime minister over Brexit.
He has set a very nasty precedent in doing so.
Bob Taylor.
24 Shiel Court,
Glenrothes.
What about education?
Sir, – I see UK military personnel living in Scotland are to be compensated by the Ministry of Defence for being subject to SNP income tax rates which are higher than elsewhere in the UK.
The SNP administration believes this is unnecessary because they benefit from free school meals, prescriptions, eye tests and university tuition fees north of the border.
Wrong. These have been available here for many years because of the generosity of the Barnett Formula, enabling more to be spent per person on public services in Scotland than elsewhere.
We were told revenue from income tax increases would principally be used to improve educational standards.
Essentially to reverse the decline in Scottish education that's taken place over the last 11 years while the SNP has been in power.
It's concerning Nicola Sturgeon and her spin-doctors have already forgotten this.
Martin Redfern.
Woodcroft Road,
Edinburgh.
More to farm tenants issue
Sir, – Nancy Nicolson's article "Landlords reprimanded over poor practice in negotiations" (The Courier, July 19)notably failed to reflect the overall findings of the report, but also the view of Buccleuch who were the subject of the review.
Tenant farming commissioner Dr Bob McIntosh makes clear that we acted in compliance with agricultural legislation and did not conclude that we had bullied tenants during negotiations – nor found evidence to substantiate such an allegation.
Whilst in one case the commissioner gave credit to the estate for giving the tenants six months' notice of the ending of the SLDT, which was beyond what was legally required, we accept his comments that the manner in which we finalised negotiations with this tenant could have been handled more sensitively.
As we made clear in our statement published on Wednesday July 18, which was not featured in The Courier's article, Buccleuch takes its responsibilities to tenant farmers very seriously.
We accept the findings of the tenant farming commissioner who states in his report that there are lessons for landlords and tenants alike when it comes to negotiations around the end of fixed term farm tenancies.
We are also pleased that the commissioner recognised we had tried to find alternative solutions for tenants coming to the end of Limited Partnership agreements.
John Glen.
Chief Executive,
Buccleuch,
27 Silvermills Court, Henderson Place Lane,
Edinburgh.
Hate crime? Oh, the irony
Sir, – Jenny Hjul starts off her weekly column (The Courier, July 18) by praising Scottish Government Justice Secretary Humza Yousaf for his promise to "put hate crime at the top of the agenda, in the wake of an attack on a Catholic priest during an Orange march in Glasgow".
But she soon twists the story round to blame, as always, the SNP, whom she suggests are soft on this issue, and alludes to a couple of personal experiences of what she deems verbal abuse, allegedly by independence supporters, and repeats the old story of Jim Murphy being hit on the back by an egg four years ago.
Now I'm sure there are people within the SNP, as there will be in all political parties, whose behaviour is less than perfect.
But what is ironic about Ms Hjul's column, based as it is on this serious instance of hate crime, is that Mr Yousaf, who has, I'm sure, had to deal with hateful behaviour on a personal basis, and has pledged to do all he can to stamp out hate crime, is a member of the SNP – while the perpetrator of this crime, on an Orange March is almost certainly not.
Les Mackay.
5 Carmichael Gdns,
Dundee.
Keeping the bridge open
Sir, – I've never understood why the Tay Bridge is closed when someone considers jumping off.
Is it not possible to allow traffic to temporarily flow on the available side? Traffic going one way only, reversing the direction periodically, or even both ways?
It's a long detour via Perth.
Derek Bayne.
62 Scooniehill Road,
St Andrews.