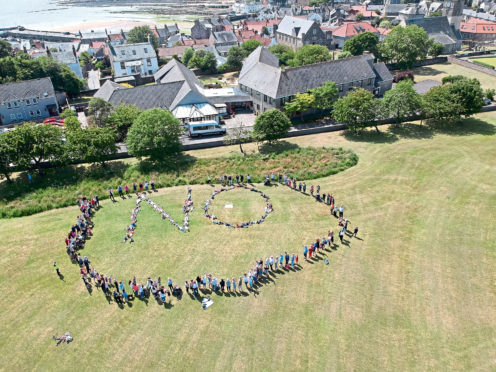 Sir, – Regarding the Bankie Park debate.
Bankie Park was created by the local community in the 1880s, when they raised £700 to create a fund to rent the land from the Baird family. Attempts in the 1930s to buy the land were interrupted by the war, and by the 1950s the community was again raising local donations and subscriptions to purchase the park.
This was the community seeking to benefit the common good of our area. They would have trusted their local political representatives to keep the park for the long-term benefit of the area as a green space. They would not have expected a land grab by Fife Council.
We therefore need to confirm the funds were raised for the common good. We know Provost WW Carstairs, who drove the creation of Bankie Park and donated his own land for the bowling and tennis clubs, was key in fundraising.
Perhaps his surviving relatives would have further information on how the funds were raised.
Anstruther is recognised by Fife Council's own Green Space audit as being well below average for greenspace quality and quantity. It makes it even more puzzling as to why they want to effectively destroy the integrity of the Park and disrupt the wildflowers, wildlife and Park life in general.
While Stephen Gethins and Willie Rennie have been very supportive of keeping Bankie Park green, the perceived protection of the park by local and Fife Council councillors is seen as patchy.
With the strength of public opinion around this issue, I think these politician are not likely to want to be "turkeys voting for Christmas" when the vote goes to planning. but my view is, when election time comes, we need to think long and hard about which candidates are passionate about improving the green space and environment for the locals rather than building more homes and reducing the limited green space we have,
Graham Ellery.
3 Burnside Terrace,
Cellardyke.
The rules for councillors
Sir, – May I assure Daryl Wilson ("Protecting Bankie Park, Letters, July 24) that neither I nor my fellow East Neuk and Landward councillors "lack the guts to stand up and listen to the community" opposing a new care home at Bankie Park. We did exactly that at the last community council meeting.
However, unlike the local MP and MSP, we cannot "give a commitment to voting down the proposal" because we are councillors. By law, councillors who express a view one way or the other for a planning application before it is decided are debarred from taking part in the decision.
In other words, if any of us even intimated that we were for or against the Bankie Park site, we would not be allowed to vote when it comes to the North East Planning Committee.
Even worse, we would have to leave the room and forego the opportunity to persuade our fellow councillors why it was a bad idea (were we so inclined).
This situation is just as frustrating for us – and many other councillors across Scotland – as it is for those fighting to save Bankie Park.
However, unlike our MPs and MSPs, as councillors we have access to officers and information at Fife Council, and carry some clout as conduits for community opinion.
I stood for Fife Council in part because of my experience of council decisions, especially on capital projects, where the administration ignored overwhelming community opposition because it knew best.
Such decisions harm community relations and local democracy, and often prove in retrospect to have been ill-advised.
The Community Empowerment Act offers engaged communities the opportunity to take matters into their own hands via the process of community asset transfer (CAT).
Fife Council is committed to supporting groups interested in CAT, and I have encouraged those wanting to safeguard Bankie Park to explore this option.
Cllr Linda Holt.
Dreel House,
Pittenweem,
Anstruther.
Why should farmers solve it?
Sir, – I have read some letters in The Courier lately castigating the unemployed, with some correspondents advocating they should be forced to pick berries or have their benefits stopped.
Scotland and is not a state where the unfortunate are forced into labour.
The issue of unemployment, and having or not having a work ethic, is a complex one, and does not have a simplistic answer.
Would forcing people into picking berries give you a motivated work force?
And why should we be asking farmers to solve what is a social problem?
Bryan Auchterlonie.
Bluebell City,
Perth.
Losing our link with the land
Sir, – Tayside is renowned for its ability to produce healthy fresh food and it is indeed shocking that much of this year's crop lies rotting in fields.
Many reasons have been suggested as to where the problem lies, yet it is clear to me that the real reason has been overlooked.
Difficult as it might be to accept, it is surely somewhat risky to invest heavily in an enterprise which is then wholly dependent on a non-guaranteed labour force.
This crisis is a direct result of an ill-divided countryside colliding with an incompatible political force.
As a result, many have lost their natural association with the countryside, resulting in sub-conscious rejection of rural concerns.
We have crofting in the most remote and barely fertile areas of Scotland, yet families retain lifelong association to the occupation and the land, often returning for annual holidays.
Association by birthright is the sure and certain way to ensure we have farmers and fruit pickers for ever more.
If it were not for an ill-divided countryside – and not only in Tayside – the sustainability of Scottish farming would be guaranteed.
Tom Gray.
West Park,
Braco.
Funding rests with Tories
Sir, – I read with sadness, if not surprise, that a local politician from Angus Council had been trying to blame the Scottish Government for Tory cuts and the high sickness levels of council employees.
The funding of public services in the whole of the UK including Scotland has, since the general election of 2010, been decided by the Tories. During that time the Scottish Government has managed to see cuts to Scottish local authorities kept to around 10%.
During the same period, English local authorities have been utterly decimated by cuts of 26%.
Anyone blaming the nasty Tory cuts on anybody but the Tories is either dim-witted or dishonest.
Karen Heath.
Cortachy,
Kirriemuir.
The fees of the Brexit lawyers
Sir, – Could lawyers be the real reason for the unacceptable delays in Brexit negotiations?
Who would disagree that lawyers are having a field-day on both sides of the English Channel, collecting fees from both the EU and UK public purses?
The longer the negotiations go on the more lucrative it is for the legal advisors.
The cost of the Brexit negotiations to British taxpayers will be gargantuan, so a few extra tens of millions in lega fees would be smothered in the larger scheme of things. .
In addition, why are they not allowing all the people's representatives in Parliament to have a say in what will be an acceptable final deal?
Indeed, why is the entire electorate not being allowed a say in what will be an acceptable or unacceptable final deal by way of a referendum?
In the meantime, the public is entitled to know what the legal bill has thus far been and what the final cost is likely to be. To avoid being misled, we must delve beneath the tedious political façade.
William Burns.
10 Briery Bauks,
Edinburgh.