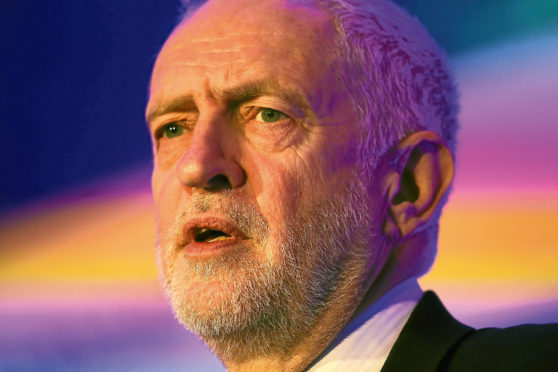 Sir, – Fife councillor Mary Lockhart has been suspended following a Facebook post criticising the editorial stance of some Jewish newspapers (Courier, July 31).
The sooner Labour leader Jeremy Corbyn tries to resolve the larger issue by adoption of the International Holocaust Remembrance Alliance code on anti -Semitism the better it will be for his party's unity and public image.
It won't, however, solve a basic problem.
The code is simply a guide – it can be interpreted in a number of different ways.
Since few people will have ever read it, it is worth quoting the text: "Anti-Semitism is a certain perception of Jews, which may be expressed as hatred towards Jews. Rhetorical and physical manifestations of this are directed towards Jewish or non-Jewish individuals and/or their property, towards Jewish institutions and religious facilities".
These words shouldn't rule out civilised debate about the complex Israel-Palestine situation, or the role of the Israeli intelligence service.
Israel is not the only country in the world that is involved in territorial disputes; Mossad is not the only intelligence service in the world whose activities draw controversy.
People ought to be able to criticise without using offensive language that could be seen as anti-Jewish, anti-Islam, anti-Christian or anti-Buddhist.
There are always problems, though, in suggesting that any of these groups is involved in an international conspiracy to subvert justice.
Therein lies the real challenge for Labour and Mr Corbyn.
It is as much a matter of culture and protocol as anything else.
Bob Taylor.
24 Shiel Court,
Glenrothes.
Beware of hypocrisy
Sir, – I see the Reverend David Robertson (Courier letters, July 31) continues his obsession with practising prejudice against minority groups in Scotland on the basis of their sexuality.
With the Catholic church continually embarrassed by the global scandal of child sex abuse by its clergy and the cover-up by its cardinals, including in Scotland, Reverend Robertson's latest tirade comes in the week after the national "established" Protestant Church of England was humiliated at the inquiry into child sex abuse.
No fewer than five archbishops, including a current and former Archbishop of Canterbury, are the subject of ongoing police investigations into the cover-up of child sex abuse in the Anglican church, and it is apparent that high-ranking Christians in the judiciary, public schools, Parliament and police have constantly sided with the church hierarchy rather than the victims.
The Reverend Robertson, however, remains silent on this moral bankruptcy in Christian leadership and instead picks on people trying to make a positive difference to the lives of others struggling in the face of his Christian prejudices.
If the Reverend is keen to help Dundee's poor, his and other churches could start by paying their full share of tax.
It was reported that the Reverend's Solas initiative in Dundee secured a rate rebate from the council for its work in training missionaries, for example, while the Churches of Scotland and England between them serve Mammon first and foremost.
The latter has assets in excess of £20 billion including an investment fund alone of £8 billion yet still seeks taxpayer handouts, while the former in 2016 was shown to have around 4,000 ecclesiastical buildings and 12,500 acres of glebe land – originally for the use of ministers – which has a capitalised value of around £515.8 million.
When the churches are quick to condemn the likes of Starbucks and Amazon for not paying their full share of tax, the maxim "let he who is without sin cast the first stone" springs to mind.
Alistair McBay.
National Secular Society,
5 Atholl Crescent,
Edinburgh.
Publicity has a role to play
Sir, – Adnan Shahzad may be right when he says publicity simply fuels further acts of Islamic terrorism (letters, August 2).
Perhaps, in future, acts of murder and female exploitation should go unreported.
This won't necessarily prevent them but at least the perpetrators will be able to operate under the cloak of anonymity.
Perhaps Mr Shahzad should ask himself and his fellow Muslims and even the terrorists – who are sometimes known to the Muslim community – why these acts are being carried out.
Is it simply because of a hatred of Christians or the pursuit of an Islamic state in this country?
Anyway, it is all so unnecessary.
Former Algerian President Boumedienne told the United Nations in 1974: "Millions of men will leave the southern hemisphere to burst into the northern one, not as friends but to conquer it with their children."
Today the fact that 35,000 Muslims can congregate on a British farm would tend to bear him out.
George Dobbie.
51 Airlie Street,
Alyth.
Figures are hard to fathom
Sir, – I have never written to a newspaper before, but your article on missed appointments for NHS hospitals made me do so ("£277k bill in a week for missed appointments", Courier, August 2).
I do not condone missed appointments, but where on earth does NHS get the figure of £277,000 for a week of missed appointments, and a figure of £151 for each failed turn up?
I would assume the vast majority of these would be of a consultation nature, so I would think the looking out of patients files is about all the preparation that is done before appointments, so this costs £151?
Not a bad hourly rate – staff would be glad to be paid that.
As for appointments themselves, a missed slot will in truth let the consultant catch up, by my experience of several clinics a half to one hour delay is not uncommon.
I may be naive but if someone could explain how these figures are calculated I would love to hear it.
William Phillip.
16 Linton Road,
Arbroath.
Second poll is now justified
Sir, – AA Bullions in his letter (Courier, July 31) concludes that due to the absence of reliable facts, voters are unlikely to make a valid judgment in a second referendum.
The primary factor driving Brexit is still the first result two years ago defining "the will of the people", where a majority of just 2% chose "Leave" over "Remain".
It seems that unless there is a second vote the UK may opt for a hard Brexit legitimised by a 2% vote majority.
Yet far and away the biggest proportion of the electorate did not support Leave.
This majority group – 63% of the UK population; 74% of the Scottish electorate – either voted Remain, or abstained from voting altogether.
A second referendum allows abstaining persons who did not support Leave to have an opportunity of having their voice heard, knowing the exact terms of an agreement before they voted.
The interests of many of those who chose to abstain could be critical.
Unlike the first referendum, voters this time would know exactly what was, or was not, being offered in the "Deal or no Deal" of the century.
Both Leave and Remain supporters now agree that a hard Brexit is bad news.
We charge lemming-like to the brink as we listen to a government asking us to stock up and prepare for hard Brexit adversity.
More and more voices are urging that a second vote prior to March 29 next year is necessary.
Andrew Lothian.
69 Dundee Road,
Broughty Ferry.
Finding a use for longest word
Sir, – Little did I realise back in 1967 in first year at secondary school when one day I decided to learn to repeat what was then the longest word in the Oxford English Dictionary that it would one day actually be applicable and relevant, other than as a party piece.
Floccinaucinihilipilification is the estimation of something as worthless – and is 29 letters long.
It flows off the tongue, at least for me, and describes the whole Brexit debacle and utter fiasco to a tee.
Graham Haddow.
Gray Cottage,
23 Church Road,
Liff.