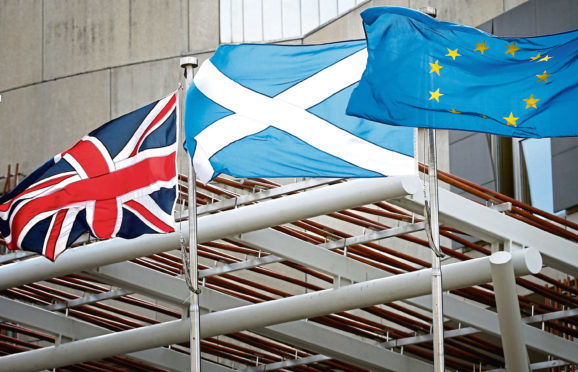 Sir, – In a negotiation usually both parties set out their position, and then gradually come together to a mutually agreeable outcome.
In the case of Brexit, the EU are united, clearly stated their position at the start, and have not really moved at all.
One would expect that the party which is unhappy, and wishing to make a change ,would have a very clear idea of what they wanted to achieve, and how they wanted to go about it.
Not the UK however: our Government presented a vague wish list, most of it clearly not acceptable to the EU, because they could not get agreement among their different factions, and are still no nearer agreement on exactly what they want.
In the latest UK opinion poll, on July 20, the most popular option was to remain in the EU; the top four Government ministers all voted remain in the referendum; and most MP's and almost all businesses are against a hard Brexit.
Despite this, it looks like a "no deal" Brexit is where we are headed.
Meanwhile Labour, the official opposition, hope to benefit from the coming chaos so sit and say nothing.
The SNP, having already been told that Scotland's status in the UK is that of a county council, have done, and continue to do, what they can, but, it seems, to no avail.
In fact it seems now that the issues are so intractable, and the positions so entrenched, that a hard Brexit, which will be calamitous for the country, and bad for Europe, is inevitable.
Les Mackay.
5 Carmichael Gardens,
Dundee.
In defence of Christianity
Sir, – Alistair McBay of the National Secular Society continues his campaign against the Christian Church (Letters, August 4).
Unfortunately in his attempt to smear both the Church and myself he misses the point and is somewhat economical with the truth.
Firstly I do not advocate practicing prejudice against minority groups on the basis of their sexuality.
I believe that all should be treated equally – what concerns me is what our children are being taught about the nature of humanity, gender and sexuality.
Mr McBay is free to think that gender is just a social construct which we can change as we wish, but I regard that belief as being almost as irrational as his denial of God. I certainly do not want our children indoctrinated with such unscientific teaching.
Secondly we condemn any abuse by anyone, whether from someone in the Church or a secularist.
There is no excuse for such behaviour and it is something I would never be silent about.
Finally, not only do we not avoid paying our taxes, but we use our money to be major providers of care for the community.
My own church, St Peters, is a facility which is widely used by the West End community – with not a penny of council funding.
Mr McBay is correct to warn us about the dangers of hypocrisy.
Perhaps he could tell us about all the social work that the NSS do?
David Robertson.
St Peters Free Church,
Dundee.
Time for a hard-hitting approach
Sir, – Monday saw yet another road incident on the A9 causing untold misery to those dependent on this route.
There seems to be one incident a week at this time of year.
Sadly it appears the incidents are usually caused by strangers unaccustomed to use of the route.
In the mid 70s in Aberdeen as a student we regularly had to pass the "wreck of the week" at Bucksburn police station on the way to college.
This usually displayed on a podium a massive total right off in all its horrendous glory.
Over time the penny dropped and severely cut the number of accidents in the area.
Would it not be worth leaving the number of wrecks produced on the A9 by the roadside for a time to show others what can really happen without due diligence?
Duncan Huie.
6 Murray Place,
Pitlochry.
Discussing the humble divot
Sir, – In one of the articles in this week's golf coverage, the word "divot" was misused.
According to my Chambers Dictionary, a divot is defined as "a small piece of turf dug up by the head of a golf club during a stroke or by a horse's hoof".
A ball could, therefore, lie on a divot but it makes no sense to say that a ball lies in a divot.
It used to be quite common to say that a player did or did not "take a divot", the latter meaning that the ball was hit without disturbing the turf.
For some time, the word has been misused by commentators on Sky Sports but, surely, in the Home of Golf, we can keep the original meaning alive.
W M Young.
4 Elgin Gardens,
Dundee.
Staunching the Scots brain drain
Sir, – Despite having a lower life expectancy, Scotland has more of an ageing population, when compared with down south.
The reason for this more than probably lies in the fact that the vast majority of Scotland's largest companies have their head office in London or the south east of England.
This means that our brightest and most ambitious, who seek promotion, must up sticks, with their families, and head south.
If Scotland were independent then, like every other independent country, head offices would remain at home.
Only branch offices would be situated abroad.
At present it is estimated that 400,000 Scots live in London, many young and hard-working top earners, who pump their taxes and housing costs into the coffers of Westminster.
On the other hand, and coincidentally, we have approximately 400,000 incomers from down south in Scotland. They are certainly more than welcome, but the vast majority are retirees, who take advantage of our lower housing costs.
By comparison, their contribution to the Scottish economy, is thereby limited.
It follows that only with independence, can this continual brain drain be staunched, and our demographic deficit be reversed.
Joseph G Miller.
44 Gardeners Street,
Dunfermline.
There is no EU or UK choice
Sir, – Your writer Stefan Morkis points out that independence marchers appear to be primarily seeking to keep up their own spirits ("Pro-independence marchers merely going round in circles", August 6).
Certainly for the vast majority of those who voted no in 2014, the determination of a minority to keep finding reasons to revisit the issue, feels a lot like they are seeking to impose their view on the rest of us.
Thousands marching through our cities to re-emphasise the point that there are those who will not be satisfied until they get their way, will likely leave the majority unmoved.
Arguably back in 2014, a judgement of all the pros and cons of separating from the UK played a part in the people's decision, including the impact on the economic, social and cultural ties between our nations.
Those wanting a rerun of that vote sooner rather than later, now seem to be hoping that Brexit will make the difference.
Yet this ignores not only the significant proportion of SNP supporters who are not fans of the EU, but also that there is no doubt that a Scotland out of the UK, will also find itself out of the EU as well.
Trying to turn a second independence referendum into a choice between the UK and the EU, falls rather flat if it is clear that the EU itself would not be interested in taking on an independent Scotland until it has met a range of hard to satisfy joining criteria.
Yet perhaps for some separation from the UK is something to be pursued at any cost.
Keith Howell.
White Moss,
West Linton.
In support of PRI's staff
Sir, – To those who meddle and would chip away at Perth Royal Infirmary – please think again.
We need this hospital in Perth.
Having attended the endoscopy unit for a double procedure I can report that the staff were brilliant.
I am sure I am not alone in saying that I am proud of all the dedicated nurses at PRI.
They are kind, caring and, most importantly, understand one's fragility when faced with the unknown.
Well done PRI.
Irene Gunnion.
Bowerswell Cottages,
Perth.