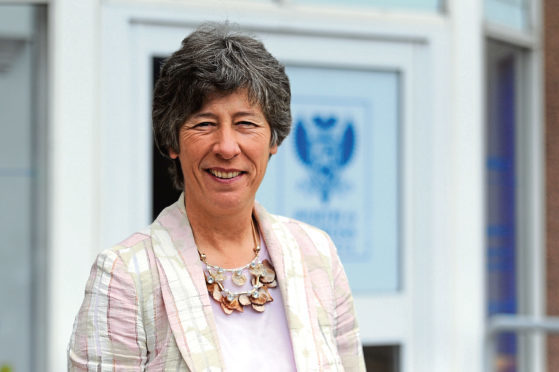 Sir, – I wanted to comment on recent reports suggesting children as young as five should be able to "choose" their gender.
Perhaps it is time to remind those sitting in the executive in Edinburgh that it was the public who put them there and the same folk can dislodge them.
This is not a private club within which they can do as they please but a public body which should be doing the public's bidding.
I have yet to meet one person who is not horrified, aghast, shocked, perplexed and disturbed by the latest ploy to have such young children choose their gender.
Not only that,when you think it cannot get worse they are told they can choose to be neither boy nor girl.
What sick mind thought that one up?
And as for the Tory education spokesman (yes, reported as spokesman, not spokeswoman or spokesperson) Liz Smith practically agreeing with it by stating it is right to teach children about gender diversity but five may be too young, well she needs to get a grip.
What is wrong with the opposition in Edinburgh just now?
Never has it been so easy for them and what do we hear?
Nothing but a resounding silence.
It is so unfair to the children who have no voice and nobody to fight their corner.
It's time to get rid of the Curriculum for Excellence and start teaching the children to prepare them for the real world, not that fantasy called Holyrood.
Tina Wilson,
19 Forth Park Drive,
Kirkcaldy.
Opposition must up their game
Sir, – Many thousands of parents and indeed grandparents – also known as voters who can turn your candidate into an MSP – are outraged their five-year-olds are being taught to choose their own gender.
They got scant encouragement from opposition politicians.
Conservative spokeswoman Liz Smith's limp comment was typical saying only that it is "right that we teach children about gender diversity and the meaning of these terms".
However, she added, many parents may feel this is too young for their children to learn about it.
Not good enough.
What we need is a blast of reality promising to scrap Curriculum for Excellence in favour of one that prepares kids for the world of work and personal responsibility, ensures they arrive at school well fed and ready to behave and learn, and focuses resources on those with real issues, not spread them too thinly.
Do the opposition parties actually want to fight for, and win, the 2021 Holyrood elections or are they preparing to hitch a ride in the next SNP coalition?
Allan Sutherland.
1 Willow Row,
Stonehaven.
Concern over care home
Sir, – Thank you to Mr Motion for his recent letter to the Courier (August 7) regarding the Anstruther care home plan, which gives us the chance to clarify a few points.
The Keep Bankie Park Green (KBPG) campaign is not against a new state-of-the-art care home in the area.
However, those campaigning against Fife Council building on Bankie Park are doing so because we believe that the new care home should not be built at the expense of our only significant green space.
We have presented to our councillors the numerous concerns and stressed our desire that the park structure should remain as it is currently – a protected open space which is built into the historical structure of the town.
Having taken on board our concerns we believe some have chosen to support the home not being built on Bankie Park.
Obviously we have not had access to condition of the current Ladywalk care home and are very disappointed to learn the care home does not provide a suitable environment for residents.
However, that has not happened overnight and we feel it is inappropriate that lack of investment by Fife Council should result in the destruction of our community park or village green as it was in 1880s.
Many of the people who are supporting the KBPG campaign have family and friends who currently or will require care home living.
We are not against the care home just the location.
In terms of illness in later life many of these conditions are assisted by good green environment and exercise.
We are trying to protect just these thing for all generations.
Graham Ellery.
3 Burnside Terrace,
Cellardyke.
Find a more suitable location
Sir, – I take it from the tone of his letter (August 7) that Mr Motion is not one of those who has signed KBPG's petition.
The campaign group is, in fact, in no way opposed to the building of a new replacement care home for the present Ladywalk and in fact more than welcomes it, understanding that the present building is no longer fit for purpose in a modern age.
The objections are not to the building of a new home, but the location that Fife Council is presenting as the best choice.
With some more thought and planning there are other alternatives both in and around the village that should be considered/reconsidered rather than taking away a large piece of supposedly protected green space that is well used and enjoyed by locals and visitors to the area alike.
Over the years various hard-working groups and campaigners have brought Bankie park to what it is now and dread seeing it changed in the way that Fife Council are proposing.
The park at present is a safe route for many children to and from school.
Would those in favour of this plan be happy to see that removed also?
Raymond Davis,
Toll Cottage,
Anstruther.
Don't believe all that you are told
Sir, – Is Alister Rankin (Letters, August 7) displaying ignorance or simply being obtuse or disingenuous when he challenges Charles Wardrop to prove that wind generation has recently been producing only 5% of our electricity requirements?
Hourly and daily data is readily available via National Grid, Ofgem, Elexon, Gridwatch, etc, websites.
His apparently unquestioning belief in the wholly-biased data from "windfarm companies" is, at best, very naive.
GM Lindsay.
Whinfield Gardens,
Kinross.
Not perfect – but not the worst
Sir, – Like all democracies, Israel's is not perfect.
But it is somewhat more perfect than the Arab states that surround it.
In his rather garbled take on the situation Robert Cairns (Letters, August 7) gives an example of Israel's democracy in referring to a decision made by the Knesset, Israel's parliament, where Arab members no doubt had their say.
He cannot give any example of Jews having any say in the decisions of the Arab states.
Indeed he would find it difficult, if not impossible to find a Jew in any of the Arab states, they have all been driven out .
There are records that show the displaced Arabs were asked not to leave but followed the commands of the five Arab armies that attacked Israel when it accepted the United Nations decision to allocate land to the Jews and the Arabs.
The Arabs rejected the United Nations decision.
There are complaints about Israel's "occupation".
Would we still be occupying Germany if the Germans had continued to war with us after 1945?
Meanwhile, Anne Gallacher (Letters, August 7) needs to be more logical – doesn't she know that being a member of a political party in Britain automatically denies you freedom of speech – and that questionable accusations of Islamophobia have done more to curtail free speech than any mention of anti-semitism?
Even our atheists and secularists are careful to restrict their criticism only to the Christians.
That is why the most important reason for the continuing conflict in the Middle East is never mentioned – religion.
Under Sharia law any area conquered and controlled by Islam remains Islamic forever – that's why the Arabs will never agree to a settlement that allows Israel to exist independently.
In such circumstances it is acceptable to criticise Israeli government policies if you live in Israel, but if you do not then you are directly encouraging the destruction of the only democratic force in the conflict.
Andrew Lawson.
9 MacLaren Gardens,
Dundee.