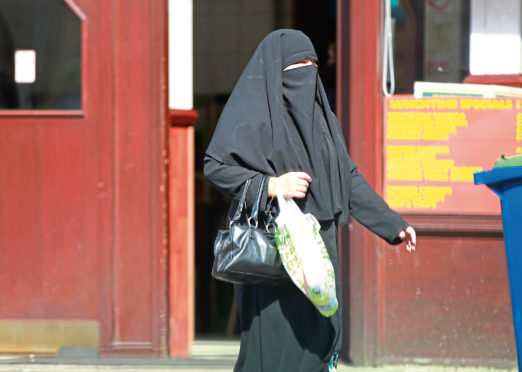 Sir, – The debate over burkas and niqabs started by Boris Johnson's recent comments is entirely missing the point.
What troubles most British people about these forms of dress is that the wearer is proclaiming their endorsement of the moral values and way of life of Saudi Arabia and Iran, and thereby implicitly their support for Britain being run in a similar fashion.
It is hard to imagine a country more oppressive of women than polygamous Saudi Arabia, where they are still denied full legal capacity and only now in 2018 are finally being allowed to drive.
Similarly, these countries are notorious for the persecution of sexual minorities. While Saudi Arabia simply executes gay men, in many cases Iran coerces them in to gender reassignment surgery.
Nor are Islamist countries and movements well-known for their tolerance of religious and ethnic minorities.
In Pakistan owing to the pressure of Islamist parties, the notorious blasphemy laws, which carry the death penalty, are used to persecute Christians.
Most British people are broad-minded and tolerant.
We see the Sikh in his turban or the Hindu woman wearing her sari on a smart occasion as adding a little sparkle to the nation.
However, we are quite unwilling to be taken for fools by the small malevolent Islamist minority among British Muslims.
Otto Inglis.
6 Inveralmond Grove,
Edinburgh.
Johnson has a dark agenda
Sir, – Boris Johnson's latest comments attacking Muslims are not a "gaffe".
In fact they are part of a cynical strategy of scapegoating and political filth thought up by Trump's strategist Steve Bannon.
Johnson and other senior Brexiteer MPs Jacob Rees Mogg and Michael Gove recently met with Steve Bannon.
Bannon is a fanatical nativist.
He masterminded Trump's election to the presidency.
Johnson is now elucidating a ploy thought up by Bannon.
They know that Brexit will be a disaster of biblical proportions.
The Brexiteers are seeking to whip-up anti-Muslim hysteria for their own political ends.
However, the self-righteous indignation by Johnson's fellow Tories and media figures, who claim they are shocked by his statements, should be dismissed with contempt.
The blathering of this offensive imbecile expresses only in more concentrated form the perpetual hysteria one hears every day in the media.
Johnson is the product of a diseased political environment.
His attack on Muslims, however, runs from a campaign which has been ongoing for some 15 years.
Since the so-called war on terror was declared 15 years ago Muslims have been targeted.
During every imperialist war, the government seeks to cultivate the most backward and racist sentiments.
The war on terror, which has led to the deaths of countless Muslims, is no different, creating an environment in which racist hysteria is relentlessly promoted in the media.
In 2008 the Cardiff School of Journalism did a survey of newspaper articles on Muslims in UK newspapers.
It involved nearly 1,000 articles written since the year 2000, noting the content and context of articles pertaining to Muslims and Islam.
The findings showed that 69% of the articles presented Muslims as a source of problems not just in terms of terrorism but also on cultural issues, and that 26% of the articles portrayed Islam as dangerous, backward or irrational.
Since the Blair years there has been an established pattern.
The government's response to any and every questioning of its foreign and domestic agenda is to resort to the crudest forms of political propaganda based on nationalism, xenophobia and efforts to panic the population with the threat of terrorist atrocities.
Alan Hinnrichs.
2 Gillespie Terrace,
Dundee.
Passing on some sound advice
Sir, – There have been many articles recently informing us of the serious distress felt by so many young people regarding their personal appearance.
I recall in the years during and following World War Two, the many privations we all had to come through.
We grew through our teenage years making the best of a bad job.
There was no time to fuss about fancy clothes or make-up .
We had to put up with handed-down clothes, not even always for the same sex.
I also recall the occasional effort with wire pipe-cleaners to curl our hair which did not always create quite the desired soft curls.
You had to eat whatever your mum made and not complain.
Sweeties were severely rationed, well after the wartime.
Electronic games had not yet even been dreamed of so you made up your own pastimes such as carving boats out of firewood.
In the midst of all this, gradually growing up, I asked my big brother why I had as yet (at the age of 12) no boyfriend
His reply was not to think so much of myself but look out and be more aware of others.
I have found that advice works right through life.
The question is, how can such helpful advice be made known to these benighted youngsters of ours?
Dr Norma H Smith.
7 Adelaide Terrace, Dundee.
Beware radical gender ideology
Sir, – The latest manifestation of the "your wish is our command" attitude of the Scottish educational establishment toward LGBT campaigning groups is the decision to teach primary 1 children that they can choose their own gender.
It could be that thousands of years of accumulated human wisdom is wrong, and that our batch of virtue-signalling politicians are right, but the evidence points the other way.
Gender identity disorder is a mental health problem that tends to lead to a host of serious negative consequences for sufferers.
The route to health and happiness is acceptance of one's biological sex.
Attempting to distort one's identity leads to tensions that often leave people suicidal. Let's be clear that adopting the wrong gender is often the precursor of sex change surgery.
Is that the road we wish to start our primary school children along?
How many mums and dads packing their youngsters off to P1 want their well-being to be endangered by this bizarre ideology?
There should be MSPs opposing, in the strongest terms, this sacrificing of our children on the altar of political correctness.
Instead, we have Conservative Liz Smith.
She musters the courage to say that, while she approves of the indoctrination of children into radical gender ideology, some parents might think P1 too young an age to start.
Note her unwillingness to challenge the message at all, and her ascription of opposition to "some parents" rather than herself.
This leaves her able to deflect criticism that she is "transphobic" as it is just some less enlightened parents that are concerned.
We have 129 MSPs and not one of them will call out this abuse of the education system to promote a doctrine that shouldn't have gained any traction beyond Queer Theory seminars in our universities.
Richard Lucas.
Leader of the Scottish Family Party,
272 Bath Street,
Glasgow.
Hands off Perth Royal Infirmary
Sir, – I have to agree with your correspondent Irene Gunnion (letters, August 8) regarding PRI.
I was admitted twice to PRI, once via A&E.
From the ambulance staff to the nurses, they were wonderful.
Under very difficult circumstances they managed to crack jokes and divert one's thoughts from the problems in hand.
However, reality bites.
One evening a nurse in scrubs handed out meals and later took the usual blood pressure and so on.
I asked was she not theatre staff and she said she had been told to help out as the ward was short staffed.
An agency nurse was on duty – it worries me as to how much this was costing the NHS.
I don't know what the solution is but the current threat of turning PRI into little more than a cottage hospital and concentrating on Ninewells fills most of us with dread.
Irene Thomson.
Glasgow Road,
Perth.