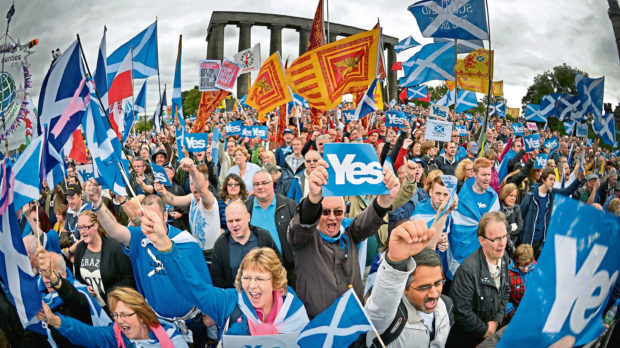 Sir, – I refer to the letter from Mr Joseph Miller as published in The Courier last week (August 8).
I am afraid that his theory whereby an independent Scotland would ensure that the brightest and best of Scots-born citizens would be happy to stay put in Scotland instead of gaining experience of the wider world, flies in the face of the experiences of other countries with small economies and restricted work progression.
Investment in Scotland would be more assured if, once and for all, the SNP would remove the threat of yet another referendum on Scottish independence.
At present this acts as a positive discouragement to any corporate investor who primarily is seeking economic and political stability to ensure the sustainability and growth of the investment.
So long as the SNP deliberately promotes instability, the slower will be the growth of investment in Scotland.
Meanwhile, the more negative will be the impact upon the Scottish jobs market.
The first principle when assessing capital risk for new investment, is the analysis of sovereign risk and economic stability.
This is a factor overlooked by the SNP in its appeals for support for what is a seriously flawed emotional campaign.
We should not therefore be surprised if our brightest and best decamp to other parts of the UK and EU to be able to work and gain experience in what are much broader employment markets.
Derek Farmer.
Knightsward Farm,
Anstruther.
Brexit blow for books
Sir, – It is August so it must be Edinburgh Festival and Fringe time.
The time of year when many of us soak up the wonderful atmosphere that results when many thousands of Scots, tourists from around the world, artists, theatre groups, musicians, writers and many more flock to our capital city to enjoy the cultural extravaganza.
Oh wait, did I mention writers?
It appears that the UK government has decided to refuse visas for a dozen Book Festival authors.
It looks like we can add being a cultural wasteland to the government's post-Brexit vision.
At this rate we won't even have books to read as we wait in the huge queues for food, petrol and medicines when Brexit kicks in.
I really do wish the SNP would just call the referendum that they have the mandate for and get us out of this fast approaching calamity of Brexit.
Surely we are now at the point where independence has to be the only option for our country in the face of a UK government seemingly strangled by its own ideology?
Graeme Finnie.
Balgillo,
Albert Street,
Blairgowrie.
Park will not be diminished
Sir, – A pair of correspondents in The Courier (August 9) refer to the proposed replacement care home in Anstruther .
They both continue to perpetuate the myth that if it were built in Bankie Park that the park would be diminished in size.
This is not so – Fife council have stated on numerous occasions that the site that Ladywalk House now occupies would be returned to parkland thus replacing inch for inch the land lost for the replacement home.
The fact is that Bankie Park will not diminish in size but its shape will change.
And let's be honest the proposed site for the home is not where children play but a bed of overgrown thistles and weeds, something that Fife Council should be ashamed of and cut down before the thistle seeds spread all over the park.
Christine Gull.
Newark street,
St Monans.
Unseemly rush to condemn
Sir, – Ruth Davidson and other politicians who criticise Boris Johnson for using the words "letter boxes" and "bank robber" in reference to women wearing the burka, should have a look at the result of a Courier online poll: 70% think that Boris Johnson should not apologise.
I, too, was initially up in arms and about to join the chorus of those condemning him for yet again using loose and offensive language.
Thankfully, I got hold of Mr Johnson's column in which he discusses whether it is right or wrong to ban the burka.
It is a piece of 1076 words and to my surprise the four in question (letter boxes, bank robber) seemed somewhat objectionable while the other 1068 sounded very reasonable.
They contain a thoughtful argument against an outright burka ban and explain in measured terms why, in our society, it's justified to expect people not to conceal their faces in certain situations in public life.
Thus they present a valuable contribution to the debate.
Ruth Davidson misses the point when she accuses Boris Johnson of making "sweeping statements about what women should or shouldn't wear" (The Courier, August 9).
Far from giving fashion advice he stresses that it's solely the business of a "free-born adult woman what she may or may not wear".
Ms Davidson's comment exemplifies our mainstream politicians' reluctance to address the real issue.
It is easier to slam Boris for an arguably crude analogy than making a stance for the civil liberties and the responsibilities which come with living in this country.
Politicians and governments across Europe are already paying the price for this reluctance: losing out to anti-establishment populists.
Regina Erich.
1 Willow Row,
Stonehaven.
Criticism is misguided
Sir, – Ruth Davidson has made herself look extremely foolish by claiming that wearing the Christian Cross is the same as the burka or niqab.
A Christian Cross worn around the neck is not offensive and nor does it demean women, whereas the burka and niqab are misogynistic which is why such garments are supported by reactionary Muslim men who wish to keep Muslim women in their place.
Ms Davidson's comments have set back the liberation of Muslim women and she may wish to consider why not a single Muslim male in Scotland, or indeed anywhere on Earth, covers their face with a burka or niqab.
Such attire has no place in a modern, progressive Scotland where all women should be valued and their faces not shut away from the eyes of other women and men.
Ian Stewart.
Convener – Atheist Scotland,
33 Park Avenue,
Dundee.
The public are footing the bill
Sir, – The "Baby Box" delivered to a young couple on the birth of their newborn child (Courier, August 9) was very special and exciting for them and they were gracious in their thanks to the Scottish Government.
I would like to remind them that this was a gift from the Scottish taxpayers via the Scottish Government.
Rosemary Smith,
83 Seafield Road,
Broughty Ferry.
Climate chaos in 'silly season'
Sir, – We are now into the "silly season" when institutions are on holiday, the news is slow and scientists like me brace ourselves for a torrent of lunacy from the climate lobby's "professionally hysterical".
We hear that the forest fire season in California and the Med is "climate change in real time" in spite of the fact that there has been a rapid decline in forest fires over the last century.
Apparently this summer is a tipping point and earth will soon be like Venus with 250C temperatures and sulphuric acid rain, though the IPCC says tipping points are pure speculation
However, the Met Office's Stephen Belcher told the BBC that this summer is just "part of natural weather cycle" – so we wont be hearing from him again.
Rev Dr John Cameron.
10 Howard Place,
St Andrews.
Beware what you wish for
Sir, – Rather than being judged on her ceaseless crusade to break up the UK, Nicola Sturgeon asks us to assess her on her record in reversing the ongoing decline in Scottish educational standards.
Well, some good news for the First Minister, with 700 teacher vacancies across Scotland as we approach the new school year, you can rest assured, Ms Sturgeon, we do.
Martin Redfern.
Woodcroft Road,
Edinburgh.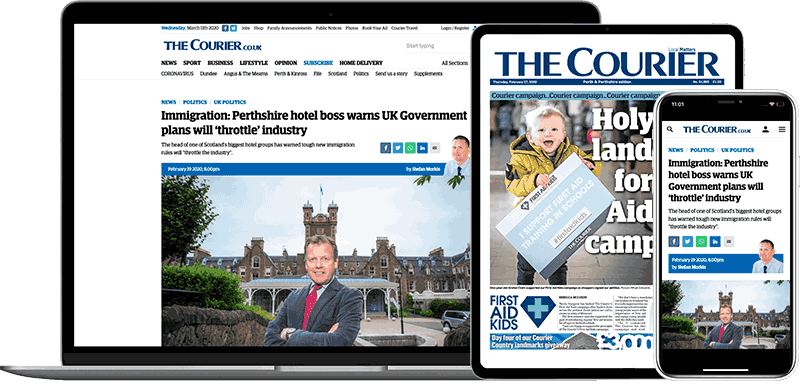 Help support quality local journalism … become a digital subscriber to The Courier
For as little as £5.99 a month you can access all of our content, including Premium articles.
Subscribe