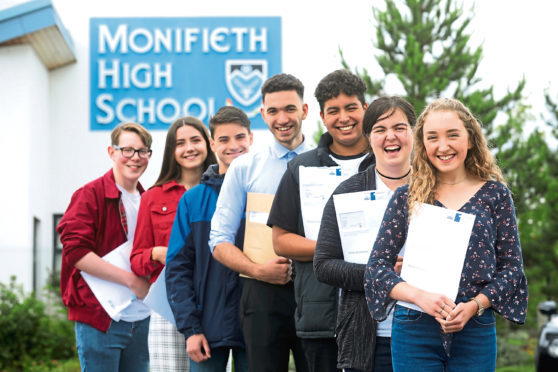 Sir, – On Tuesday August 7, young people in Angus – in keeping with those all over the country – received their examination results.
As is customary, Angus Council posted on their news section wishing young people all the best with their results.
It also referred them to the national helpline for support and advice.
So far, so good.
However, it is also normal practice to select a few statistics to illustrate trends in attainment and improvements in performance across the authority's schools.
Unlike neighbouring authorities such as Dundee City and Perth and Kinross, Angus Council has not given any indication of performance.
Instead it seems that those in charge have chosen to state that they will await analysis through "Insight".
Apparently this could take another three weeks before being ready for release.
The senior officers in Angus, like other authorities, have access to initial analysis, and indeed this data is already shared with schools.
This all comes as the dust settles on another diet of results and, in fact, schools are already on the road to preparation for 2019.
It is also unusual that the Angus Council press release refers the reader to a committee paper on the 2017 SQA results.
Why, one wonders, would they choose to do that?
Come on Angus Council, tell us how the schools have done this year.
Steve Dempsey.
40 Park Road,
Brechin.
Unaccountable decision a worry
Sir, – I was sorry and dismayed to read of the closure of the William Lamb studio in Montrose ("Funding shortfall hits legacy of sculptor", Courier, August 14).
This decision by Angus Alive throws up a couple of issues.
Firstly, at a time when the new V&A will soon be opening, this decision seems short sighted to say the least.
The V&A will attract the sort of visitors to Dundee who may well be interested in a visit up the coast to see the work of an internationally renowned sculptor thus bringing much needed tourist pounds to the area.
Secondly, the decision highlights a worrying trend of unaccountability in local government.
I understand that Angus Alive, who have taken the decision to withhold funding, was set up to allow a not-for-profit trust to run arts and leisure services in Angus.
The advantage is that it would be able to raise funds in ways that statutory council departments could not.
However, the danger with privatisation – whether to a commercial company or a non-profit making trust – is that it allows politicians involved to deny any responsibility and say that decisions that are made are nothing to do with them.
In this is case, it is claimed, that the decision was made by Angus Alive and not Angus Council.
In that case to whom do we, as the public and council tax payers, complain?
Who is Angus Alive responsible to?
How do we hold Angus Alive accountable?
For most of us Angus Alive is run by faceless managers.
We elect politicians to govern and take responsibility.
I expect more from our local councillors.
They should take responsibility for decisions they make – and those made in their name.
Brian Batson.
7 Lour Road,
Forfar.
Pride event was good for Perth
Sir, – I take great offence at the comments made by David Robertson with regard to the Perthshire Pride event ("Minister faces backlash for opening Pride event, Courier, August 15).
It was a fabulous event that passed without any incident, and if anything could be said, it drew the community together rather than, as he suggests, being "Perth's Shame".
If there is any shame here it should be for those who thought it was anything other than a celebration of both difference and inclusion in a tolerant society.
I hang my head in shame that a prominent religious leader should express these comments.
Perhaps we should bring back sack, cloth and ashes.
Harry Coates.
Cornhill Road,
Perth.
UK's diminished role in the world
Sir, – In yet another depressing example of the diminishing impact of the UK's standing in the world due to Brexit, the European Council has confirmed the European Union Naval Force (EU NAVFOR) will move its headquarters following the UK's decision to leave the EU.
The operational headquarters will be transferred from Northwood, London, to Rota in Spain.
Meanwhile the Maritime Security Centre Horn of Africa (MSCHOA) will move to Brest, France, as of March 29 2019.
The EU NAVFOR Operation Atalanta protects vessels of the World Food Programme and other vulnerable shipping, monitors fishing activities off the coast of Somalia and supports other EU missions and programmes in the region.
This latest relocation of functions follows on from the decisions made last November to move the European Banking Authority from London to Paris and the European Medicines Agency to Amsterdam.
Little by little, the UK's role in the world is being diminished, and we haven't event left the European Union yet.
Alex Orr.
Flat 2,
77 Leamington Terrace,
Edinburgh.
Balancing act for Nicola Sturgeon
Sir, – Much is being made of Nicola Sturgeon's apparent reluctance to demand again a second referendum on independence for Scotland.
Ironically a handful of dyed-in-the-wool separatists are to demonstrate at the forthcoming SNP conference to lobby Ms Sturgeon – the politician whose raison d'etre is independence – to call another referendum.
Yet all this is entirely academic.
No matter what Ms Sturgeon or other passionate nationalists may want, there won't be another referendum until the early 2020s at the soonest – Theresa May reiterated this to Ms Sturgeon in Edinburgh earlier this month.
The wily SNP leader, known for her obsessive reading of opinion polls, accepts her chances of winning Indyref2 aren't in any case high enough to risk an imminent vote.
Brexit hasn't delivered the surge in separatist support she longs for.
What will be interesting at the conference is whether Ms Sturgeon will be able to badly let down her most loyal supporters while keeping them enthusiastically on side.
She knows the 2021 Holyrood election will definitively test whether Indyref2 will happen over the next five years – it's "game off" until then.
Martin Redfern.
Woodcroft Road,
Edinburgh.
A shameful episode
Sir, – While cricket fans are relieved that Ben Stokes, with the potential to become one of our greatest all-rounders, has been found not guilty of affray this has been a truly seedy episode.
Modern technology allowed us all to see what took place that night and Prosecutor Alison Morgan's decision to apply the minor charge of affray rather than assault is simply incomprehensible.
Later she changed her mind but, having failed to appear at the pre-trial hearing, her application to have Stokes charged with two counts of assault at the last moment was not allowed.
She is rightly under fire for creating yet another Crown Prosecution shambles but this does not prevent the Cricket Board from disciplining Stokes for bringing the game into disrepute.
Rev Dr John Cameron.
10 Howard Place,
St Andrews.
Poll is on a wing and a prayer
Sir, – I am sceptical about a recent survey by the Humanists' which examined the attitudes of Scottish people toward religious belief.
It supposedly found that 53% of people "never pray ".
However, there are surely relatively few people who, in situations of extreme stress , illness or family crisis, do not – in the end – pray.
I think the survey has got this wrong and that there is actually quite a lot of ambiguity and confusion throughout this survey and the alleged attitude of Scots to religion.
Gus Logan.
2 York Road,
North Berwick.