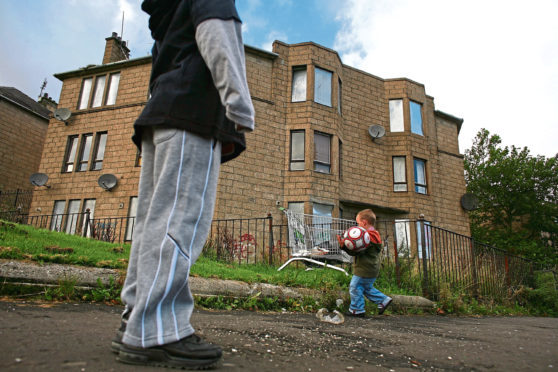 Sir, – I was pleased to see Gareth McPherson's reference to the recently published Child Poverty Action Group research ("Thousands of 'working poor' claiming benefits", Courier, August 20) highlighting, once again, that low income is one of the key components that contributes to the prevalence of poverty.
While there are a number of internal factors that can ease the existence of poverty, we cannot afford to overlook the external political, economic and social factors that can also exacerbate the experience of poverty.
Traditionally, the failure of the left has been to blame the external factors and the failure of the right has been to focus on the internal.
In this context, you have either been mistreated or have manufactured your own misfortune.
To the contrary, what the Child Poverty Action Group findings reveal are some sobering truths.
Firstly, they show that individuals and families must first have the means to manufacture their own misfortune and, increasingly, they do not.
Secondly, that individuals and families are more economically resilient if one or more of those living in their household is in employment which, increasingly, they are not.
And, finally, that individuals and families will be able to rely upon the insulation of a social security safety net in times of hardship or en route to employment which, increasingly, they will not.
Ewan Gurr.
73 Dykehead Place,
Dundee.
Flag stance is disappointing
Sir, – As a retired Merchant Navy officer, it gave me a feeling of pride to see the Red Ensign flying in Montrose in 2017 in honour of the Merchant Navy in wartime.
It made perfect sense with the town being a thriving sea port, ships having been built in the town, and many Montrosians making their living from the sea.
Montrose has a vast maritime history.
I was therefore very disappointed to read in The Courier that Councillor Duff had objected to this one-day event ("Claims flag proposal flies in the face of public opinion", August 17).
Does he believe that no respect should be shown for what was a black era in the Merchant Navy's history?
A poll on Councillor Duff's Facebook page showed that 70 people agreed the Saltire should be flown at all times.
However, his Facebook page would only be viewed by his (SNP) followers, so is not representative.
Taking into account Councillor Duff's previous statement, that anyone not voting for independence was a "second class Scot", and that our beloved "Red Duster" has a Union Flag in the corner, could it be more to do with the SNP's anti-union sentiments?
If so, he does the SNP's cause no favour whatsoever.
Jim McLaren.
25 Redfield Crescent,
Montrose.
Hoist the Red Ensign again
Sir, – I really cannot believe that the public of Angus, no matter what political leanings any one of us has, are paying our elected representatives to argue and in some cases take umbrage over the flying of another flag for one day.
It won't hurt if the Red Ensign is flown separately or alongside the Saltire, for a very good reason. That is, to pay respect and remembrance to those who helped to keep Great Britain, which includes Scotland, fed during the Second World War, facing the same dangers as the Royal Navy with whom I served, risking their own lives in order to ward off starvation in times of need.
Is it therefore, too much to ask of those who object to this act of respect, to put your nationalistic feelings aside for one day, and get on with what they put themselves forward for – to serve the people of Angus, rather than petty squabbling, whinging and moaning?
The Merchant Service flew their flag proudly yesterday, you can still fly yours tomorrow.
Geoff Bray.
Heather Croft,
Letham.
Stop sniping from sidelines
Sir, – I was surprised by the expression of outrage from the local SNP MP and Labour Councillor that not enough progress was being made on the new Madras College ("Concern new Madras could be subject to further delays", Courier, August 17).
For what it is worth, I agree with them.
The difference is they have special access and influence.
Rather than pontificating in this newspaper all they need to do is tell their councillor colleagues to get a move on.
After all, their SNP and Labour councillors run the council in a coalition together.
Anthony Garrett.
1 Royal Terrace,
Falkland.
Assumptions are often wrong
Sir, – I read Gus Logan's letter ("Poll is on a wing and prayer", August 20) with interest.
Mr Logan assumes that people who took part in a survey and stated that they do not pray have simply not encountered sufficient hardship yet, since – according to him –almost everyone must pray if they are sufficiently affected by life.
It is surely the domain of the deeply religious not to grasp the notion that there could be any other way to live than theirs.
Can I assure Mr Logan that there is indeed a way of life open to the rest of us that does not involve praying, and since that way of life assumes that we do not fundamentally believe in any deity, no amount of hardship will make us start praying to a deity we did not previously believe existed?
It is interesting to note that, despite a survey being carried out, Mr Logan assumes his opinion overrides that of everyone who took part.
Apparently the survey "got it wrong".
Perhaps, instead of asking a broad cross- section of the population, next time we should just ask Mr Logan.
Colin Johnston.
Newmill Cottage,
By Eassie.
Recycling info would be useful
Sir, – I was interested to read a recent article in The Courier regarding proposals for Fife recycling sites ("Further changes for recycling centres", August 17).
Before any further changes are made could the public be made aware of the financial outcome of the closure of the Cupar centre on Mondays and Thursdays and for a daily lunch break from 12pm until 12.45pm?
Since it is possible some users are inconvenienced and many will be council taxpayers who pay for the service it would be good to know if the action saves the council, and importantly taxpayers, any money.
Graham Lang.
Westermost,
Coaltown of Callange,
Ceres.
Reasons behind recent anxiety
Sir, – When did Islamophobia evolve into something immoral and racist?
Islamophobia is defined as a bias against Muslims and Islam as a political force.
The same bitter accusations are not levelled against Unionists opposed to Scottish Nationalism and vice versa who are merely exercising their democratic rights.
Perhaps the rise in Islamophobia should be seen in the context of the number of attacks carried out by Muslims who, taking a charitable view, are trying to make a political point or perhaps out of sheer hatred of the Christian country they live in, and the fact that in 1998 there were two Muslim peers and in 2017 there were 18 peers.
Meanwhile, in 1997 there was one Muslim MP and in 2017 there were 16 Muslim MPs.
Unsurprisingly, people are becoming somewhat anxious about the rise of Muslim influence.
George Dobbie.
51 Airlie Street,
Alyth.
Odd position on EEC moves
Sir, – I must confess to being confused at Alex Orr's latest contribution (Letters, August 20).
He points out the various organisations leaving England and setting up elsewhere within the EEC will have an effect on the role of the UK.
Considering his support for Scottish independence and eventual membership of the EEC, I thought he would be delighted with the situation rather than be concerned with the UK's diminished role in the world.
Is this a chink in his independence obsession?
Mev Braid.
Kinkell Avenue,
Glenrothes.