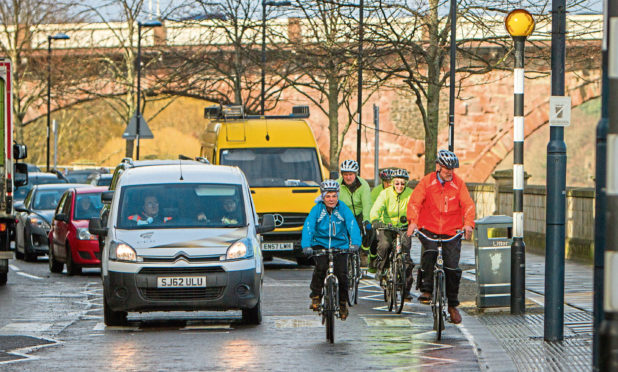 Sir, – Your report on cycling provision in Perth and Kinross on September 11 quotes Liberal Democrat councillor Lewis Simpson saying that, "Perth has some wonderful cycle paths."
Really? Is this the same Perth which does not have a single kerbed-off, dedicated cycle lane in its entire 2,041 square miles?
Is this the same Perth that removed the painted cycle lanes on both sides of Tay Street to create more car parking spaces, in doing so becoming the only UK local authority this century to remove city centre cycle provision to allow access for more vehicles?
And is this the same Perth and Kinross Council that did not get back to me when I sent them in 2016 a proposal for installing a safe, dedicated cycle path between Perth and Scone?
This would have provided a kerbed lane for cyclists and helped to address three major areas of concern – regular traffic congestion on the Scone-Perth road, nationally-recognised pollution levels at Bridgend, and rising obesity among the population.
This, of course, is the same road on which the unfortunate Margaret Lowden died in a collision in July, when I was cycling behind her.
It's like living in the Dark Ages.
Dr Norman Watson.
Glebe Terrace,
Perth.
Snow clearing is a civic duty
Sir, – Our local councillors have an unenviable job in trying to prioritise local services in a time of austerity.
Whilst applauding Councillor Salmond's motives (The Courier, September 5) in trying to preserve council snow clearance in rural communities in Angus I disagree on several counts.
Clearing snow, when done promptly before it freezes, is a relatively simple task for householders.
In the more remote communities we have always had to do this ourselves, generally over much greater areas, periods, and depth of snow than our town or village counterparts.
On the continent, in Germany for example, clearing snow from your frontage is considered a civic duty. Helping out less able neighbours is as good a way of fostering communities as any, and there are other resources that we cannot provide as individuals, such as libraries, that I would prefer to see preserved at public expense.
Hector Maclean.
Glenprosen,
Kirriemuir.
We can all tackle litter nuisance
Sir, – Mr Macintyre, in his letter to Monday's Courier, takes a rather negative view on volunteers litter picking.
I prefer to take the positive view that the beautiful places where I go walking are kept beautiful by the efforts of volunteers who go to places where no paid personnel venture.
Using a litter picker makes the risk minimal in contrast to the danger present to people, pets and wildlife from the glass, metal and plastic discarded by ignorant dirty people.
And there is a great deal of satisfaction to be had from clearing and maintaining a favourite route.
Even removing small amounts of litter can make a big difference to our environment and I highly recommend to anyone who does not like litter that they make a positive contribution to society and pick it up.
John Richmond.
Shamrock Street,
Dundee.
Thatcher's ghost no longer a fear
Sir, – The report on last Thursday's Dalgety Bay and Inverkeithing by-election by Craig Smith was an illustration as to why the Tories did so well and neither the SNP nor Labour got anywhere close.
Dave Coleman came across as humble and modest with an awareness of the issues that chimed with the local communities – flight paths; re-cycling; the state of the roads; doctors' surgeries and Inverkeithing High School. Not a mention of the other parties and no party politicking.
Contrast that with the response and language of Mr Hanvey (SNP), the only other candidate quoted. Firstly he had a little dig at the Labour Party – "It was Labour's seat to lose" – and then he went on to say he was "bewildered that people in Fife are prepared to vote for the Conservatives" and their "abhorrent Tory policies" seemingly unaware he was insulting the 2,300 people who had just voted for Mr Coleman.
Anyone who studied the local election results from 2017 for Dalgety Bay and Inverkeithing would have concluded that the Tories were clear favourites to take the seat.
Dave Dempsey, the Conservative group leader on Fife Council and a sitting councillor for the ward, significantly out-polled both Labour and the SNP candidates in 2017 largely because he had been a diligent, effective and hard working councillor who put the needs of locals before party.
There is no doubt in my mind that Dave Dempsey's work and reputation benefitted Dave Coleman and I expect Mr Coleman would be among the first to acknowledge that.
I believe that those not involved in party politics – the overwhelming majority of the electorate – are sick and tired of hearing Labour and the SNP kicking lumps out of each other and the fact these two parties are in coalition in Fife has added to the general cynicism and growing mis-trust.
Ever since the days of Mrs Thatcher the Tories have struggled in Scotland but she is, at best, a distant memory for many. People can no longer be "frightened" into voting for Labour or the SNP by the ghost of Mrs Thatcher and if Labour and the SNP don't learn that, and quickly, the Dalgety Bay and Inverkeithing result could well be the beginning of a trend.
Bryan Poole.
South Road,
Cupar.
SoS called for secret cargoes
Sir, – A recent letter with reminiscences of the Tay Sand Company brings to mind reports of a curious cargo which was shipped from the Tay to Orkney at the height of the Second World War.
The sinking of HMS Royal Oak by U-47 showed that a submarine could penetrate the Royal Navy's fleet anchorage at Scapa Flow and the famous "Churchill Barrier" causeways were immediately started, using sand taken, of all unlikely places, from the River Tay.
The sharp-graded Tay sand was reported to be so suitable for the concrete that 33,000 tons of it were secretly shipped from Dundee by the Tay Sand Co Ltd between 1941 and 1943; surely an extraordinary use of scarce shipping during some of the worst years of the Second World War.
The small steamers Glen Mary, Conida, Clova, Charlus, Ashanti, Loanda and Barriedale sailed on this little-known work without loss, and, despite quarries having been opened in Orkney, thousands of tons of whinstone chippings were also shipped from Cunmont Quarry.
Perhaps a reader may know more about the background to these extraordinary shipments from the Tay.
Roderick Stewart.
Dronley House,
Dronley.
An equality of anonymity
Sir, – Your deeply sad report of a middle-aged minister of religion's admission of "inappropriate conduct" with a married woman of near-similar age raises the usual questions.
He expresses continuing remorse over their close relationship, which he initiated.
Her own admission makes clear she was a willing participant, it was entirely consensual, with no coercion.
Fourteen months afterwards, when going through her divorce, she travelled from England to meet him in Glasgow, clearly hoping to revive their friendship.
No-one would condone either's behaviour, but his name, professional status and family situation have been published and his reputation damaged.
Conversely, she naturally "wishes to remain anonymous" and will remain so, hundreds of miles away.
It seems too easy for accusers of either sex to retain anonymity, whether they are upheld or not, and/or whether they bear equal responsibility for whatever occurred, while the accused party is invariably named and shamed.
Also, the basis of her complaint to the presbytery was her claim of being bullied and shouted at in a Glasgow restaurant, which he denied; the investigating committee concluded there was no case to answer. Were no staff able to confirm either her claim or his denial?
John Birkett.
Horseleys Park,
St Andrews.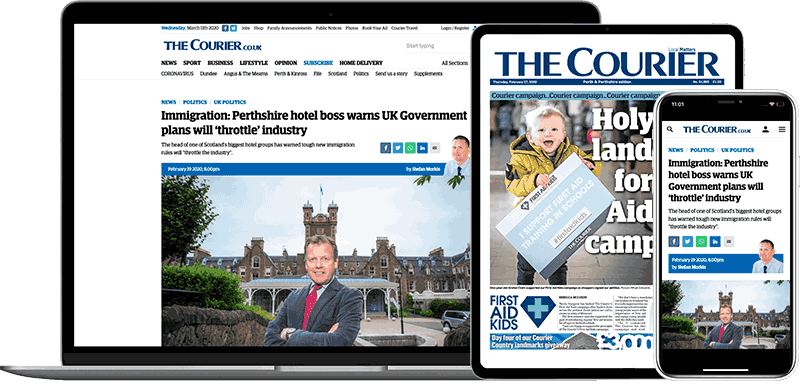 Help support quality local journalism … become a digital subscriber to The Courier
For as little as £5.99 a month you can access all of our content, including Premium articles.
Subscribe