Sir, – I am pleased that The Courier recently printed the statistics regarding the grossly overcrowded trains that are currently being allowed to run on our Scottish railways ("Perth train service most overcrowded in country", September 28).
The last time I was treated as a "sardine" by ScotRail on the 4.34pm train from Edinburgh to Ladybank, I had to stand for three-quarters of the journey, only getting a seat at Kirkcaldy.
No refund offered of course.
I am not a regular passenger but my heart goes out to those who are, for having to fight for a seat (that you have already paid for) cannot be a good way of ending your working day.
While trains are allowed to carry standing passengers (goodness knows why) the statistics show that many are seriously exceeding even legal capacity.
Our SNP Scottish Government must stop playing around with rail companies on this matter: the need for more rolling stock must have been seen years ago surely.
Season ticket holders obviously form the financial backbone for any rail company and they, at least, should be guaranteed a seat for each daily and clearly foreseen journey.
Also, heaven help us from the legal standpoint if an overcrowded train is ever in an accident.
If someone's four-seater car hits a wall while carrying six people, both the police and the insurance company involved will be asking why.
Yes, rail chaos is real chaos.
Archibald A Lawrie,
5 Church Wynd,
Kingskettle.
Bidding to draw line under issue
Sir, – My letter of September 27, entitled "Marchers have hijacked the word 'Pride'," seems to have caused a bit of a stir.
As such, I'd be very grateful for the chance to reply.
Before doing so, I must make clear that I respect those with different opinions and do think the world, even in the shadow of Brexit, would be a lot drearier if we all thought the same.
I shan't dwell on Saturday's contribution by Mark Arbuthnott from Brechin.
I don't doubt, as the contributor asserts, there was "good reason for the Dundee Pride march" but my point is that there is no justification to hijack the word "pride".
I also take exception with Mr Arbuthnott's rather amusing "silly little man" description of me.
If only I was little and not the size of a pub doorman, and as for silly – I am regularly called a lot worse but I am disappointed when someone of Mr Arbuthnott's undoubted erudition stoops to personal insult and, in so doing, throws in the towel.
Also in Saturday's edition, Alison Dey of Newport-upon-Tay thought it great that "traffic wardens waved" at the passing gay parade.
She also spoke of the "promotion of equality" and so I wonder – with both males and females and all of the in-betweeners and undeciders being equal – if she would have any problem with traffic wardens cheering on a straight pride march, so long as they didn't hover on double yellow lines, of course?
Finally, I would thank Willie Robertson from Stanley for pointing out, in his letter, a glaring mistake in my letter.
Mr Robertson quite rightly took me to task for failing to mention that the word "gay", formerly an adjective meaning cheery and happy, has also been hijacked and now identifies as a noun from the homosexual lexicon.
I do hope that draws a line under all of this gay abandon and that we can all move on with pride.
Jamie Buchan.
Grove Road,
Dundee.
What is the point of movement?
Sir, – I was astonished at the mean and derogatory comments directed by your correspondent, Mark Arbuthnott, toward Jamie Buchan who earlier had the temerity to question both the terminology and objectives of the "gay pride" march in Dundee.
My question to Mr Arbuthnott is, what is the purpose of such marches?
We all get a bit tired of labels and the "in-your-face" performances of minority groups in society, to draw unceasing attention to their own minority interests.
Why do it?
Everyone in Scotland has freedom of choice concerning their personal relationships and preferences.
What is the point of a movement, such as "gay pride"?
If people wish to form a club or society of like-minded individuals, so be it.
Let them meet and convene in ways appropriate to clubs of like-minded enthusiasts.
What I object to is having such activity rammed down the throats of the majority of our citizens through such publicising activity of gay marches – and we all have to suffer this on penalty of being unfairly branded as "zealots" or "homophobes".
So what might be the next marching idea for Dundee?
Perhaps the Tayside Beekeepers Society professing their pride in producing honey?
My advice to Mr Arbuthnott is to wise up and be glad he does not live in the many parts of the world where "gayness" is not tolerated in any of its forms, and marches to advertise sexual predilection are rewarded by lengthy jail sentences for the participants.
Derek Farmer.
Knightsward Farm,
Anstruther.
Pessimism is the real problem
Sir, – Your special report on business after Brexit ("Warning food prices will rise as a result of failed Brexit talks", September 29) is unnecessarily pessimistic.
We will have no bread, just oats for porridge and barley for whisky and cattle-food.
We will be left with all the potatoes and lamb we could wish for (because we can't sell them to Europe).
We will have no migrant labour to work our fruit farms (and where are our young people who are out of work?).
Even the fire-service says it depends on equipment from Europe.
At least Scotland is the last place in Europe where water will dry up.
The problem with Scotland is pessimism.
Have more confidence in our true selves, and we will be a nation again, and thrive.
Hamish Robertson.
Creag na Sith,
Princeland Road,
Coupar Angus.
Government is doing its best
Sir, – Surely it is disingenuous to think that difficulties arising from Brexit negotiations are in any way solely dependent on the current government (Courier editorial, September 29).
Negotiations take place between people who have different aims or intentions.
There are usually two parties involved and if one or either side refuse to compromise then the deal is off and other means have to be found by both parties to realise their aims and intentions.
And so it is with Brexit.
It was the British people who voted to leave the European Union and not our government.
It is a fundamental principle of democracy that the will of the people must be respected.
Despite the outcome of the referendum the opposition to Brexit has been uncompromising and relentlessly aided and abetted by people within and outside parliament who seem to have no respect for the referendum result.
How many referenda do they want?
Far from Brexit being a potential disaster, it is equally possible that the United Kingdom will become a thriving world trading economy liberated from the political, economic and bureaucratic constraints imposed by an unelected EU Commission.
Regrettably Brussels is unlikely to compromise and it appears they are prepared to do everything in their power to damage Britain's prospects as a sovereign nation.
The United Kingdom is not dependent, never has been dependent and should never become dependent on the European Union.
The desperation of Brussels to have us remain, if anything, clearly shows they are more dependent on us.
Iain G Richmond.
Guildy House,
Monikie.
Flag up huge city attraction
Sir, – I was born in Dundee and still travel there once a week to visit my mother.
I am astounded that there is no signage on the A90 or the roundabout at the end of the Kingsway directing potential visitors to the V&A.
It seems incredible that the city has failed to invest in some relevant signage.
David Andrew.
54 Redford Avenue,
Edinburgh.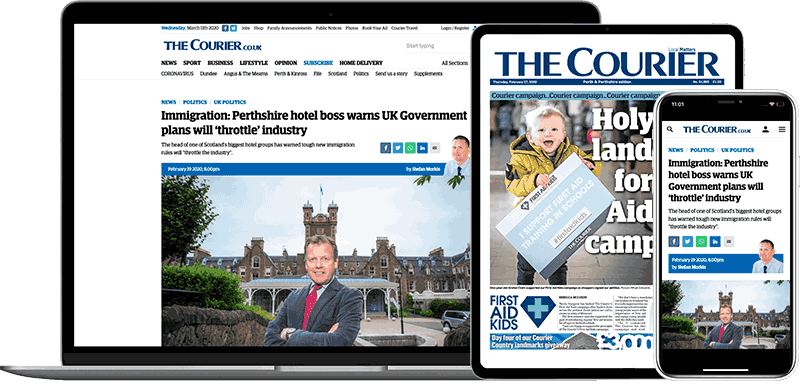 Help support quality local journalism … become a digital subscriber to The Courier
For as little as £5.99 a month you can access all of our content, including Premium articles.
Subscribe