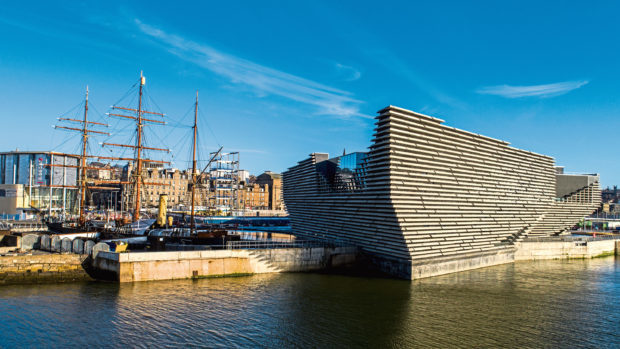 Sir, – Michael Alexander's piece about the waterfront development (The Courier, October 9) is sure to encourage debate about the value of such a wonderful open space.
I agree that Dundee city is in need of further investment. However, I would argue there is a far greater need to improve the existing infrastructure before erecting more poorly designed monstrosities that will block out the light and not stand the test of time.
Dundee already has many impressive streets leading down to the river. They have sadly deteriorated due to years of neglect. Surely investment priority would be better given to their restoration?
By transforming these old buildings to their former glory, visitors would then be encouraged to explore more of Dundee's treasures in the heart of our great city.
Kengo Kuma has created a magnificent masterpiece that will bring millions of tourists to Dundee. We mustn't let the V&A be overshadowed by such short-sighted mediocrity.
Fay Smith.
Flass Road,
Wormit.
Tackle the real questions
Sir, – Regarding Thursday's Question Time broadcast from the Scottish Parliament building, there is not much to say about Ross Thomson's ill-informed attitude to the drug problem in Scotland.
Likewise Universal Credit, a vicious attack by the Tories on those who have the least. Most worrying of all, Universal Credit is only around 10% rolled out meaning most areas have still to experience its impact.
Highlands became the guinea pig and the effects are being felt by the unemployed, working people on low wages, self-employed people, single parent families, the vulnerable and the disabled.
Many have been stripped of their rightful support, forced to wait, sometimes months, on payments.
What happens when money is stopped? Who do you turn to?
Many will find help from Citizens Advice Bureau; (CAB is funded by the Scottish Government).
In the Highlands a staggering £24 million was reclaimed on behalf of claimants by such bodies as CAB. Others may try their representatives, in the council, MPs and MSP. Then there are those who will simply suffer in silence.
I am old enough to remember when the Tories introduced Care in the Community, when vulnerable people ended up in Sally Ann hostels, places that had neither the experienced staff or the wherewithal to look after them.
Many simply ended up sleeping in doorways, and far too many took their own lives.
The Tories have tried to portray social security payments as a handout. They are not, and people on benefits should not be made to feel like scroungers. Most money handed out in this way not only helps people but will go straight back into the local economy.
People on benefits don't go globetrotting to top up their winter tan. Neither do they go off on winter skiing holidays in Austria. The money is spent locally.
Since the introduction of Universal Credit, in the Highlands alone, the council has already reported an estimated £36 million loss to the local economy and they are carrying £1.8 million in council housing debt.
Council house tenants are better placed to ride out the storm, but what happens to the people living in private accommodation that have their housing benefit stopped?
Forget Question Time for now. It's time for meaningful discussion on the real political questions affecting Scotland.
Walter Hamilton.
City Park,
City Road,
St Andrews.
#MeToo threat to judiciary
Sir, – This weekend marks the first anniversary of the #MeToo movement, originally meant to deliver justice to women who were victims of a heinous crime.
One year on it threatens to undermine the very bedrock of our judiciary.
Our system of justice is based on the fundamental principle of innocent until proven guilty, yet men accused today of sexual assault are shunned and hounded, immediately lose their livelihoods and in some cases take their own lives.
The movement demands that women who say they have been raped must be believed and anyone who fails to accept their every word as gospel is denounced as being a "victim-blamer", a "victim-shamer" and even a "rape apologist".
This is preposterous.
False rape allegations range up to 20%, driven by anonymity, revenge, the need for an excuse, or the hope of financial gain (eg the huge rise in complainants when Jimmy Saville's charities offered compensation).
Rev Dr John Cameron.
Howard Place,
St Andrews.
Council needs to talk to business
Sir, – With the closure of Kirkcaldy's High Street M&S, Fife Council appears once again to be on the back foot.
Given the money that is pouring into regeneration and infrastructure projects in the town, it beggars belief that the council is so detached from business that it can be shocked and surprised to hear the news.
Where is the economic development strategy which involves working closely with existing businesses in towns like Kirkcaldy, Glenrothes, Levenmouth and Cowdenbeath to ensure that their needs are prioritised?
The Labour/SNP administration needs to put economic development at the heart of its programme, with resources and personnel to match, if it is serious about checking, or reversing, this trend.
No one can fail to applaud the ambitions of the Fairer Fife plan, but they will remain largely aspirational unless the same hard thinking and ambition is applied to the business environment.
Linda Holt.
Councillor for East Neuk & Landward,
Dreel House,
Pittenweem,
Anstruther.