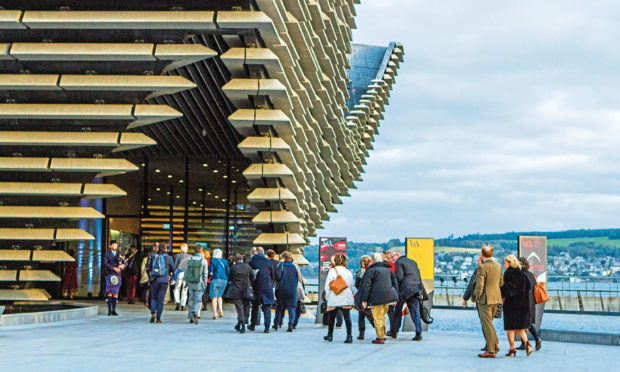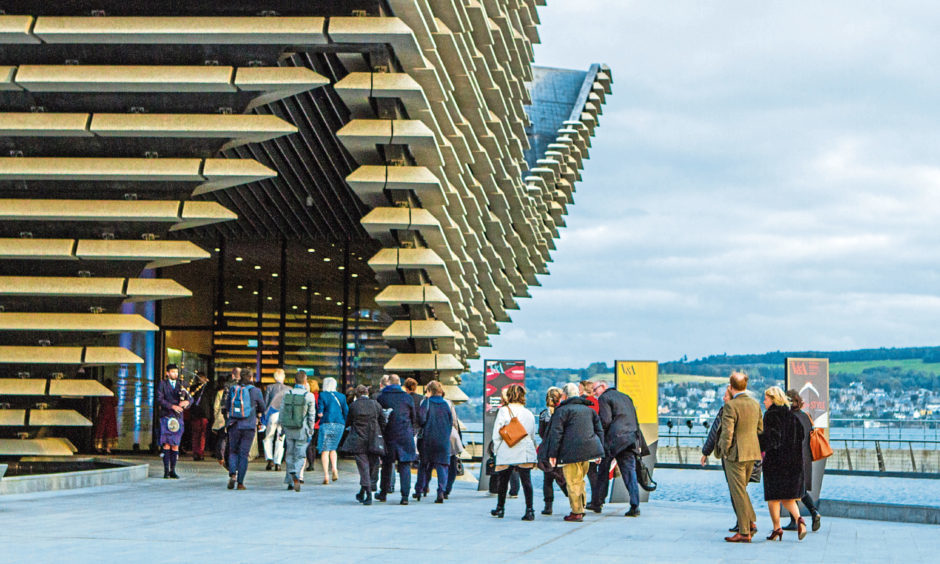 Sir, – I have always been rather sceptical about the design of the V&A right from its inception.
Following a recent visit my views have been confirmed.
The entrance is a wind tunnel waiting for an accident to happen.
There is a very obvious lack of car parking facilities which makes it very difficult for elderly or handicapped people to get there without a long walk and having to cross busy main roads.
Inside I was confronted with a vast open space with slanting wooden slats from floor to ceiling.
Somebody likened the interior to a library gone wrong.
The stairway was so long and, although the steps were easy, one of my friends had to stop halfway up to gain breath.
We had not been directed to the lift at that stage.
Upstairs was another vast empty area with very uncomfortable seating.
One friend felt quite dizzy looking down from such a height.
The Scottish Exhibition proved good enough but, as a Charles Rennie Macintosh fan, the Oak "tearoom" was so small, and really rather dark and disappointing.
I have heard mixed reviews about the Ocean Liners exhibition.
Indeed many have suggested that exhibitions at the McManus Gallery and Discovery Point are far better.
It has been reported that 100,000 visitors have attended in less than a month.
I wonder how that can be accurately verified?
Avril Simpson.
Field Studio,
Welton Corner,
Forfar.
Use of plastic far from fantastic
Sir, – I visited the V&A for the first time recently.
There were lots of admirable bits, though it seemed to me more intent on feeding me than entertaining or educating me.
That is just my opinion and no doubt other people will feel differently.
However, I was appalled to be served drinks in plastic cups with plastic straws.
Can this museum of design not manage to design something less damaging to our world?
Mary Henderson.
36 Luke Place,
Dundee.
Waterfront words a worry
Sir, – I found Dundee council leader John Alexander's comments in the Courier worrying ("Grass and open space does not create jobs, says leader", Courier, October 8).
The Waterfront development may have been placed in the public domain as he says but not everyone has access or knows how to access it, especially as it has changed over many years.
In addition I am sure he is aware that many people can't visualise from drawings what the finished article will look like until it is complete.
In these circumstances the public trusts their elected representatives to consider matters properly and reach a satisfactory conclusion, having conferred with professionals where necessary.
It would appear in this case that no real consideration has taken place apart from that of a financial nature.
The original ethos for this area was to open up the waterfront to the city, not to populate it with sterile hotels and office blocks.
Mr Alexander goes on to say that "grass and open space doesn't create jobs, investments or opportunities for young people".
That's an insensitive statement which, taken to its logical conclusion, suggests every area of grass or parkland should be built on.
Should we fear the gradual degradation of the likes of Baxter, Caird and Camperdown parks?
Thankfully some architects appreciate the aesthetic and public benefits of the thoughtful treatment of landscaping and environment.
Like many cities, Dundee has its problems which are not easily dealt with, but destroying a potentially attractive site by over commercialisation will not solve them.
If the area cannot be imaginatively landscaped then at least any buildings should be sympathetically designed both in form and in height to compliment the new V&A.
Terry Smith.
33 Flass Road,
Wormit.
Time to grasp a big opportunity
Sir, – Jamie Buchan's article on the lack of nightlife in Perth ("Student population is a major asset and key to city's bright future", Courier, October 8) will hopefully be picked up by both the council and the nightclub owners.
Perth is gradually opening its "too long-closed" night gates, but it still has a long way to go.
One aspect that surprises me is the late hour at which the night life starts – usually after 11pm.
A lot of older folk – and maybe some younger folk too – could be catered for in the hours between 8pm and 11pm.
It is evidenced by the likes of the Rewind Festival that loads of folk aged 50 plus want to be out there and to dance and have fun.
They usually have jobs, however, and also need to take care of their sleep requirements.
So how about one of the night clubs testing the interest to see if they can attract two crowds in an evening, one at 8pm and the second one after 11pm?
Good advertising would be needed and maybe some promo drinks or something.
The music would need to be to their liking, but there are enough good venues in Perth – sadly some of them have had to shut due to lack of support.
Time for a rethink guys.
Daniel Ogilvy.
Queens Court,
Perth.
Beavers leave trail of damage
Sir, – As a lifelong observer of our flora and fauna I must take issue with the opinion expressed, attributed to ecologists, concerning the beneficial effects that beaver dams have in ameliorating water flow at times of heavy rainfall ("Farmers claim illegal beavers causing havoc on their land", Courier, October 12).
Whilst I agree that more water is stored during the construction of such dams I would put it to said ecologists that when water levels have reached the depth deemed by the beavers to allow safe underwater access to their lodges, inside the dams the beavers thereafter maintain that level,and no more, extra flow merely over topping these dams during heavy rainfall periods.
Consequently it follows there is no extra water storage available during periods of heavy rainfall, indeed by their very presence and their propensity to fail, beaver dams can actually increase flooding.
I can confirm these illegally reintroduced animals have now progressed well up the River Tay beyond Aberfeldy leaving a trail of destroyed trees and collapsed ditches and riverbanks, thus destroying the very scenery that the vast majority of tourists visiting this area know and enjoy so much.
Beavers in this area are now abandoning their nocturnal habits and can be viewed early in the morning and prior to dusk, perhaps this is the shot in the arm this area's tourist trade will welcome!
A Henderson.
Wester Carse,
Aberfeldy.
A heavy touch of hypocrisy
Sir, – It is a bit rich of H Moncrieff of Perth (Letters, October 8) to accuse the EU of using bullying tactics against a rebel member state that wants to leave because it no longer wishes to abide by the rules of a club it willingly joined in order to secure more advantageous trading deals elsewhere – or so it believes.
It seems he missed an item in a recent letters column which explained precisely how the UK bullied more than half the world to achieve the high level of prosperity enjoyed by some but certainly not all of the citizens of Britain during the Victorian era.
His answer to job shortages which would arise by banning immigrants would be to stop the dole, aka unemployment benefit, of anyone who refused to take a job offered to them, whether suitable or not.
It does not sound a lot like a solution he would readily accept for himself.
The one thing he got right was to point out that items bought from Europe could be available elsewhere in the world.
Of course this would mean negotiating trade deals with many of the nations which the UK had bullied in the past.
In this instance one wonders if the opportunity to exact revenge for past tariff impositions might just be too good to miss.
Finally, his plea to those who voted to remain in Europe to accept defeat in the name of sportsmanship is nothing short of risible.
Allan A MacDougall.
37 Forth Park,
Bridge of Allan.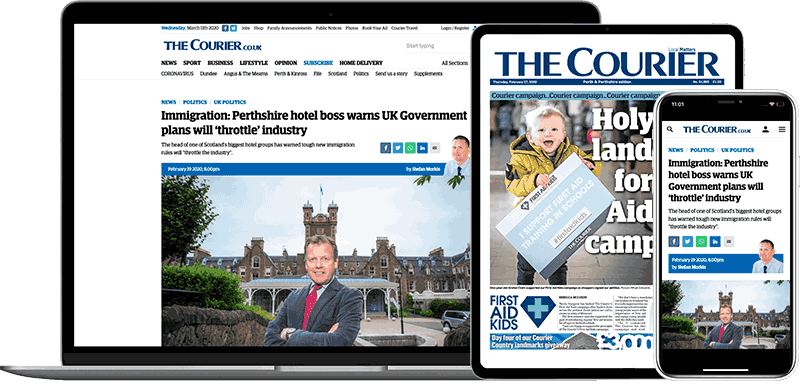 Help support quality local journalism … become a digital subscriber to The Courier
For as little as £5.99 a month you can access all of our content, including Premium articles.
Subscribe