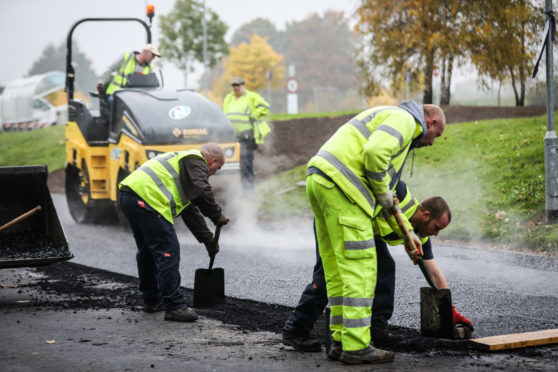 Sir, – It is good that recycled plastic is being used in roadworks at Gardyne campus ("D&A College is paving with plastic in green road surfacing project", The Courier, October 12).
However, it is less good news environmentally that the works are to broaden the road leading to the student car park, a 250-place provision, which is usually full.
Consequently students park on the grass and churn it up.
Why is D&A College encouraging its 18 to 22-year-olds to drive around Dundee instead of using public transport?
There are major bus routes only 300 yards away, and the site has plenty of cycle racks (currently little used).
There are huge posters in the reception area of the main building promoting "sustainable transport" and "saving CO2" – good ideas that need to be pursued with practical action.
Alan Lawson.
Albany Road,
West Ferry,
Dundee.
A case for integrity
Sir, – The late Douglas Adams said he loved deadlines, "especially the whooshing noise they make as they fly by".
Perhaps your columnist Jenny Hjul heard a similar noise as she was finishing her latest piece ("Brexit bounce falls short," October 10) as I'm not sure what else can explain her rambling engagement with, I think, Scotland's first minister, Brexit and a march.
Ms Hjul's anger and distaste for the current Scottish Government, the SNP, the concept of a country being in charge of all the decisions it makes, and increasingly Scotland itself, is abundantly clear.
By far the most insidious feature of her writing is her use of loaded militaristic terms with which to label supporters of independence.
To write of troops gearing up for a rally for separation is way below the standards I would expect of a journalist, even one whose whole argument is predicated on the Union as being the saviour of Scotland.
Running a close second is her assertion, without reference, of a 20,000 crowd marching in Edinburgh on October 6 whilst putting the All Under One Banner estimate of 100,000 in brackets.
Now, regardless of which figure one believes, why is it only the pro-independence assertion that is marginalised?
Of course she may well have taken her lead from the way Westminster marginalises Scottish voices in the House of Commons, but I'd suggest that those wishing for an independent Scotland, like the Scottish MPs, will not be silenced.
When it comes to talk of EU withdrawal, Ms Hjul's writing becomes even cloudier and in the light of the arguments which were used by the Better Together and Leave campaigns, she might want to revisit the claims they made which now lie in a broken heap.
Yet by far the most worrying thrust of her latest piece is talk of a Brexit bounce.
Firstly, Brexit has not happened and most importantly we have no idea of what EU withdrawal will be like, other than an unmitigated disaster for industry, the economy, and Scotland.
But perhaps I am being too hard on Ms Hjul. It can't be easy trying, week after week, to come up with some novel way of doing down Scotland and supporting a United Kingdom that seems to be crumbling at an ever increasing pace.
I am sure Ms Hjul is sincere in believing what she writes but, as Douglas Adams also said, "To give real service you must add something which cannot be bought or measured with money, and that is sincerity and integrity".
Graeme Finnie.
Balgillo,
Albert Street,
Blairgowrie.
V&A a poor relation?
Sir, – As a Dundee refugee now living in Sussex, I drove the 1,000-mile round trip to visit the V&A. We left, disappointed, within a few minutes.
The main complaints have been extensively covered elsewhere – an excellent building on the outside, missed opportunities inside.
And while I'm sure the V&A feel they can ride this out, the critical Tripadvisor reviews have been rising inexorably, having just passed an important milestone, with more than 40% now rating it "average", "poor" or "terrible".
At the time of writing, the 42% total compares with just 6% expressing the same opinions of the London venue.
Dundee has a new dynamism about it, but this is rather punctured within the museum.
The city deserves better to avoid possessing the "poor relation V&A" tag.
Alan Murray.
Vera's Walk,
Storrington,
West Sussex.
Uncomfortable home truths
Sir, – Some interesting polls from Survation that must embarrass our British Conservative friends.
Only 27% of the public believe the British Tories in Scotland have given "an appropriate amount of consideration" to the views of Scots, with 62% believing they have not.
A further recent poll suggested that some 70% of English Tory voters would be prepared to see Scotland leave the UK as long as they exited the EU, and a similar poll suggested a small majority would prefer to keep Gibraltar than Scotland.
As our British Conservatives become more desperate, I think it's safe to say if the UK is to end soon, it will probably be Conservatives that light the touchpaper.
It's only a poll but it certainly makes you wonder if the phrase "family of nations" is somewhat out of step with the people in Scotland.
Bryan Auchterlonie.
Bluebell Cottage,
Perth.
The light burns ever brightly
Sir, –Why can't Ruth Davidson, and all the others who deny Scotland her desire for independence, not realise that just because it may not come about for a year or two, it does not mean that the subject will go away?
We, who believe in independence, will not stop working towards it.
The passion of our beliefs has, if anything, only grown since 2014, along with our support and arguments to be ready for the day.
If you truly believe in something you do not give up.
J. McKenzie.
Dunkirk Park Farm, Bridge of Earn,
Perth.
Ideology above practicality
Sir, – After two years of agitation over Brexit, the SNP has still not properly explained what the alternative for an independent Scotland would be.
We are all clear that for Nicola Sturgeon and her colleagues the best deal Brexit can deliver will always be rejected by them as the worst, in their continued efforts to argue for independence off the back of it.
However, the likeliest outcome of a successful push for Scottish independence would be an extended, potentially indefinite period outside both the UK and the EU, as the powers in Brussels consider how Scotland's public finances would have to be restructured to satisfy them.
Even then, a number of EU national governments, including Spain, will be cautious about setting precedents that could encourage their own separatist movements, so would likely block our entry.
Is the SNP position that its obsession with independence justifies casting ourselves adrift from both the UK and the EU?
Keith Howell.
White Moss,
West Linton.
Royal wedding: please explain?
Sir, – How can spending £2 million of tax-payers' money on security for a nonentity, namely Princess Eugenie, be justified?
What does she, or her sister contribute to British society?
Alister Rankin.
Whyterose Terrace,
Methil,
Fife.