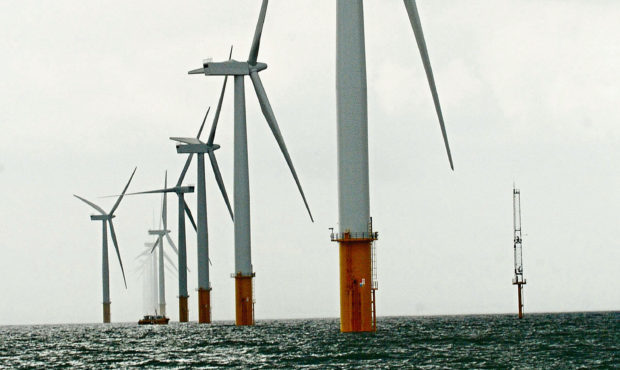 Sir, – I must admit it, the wind was well and truly taken out of my sails when reading the news this week.
ScottishPower has announced that it would soon rely on 100% wind energy to power our homes.
Now, as we all know, wind speeds in Scotland can vary immensely.
Despite this, wind turbines are only allowed to spin when the wind speed lies between about 5mph and 32mph.
This rather begs the question – from where is ScottishPower going to get their energy supplies during winter gales or indeed on calm summer days?
And what engineer from a power company is going to endanger his life by going to sea in some small boat during winter storms to service the growing number of off-shore wind farms?
Wintertime is the very period when most households require maximum power, yet that is the very time when wind farms will, most likely, be producing minimum power.
It just doesn't make sense.
Obviously at such times of minimum electrical generation, power must be brought and bought from elsewhere.
Surely this could only result in Scotland being left subservient to others either south of the border, or even outwith the UK.
Relying on other nations in time of need is not something that will come easily to our SNP Government.
Meanwhile, using electricity gained from natural resources should be making it cheaper year by year but the very opposite seems to be taking place.
There seems to be a general belief among some that wind power rules but that may prove to be a somewhat naive position.
It will be interesting to wait and see what happens in the months and years to come.
Archibald A Lawrie.
5 Church Wynd,
Kingskettle.
Climate change not man-made
Sir, – Alex Bell's article on climate change in last week's Courier ("It's not a climate for denial", October 11) continued to preach the wholly unproven theory of man-made climate change.
The IPCC computer models which kickstarted the theory have long been shown to have been total nonsense.
The IPCC has subsequently espoused the "Hockey Stick" theory, which basically stated that the world's climate had never changed until now.
They persuaded public organisations, such as the BBC, to endorse the theory.
The BBC apparently had a policy of not allowing any critics of the "Hockey Stick" to be heard, and actually publicly apologised and withdrew the programme from the iPlayer when one critic slipped through.
The "Hockey Stick" theory collapsed in the face of geological records which showed that the climate had changed.
The IPCC then quietly dropped all reference to it, though neither they nor the BBC thought fit to apologise.
Climate has always changed: the current cycle shows a warm period approximately every 1,000 years.
In the last warm (Medieval) period temperatures were considerably warmer than they are now. As with the previous (Roman) warm period it was followed by a Little Ice Age.
This resulted in farmlands in Viking Greenland reverting to arctic tundra.
There were annual ice fairs on the River Thames, and all major British rivers regularly froze solid.
In Scotland the growing season was shortened by two months, leading to widespread starvation in the Highlands and Islands.
When the next Little Ice Age comes along, as it must, the problems of our great-grandchildren will be immense.
When I was born there were fewer than two billion people on the planet: now it is 7.5 billion and rising.
The curtailment of the growing season will cause mass starvation.
Britain can produce only 17% of its food requirements from its own resources: the rest comes from the surplus of other nations.
That surplus will disappear.
Man did not cause climate change nor can he do anything to prevent it. It is time to plan for the real future.
Bill McKenzie.
48 Fintry Place,
Broughty Ferry.
Comparison does not work
Sir, – Charles Wardrop (Letters, October 18), in chiding those who feel cheated by the Brexit referendum and are keen to avoid the catastrophe it is sure to bring, uses the football analogy that Brexiteers often quote – if ones's team loses a game of football, would one call for a re-match?
In asking the question he destroys his own argument.
If a winning team is later found to have broken the rules, often even trivial ones of administration, there would be no need to call for a re-match – the authorities would call the result invalid and instruct one.
I recall Dunfermline using an ineligible player as a late substitute against Stenhousemuir while leading 7-1.
A re-run was ordered.
There are countless examples.
He shoots himself in the foot with his horse racing analogy too – if my horse came second behind one whose trainer or owner had misled the horse authorities or broken the rules, my horse would walk off with the prize.
By contrast, fair play and honourable intention would make the result stick.
Anyway, all of which is a moot point in relation to the People's Vote.
It is not a re-run as Mr Wardrop contends, but a new referendum on the unplanned, unexpected and never explained outcome of the original referendum, whose acceptance is assured by the very creation of the next one.
Gordon Campbell.
59 Garvock Hill,
Dunfermline.
Have your say on application
Sir, – I have some concerns over proposals put forward in relation to Leslie House in Fife by Byzantian.
Six new houses on the lower half of the historic gardens, and two at the front, will restrict views of the house and the road to be built through the town park will lead to conflicts between walkers and traffic.
With nine new flats in a modern extension, Byzantian are therefore proposing 17 new dwellings.
This is in addition to the 28 houses already approved by Muir Homes.
A total of 45 new dwellings will totally alter the historic landscape of the estate and are excessive.
In addition there will be 19 flats formed within Leslie House itself, making a total of 64 dwellings.
The development will generate significant traffic by the residents, their visitors and delivery vehicles, directed through the historic listed arch at Duchess Lodge, putting it at risk of damage, as occurred before.
There will be no public access to Leslie House or renovated historic gardens.
I would urge people to have their say on this application before October 25.
Richard Graves.
Dukes Lodge,
Leslie Road,
Leslie.
Attempting to make a fast buck
Sir, – Claims that proposals for a hotel and student accommodation at Abbey Park "address a clear and identified need" cannot go unchallenged.
There are at least three other hotel proposals in the pipeline for St Andrews, including one for a budget hotel only a couple of hundred yards away from the existing Premier Inn in Largo Road.
Even if another mid-range hotel was required, Abbey Park must surely be the least suitable site in the town.
Access is via a narrow tree-lined road with passing places leading to an existing mixed residential complex.
The proposed hotel entrance is directly opposite a retirement block where elderly residents frequently require wheelchair and ambulance assistance.
Imagine the chaos if upwards of 200 plus motorists were to join this already-busy single lane road.
Claims that there are around 4,000 students unable to access dedicated student accommodation are equally bogus.
Addressing St Andrews Preservation Trust last week, university principal Sally Mapstone advised that the university was well able to cope with foreseeable student residence demand.
This ill-conceived plan has been hanging over the heads of Abbey Park residents since it was first mooted over a year ago.
Fife planners and councillors should check the facts and turf out this attempt to make a fast buck out of St Andrews.
Ted Brocklebank.
Abbey Park,
St Andrews.