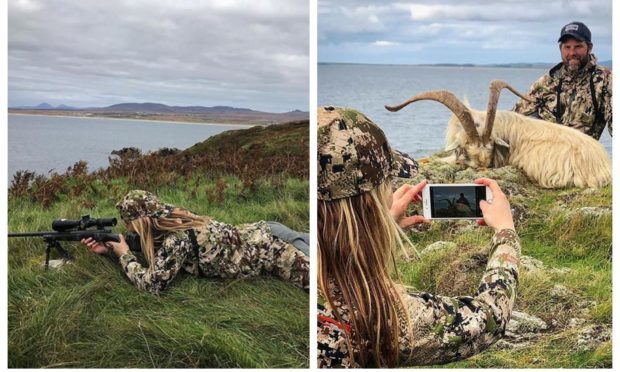 Sir, – I refer to the latest storm-in-a-teacup concerning the American lady who shared a picture of herself alongside a dead feral goat that she had shot with a hunting rifle.
I don't myself own firearms but I find the hypocrisy and ignorance of countryside matters among those protesting quite amazing.
Most of us happily buying our steaks and sausages don't give a thought to the fact that animals have to die to provide our human fodder.
When we happily munch on our fish suppers, do we ever remember that the haddock and cod pulled from the sea actually die of asphyxiation – an arguably crueller death than being shot?
Too many in our society take every opportunity to lecture us all on animal welfare which means, in many cases, the attempt to "humanise" animals and to pretend they are the equivalent of cuddly nursery soft toys.
They are not.
There are no natural predators of feral goats or deer in Scotland.
So it is right that they are culled to control their numbers – and shooting is the most sensible method.
It was reported on the BBC that Mike Russell MSP stated how appalled he was by the incident.
How nice it would be if Mr Russell restricted his comments to subjects on which he has knowledge or responsibility for.
Instead he seems to be taking every opportunity for self-publicity by broadcasting opinions on issues upon which he appears to be largely ignorant.
Derek Farmer.
Knightsward Farm,
Anstruther.
Complex reason for drinks ban
Sir, – Is there a case for a change in the law to allow the sale of alcohol in football grounds in Scotland ("Officials may consider match day alcohol ban", Courier, October 26)?
I don't think we should ignore the fact there is a different atmosphere at our local domestic games to that which prevails at international tournaments.
Every attempt should be made to use existing by-laws to allow fans from the continent to imbibe in our grounds at the Euro 2020 tournament.
We could be made to look foolish if those fans can have a drink in stadiums in England but not here.
If it is not possible to change the by-laws the Scottish Government should look at legislation that would allow a temporary relaxation for those much anticipated matches in less than two years.
Of course, that does not mean we cannot continue to look at the link between violence, intimidation and alcohol in our local derbies.
Some argue that there is no case for treating rugby fans and football fans differently.
However, the plain fact is that there is hardly any evidence of a link between alcohol and trouble at our rugby matches.
The reasons for this may be complex but it is still a fact that you rarely hear about behaviour problems at rugby encounters.
I think the vast majority of football fans will feel more comfortable and secure if we simply recognise the different passions aroused in soccer matches.
Those passions can be better controlled if the existing ban on sale of alcohol in grounds is maintained.
Bob Taylor.
24 Shiel Court,
Glenrothes.
Expectations far from high
Sir, – Fishing seems to be much in the news these days.
This week The Courier reported that "Scottish Conservative MPs could derail Theresa May's Brexit plan if she keeps fishermen bound by EU rules for another three months" ("Scots Tory MPs in threat over fisheries policy exit", October 22) .
Meanwhile, a new fishing bill, promising "a sustainable, profitable fishing industry for all of the UK" is expected soon.
As the grandson of a Highland crofter and fisherman I have the utmost respect for anybody who braves the wild North Sea to catch our fish, and so would always wish the best for them, but my nostalgic notion of hardy local fishermen braving the dangers of the deep, then sharing out their profits with their crew-mates, would seem to be far from the mark according to a new report for Greenpeace.
The report found that "more than two thirds of the UK's fishing quota is controlled by just 25 businesses" and "four of the top five quota holding families are on the Sunday Times rich list", with more than half of the top 25 quota holders linked to Scotland's £63 million "black fish" scam, one of the biggest criminal over-fishing cases ever to reach the British courts.
Scotland, the biggest fishing nation in the UK, has extremely concentrated ownership, with "companies holding close to half of all Scottish fishing quotas…wholly or part owned by five wealthy families".
As in most areas of UK life, the rich get richer, and the poor get poorer, and I wouldn't imagine that leaving the Common Fisheries Policy, or the introduction of the new fishing bill, will make any difference to that.
Les Mackay.
5 Carmichael Gardens,
Dundee.
Gaelic spending is a waste
Sir, – Recently on television I listened to a university professor expressing his opinion that money should be spent to enable we Scots to communicate with diverse nationals in their own language .
He specified Gaelic, Polish and Urdu as examples.
Does he not know that the number of people in Scotland who have Gaelic as their native tongue is actually less than the number of people who inhabit Livingston?
Most of the Polish people I have met who work in hotels and agriculture have an excellent command of English.
I cannot comment on Urdu.
It is worth noting that people all over the world seem willing to learn to speak English.
What is to be gained, apart from some theoretical nicety, by diverting funds from a hard-pressed education budget?
A A Bullions.
6 Glencairn Crescent,
Leven.
Overuse of word an utter cliché
Sir, – Has Humza Yousaf copyrighted the words "utter" and "utterly" and made them his own?
In past week he described the Salmond allegations as "utterly heartbreaking", a police inspector's views that two women firearms officers shouldn't work together "utterly intolerable", and the delay of knife control legislation by MPs an "utter disgrace" .
I Googled "Humza Yousaf utterly" and found two pages of such soundbites , including, "utter bunch of charlatans" (the UK Government), "utter lack of humanity (the UK's immigration policy), "utterly chaotic" (the Mediterranean refugee crisis), "utterly weak" (Boris Johnston on Catalonia) and "utterly relentless (the 'beast from the east' storm).
As his boss might say, this continual hyperbole is "frankly outrageous" and "beggars belief" and if he ever manages to utter a quote that doesn't include the word utterly my comment will be "I can't believe it's not utter".
I am appalled.
Allan Sutherland.
1 Willow Row,
Stonehaven.
Opposition is narrow-minded
Sir, – Some recent letters have pretty much described those who support Scottish independence as " rent a mob".
This kind of talk only reinforces the opinion many Scots have of some of our own Scottish brand of British nationalists.
A strange position as it is surely perfectly normal to want your country to be independent – many smaller countries with less resource than Scotland get on just fine.
At least the people of Scotland will be heard in the EU as opposed to being ignored in the UK.
At present it rather appears as if the present Prime Minister Theresa May is hellbent on undermining the elected government in Scotland at every opportunity she gets.
Bryan Auchterlonie.
Bluebell Cottage,
Perth.
Exhibition not comprehensive
Sir, – My visit to the V&A liner exhibition was disappointing.
Where were the companies who operated Line Voyages (such as Royal Mail to South America and Union Castle to South Africa)?
The exhibition was interesting but really only features the Cunard.
W C C Winton.
9 Pitheavlis Terrace,
Perth.