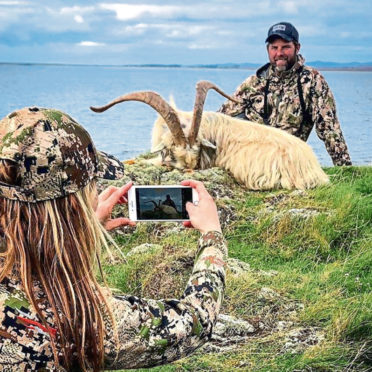 Sir, – I note with interest the comments of your correspondent Derek Farmer (Letters, October 27) regarding the incident of goat hunting on Islay and the subsequent comments by Mike Russell MSP.
Mr Farmer boldly states "how nice it would be if Mr Russell restricted his comments to subjects on which he has knowledge of or responsibility for".
Mike Russell is the MSP for Argyll and Bute and the island on which the hunt took place is within his constituency.
It would seem to me that people shooting animals in your constituency is very much something you are entitled to comment upon.
I understand his constituents feel the same way with, I am led to believe, more than 700 of them contacting Mr Russell directly to complain about last week's shooting.
Mr Farmer, over many years in your letters page, has shown himself to be staunch in his dislike of the SNP.
This seems to be behind his decision to comment on this particular subject.
However, I would dare to suggest that he has "no knowledge of or responsibility for" the case.
Mr Farmer finishes his letter by suggesting Mike Russell takes "every opportunity for self publicity by broadcasting opinions on issues upon which he appears to be largely ignorant".
How very ironic that, no doubt for a great many of your readers, this statement would sum up nicely the letter writing career of Mr Derek Farmer.
Henry Malcolm.
331 Clepington Street,
Dundee.
Shooting was no great feat
Sir, – While up to a point I tend to agree with Derek Farmer's assertion that shooting may well be justified, I think he is missing the whole point.
It is the sight of the "highly" evolved and camouflage dressed individual with a modern firearm and telescopic sights gloating and grinning alongside the carcase of an unarmed and all but defenceless herbivore as though she has won some dramatic feat of strength and cunning in the face of matched adversity that is appalling.
After all, any fool with a steady hand and similarly equipped can fairly easily achieve precisely the same outcome should they wish to so do.
Nick Cole.
Balmacron Farmhouse,
Meigle.
Slaughter was uncalled for
Sir, – I was more than a little taken aback by the dismissive attitude taken by your correspondent Derek Farmer regarding the emergence of US trophy hunters on the island of Islay.
As a self-proclaimed proponent of country life, he displays a shocking lack of knowledge regarding the motivation of those who find the behaviour of these " huntsmen" to be quite unacceptable either here in Scotland or elsewhere.
To ramble on about sausages and fish suppers indicates clearly Derek Farmer's inability to comprehend the basic reasoning of those among us, countrymen and townies alike, who regard the contest displayed by individuals using high powered rifles, against semi domestic animals as being morally repugnant.
A brief perusal of many of the social media sites available will display numerous pictures of these "hunters " and their prey – be it an elephant, giraffe or rhino.
The slaughter of a feral goat or ram is, in my book, little different.
Colin Mayall.
1 Almond Place,
Comrie.
An important distinction
Sir, – In his well reasoned letter your correspondent Derek Farmer ignores one important distinction which I believe is relevant to the case in question – the distinction between killing for food and killing for fun.
Gordon Cook.
Gardyne Street,
Friockheim.
Cooking up controversy
Sir, – Councillor Duff suggests we should not promote the Forfar bridie ("Remark sparks bridie backlash", Courier, October 27) as it is low quality processed food – what a load of nonsense.
A bridie consists of steak mince, onion, seasoning and pastry of various types – nothing processed.
Councillor Duff wants to promote smoked salmon and smokies as high quality food – also a high cost food that many cannot afford.
With reference to "processed", can I point out to him that in excess of 85% of salmon sold in supermarkets in Scotland is farmed salmon.
We all know about the disease, lice, and chemicals that can be found in their production, not, I believe, something we as tax payers should promote in a food culture hub.
I suggest Councillor Duff go back to his roots in Crieff where I am sure his mother fed him mince and tatties at least once a week – these are the same ingredients used a little differently in a bridie, Forfar or otherwise.
I also have to question the use of council tax/ government monies to fund this "food culture hub" given Angus Council is already £15 million in deficit and improving very slowly.
George Sangster.
Woodlands,
Logie,
Montrose.
Recalling a real dog's dinner
Sir, – I don't think that excluding one of our better known local products from the proposed food culture hub makes sense.
But Bill Duff may be recalling an incident some years ago when a journalist was presenting a review of Forfar attractions on national TV.
He finished his introduction to the Forfar bridie, outside Maclaren's shop, by offering the bridie to a passing dog.
Hector Maclean.
Spott,
Kirriemuir.
Promotion of Gaelic is vital
Sir, – I read A A Bullions' letter regarding spending money on Gaelic as a waste (Letters, October 27).
Thankfully, Mr Bullions is nowhere near the levers of power in this country as he would have us living in a very grey British cultural desert where we all speak the same and have a very drab culture.
Gaelic was the dominant language in Scotland at one time and was recorded as the "Lingua Scotia".
All political parties agreed to its promotion to ensure its survival and I believe that is enshrined in our law.
Culture, language and history is very important to national self-respect and wellbeing and Gaelic has every right to be treated the same as English or Scots, after all it is an indigenous British language.
It is money well spent.
Bryan Auchterlonie.
Bluebell Cottage,
Perth.
Intervention unwarranted
Sir, – Humza Yousaf, the SNP justice secretary, recently described the sexual misconduct allegations against his "revered" former boss and ex-First Minister Alex Salmond as "heartbreaking" before going on to talk of Salmond's "kindness" and how many of his colleagues have stories of this "kindness" to share.
This was a quite astonishing intervention by the nation's justice secretary at a time when the case against Salmond is in the process of investigation in the country's legal system.
One wonders what the alleged victims felt when they heard the head of our legal system heaping praise on a man they accuse of sexual misconduct.
No such regret was forthcoming from Mr Yousaf regarding the position of the alleged victims, nor was there any similarly enthusiastic testimonial regarding their characters.
Donald Lewis.
Pine Cottage,
Beech Hill,
Gifford.
Ninewells should benefit
Sir, – There is a lot of talk and a lot of frustration expressed about all the unfairness surrounding Ninewells being one of only two hospitals to charge for parking (a situation that is set to continue for and for another decade yet).
Why doesn't Tayside health board remind us of the bright side?
After all their share of the revenues will no doubt be spent on our health care.
If I had a spare piece of ground for a few years, with guaranteed demand for parking, you can be pretty sure I wouldn't ring up a parking firm, and ask them to organise it and then say "oh, and you can just keep all the money."
Surely the income from parking is shared with Indigo…?
Roderick Brodie.
1 Duff Street,
Dundee.