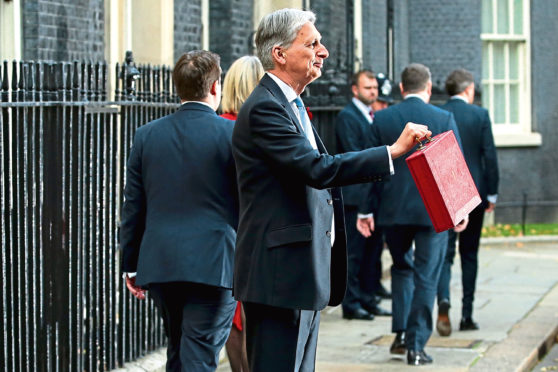 Sir, – The current UK Government is making claims to be relaxing its own misguided regime of austerity which has widened inequalities and slowed economic recovery.
While it claims public finances are squeezed, justifying its harsh policies around universal credit and cutbacks in public services, it still manages to find substantial subsidies for the more affluent segments of the population and geographic areas.
Around £40 billion, three to four times the amount spent on foreign aid, is spent on tax relief to contributions on approved pensions schemes where the Government actually pays into the pension pots of higher and additional rate earners.
Consider transport subsidies where infrastructure spend per head is £1,900 per head in London yet only £275 per head in the north of England.
Closer to home, the impact of welfare reform on the depressed mid-Fife economy is leading to the loss of £695 per working age adult, rising to almost £1,000 in the worst affected areas.
Numerous other examples are found where both fiscal and public spending in practice is regressive, benefitting the most advantaged which is the diametric opposite of fairness, and which – ironically – drags down the entire economy in the longer term.
Scotland must resist these overcentralising, regressive tendencies and actively rebalance our damaged economy and society.
Stuart McIntosh.
68 Kirkland Walk,
Methil.
PRI's A&E staff were A-okay
Sir, – Heading to the airport for a wee break with my wife, I had an unwanted wee break – well, a dislocation to be accurate.
Five minutes later I was at PRI's accident and emergency department.
What transpired was a testament to the NHS and all the staff on duty that Sunday morning.
Registered, assessed, x-rayed, treated, x-rayed again, put in a sling, given pills and out the door in about 90 minutes.
It may not have been a particularly serious incident, but the staff took on the situation and were superb.
I cannot thank them all enough.
The next time the future of accident and emergency or PRI in general is in the news, just remember the human side – the staff deserve assurances.
Frank Benzies.
Saulire,
Forfar Road,
Coupar Angus.
Brexit is a real heartbreaker
Sir, – It now looks as if we are heading toward Brexit and my heart is completely broken.
I have said on many occasions that this is detrimental to Scotland in terms of tourism, trade and manufacturing.
Westminster should be held to account for this disaster.
There is so much at stake and Westminster never thought about the repercussions of the vote to come out of Europe – something that is now becoming very much apparent. We are putting people's jobs on the line and there are also a range of environmental issues.
Another point of note – what about border controls?
Are we going to have longer queues of traffic on both sides of the Channel?
My best holidays were always in Europe, primarily in northern Italy at Lake Garda, and I do not want to have to go through long queues at Dover to get there.
Beverley Jane Burns.
Beverley Hill,
Petterden,
Tealing.
Fracking fury is fairly foolish
Sir, – There are two things that we should learn from the recent interruption of test fracking in Lancashire on account of a 0.8 magnitude earthquake.
Firstly, the deep scientific ignorance of the people who make policy.
An earthquake of magnitude 0.8 is so small that it is almost certain that only seismographic sensors could detect it.
In fact, it is so small that it really doesn't merit being called an earthquake at all.
The size of earthquakes are measured according to what scientists call a logarithmic scale, thus a 2.0 has more than 30 times the energy of a 1.0, which itself has about twice the energy of 0.8.
Furthermore, earthquakes in the range 2.0 to 2.9, which are respectively between 60 and over 2,000 times as powerful as the Lancashire "earthquake", would only be felt slightly by people and would not damage buildings.
Secondly, the fact that in Britain fracking can be interrupted on account of an earthquake (vibration might be a better word) of magnitude 0.5 is testament to the pernicious influence of the Green movement.
The Greens have fought tooth and nail to stop fracking, which would fight fuel poverty, lead to energy security for Britain and allow us to loosen our ties with Saudi Arabia.
It is high time that Green superstition was no longer able to stand in the way of the future.
Otto Inglis.
6 Inveralmond Grove,
Edinburgh.
Picking out tricky issues
Sir, – I read Kirstene Hair's letter regarding seasonal work on berry farms (October 29) with great interest.
But here is the issue – seasonal berry work does not – and more importantly cannot – pay or even give lip service to our tall wage packet expectations.
This seasonal agricultural workers scheme sounds rich in sentiment.
The elephant in the room is picking berries will do very little for those getting their hands dirty and sore.
I speak as someone who used to go to the berries during school holidays.
My hands would be dyed red and attractively scratched, only to go home to a skelp round the ear as my sister and I had earned less than our packed lunches cost.
It is hard work and those who undertake the task need assurances of a decent day's pay – not taking their buckets of fruit to be weighed for a few coins.
Brexit or no Brexit, I very much hope politicians pay according to the price of harvesting one of our region's most coveted prizes.
Jane Simpson.
3 Hillbank Terrace,
Kirriemuir.
Who are these people?
Sir, – Whenever an opposition MSP or a journalist or an NGO offers up constructive criticism of the Scottish Government it seems that "a government spokesperson" pops up immediately to reject their argument.
Who are these spokespersons?
We know nothing about them.
How many are there?
Are they spokesmen or spokeswomen?
We do not know.
Why are they anonymous?
What are their salaries?
Are spokespersons "special advisers" or are they a separate tribe?
It would appear that these are shadowy figures whose purpose is to stifle democratic debate, and place the Scottish Government beyond criticism.
William Loneskie.
Amulree,
9 Justice Park,
Oxton,
Lauder.
Anyone can make an appeal
Sir, – Your report, "Tories appeal 'secrets' decision" (October 23), is incorrect in stating that my office has refused to disclose information in response to a request.
This story is in fact about an appeal that is being made to me by a requester unhappy with the Scottish Government's handling of a request for documents under freedom of information law.
Anyone unhappy with any Scottish public authority's refusal to disclose information can first ask the authority to reconsider its response.
If they are still dissatisfied, they can make an appeal.
I will conduct a full investigation to ensure that the public authority has complied with freedom of information law.
And if I find the information has been wrongly withheld, I will order its release.
Daren Fitzhenry.
Scottish Information Commissioner,
Kinburn Castle,
Doubledykes Road,
St Andrews.
Budget missed opportunities
Sir, – This week's budget , delivered by the Chancellor of the Exchequer Philip Hammond on Monday, was all about managing debt.
There was absolutely nothing about making real money from commercial enterprise.
Malcolm Parkin.
15 Gamekeepers Road,
Kinnesswood.