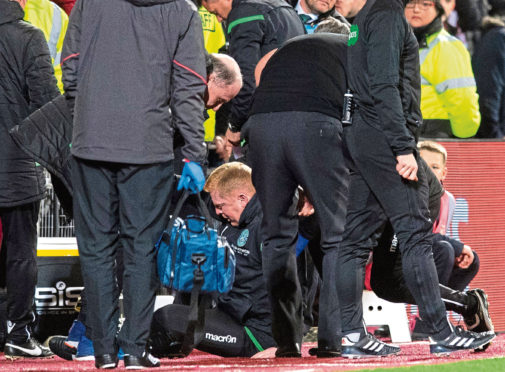 Sir, – Is there any solution at all to the horrendous scenes witnessed at Tynecastle Park last Wednesday?
We have had some fine words from the two Edinburgh football club supremos Ann Budge and Leeann Dempster.
Clearly the alleged attack on the Hearts keeper and the Hibs head coach Neil Lennon – and the assistant referees – must be investigated with full rigour and those responsible held to account.
It might be difficult to introduce a policy of "no coins" in the ground.
It might be more difficult to deface the renovated stadiums at Gorgie and Easter Road with unsightly barriers.
One solution that should not be ruled out, however , is the moving of Edinburgh derbies to Murrayfield.
It is interesting to note that there were few problems of crowd control at the Hearts v Celtic cup semi-final there a few days before the Tynecastle debacle.
That may well be because of the distance between the field of play and the spectators.
It was a game likely to arouse the same passions as the midweek local derby and attracted more than 61,000 fans.
It may be difficult for both sets of fans in the capital to countenance a move across the city for these vital games but, with capacity crowds likely to be at their remaining encounters this season, it seems likely that tensions will increase.
For the sake of the reputation of Scottish football it might be better if they were controlled in a larger stadium.
Bob Taylor.
24 Shiel Court,
Glenrothes.
Lose points to make a point
Sir, – On Wednesday night there were some disgraceful scenes as Celtic fans threw explosive devices at the Dundee fans.
They also set off smoke flares, contrary to safety regulations.
No doubt if one of their own had been burned by these devices, they would blame Dundee for not ensuring their safety.
Even worse were the offensive chants, including anti-poppy songs.
These were morally repugnant and a blight on our society.
Some so-called fans were aggressive to stewards and police.
Those responsible have no respect for authority and believe they can do as they please.
And in a way, they are right.
They know that to try and arrest individuals in a crowd of several thousand is risky.
The only way to solve this problem is to punish the club.
They follow Celtic who accept their support, therefore Celtic have a responsibility to monitor them.
Every time an offence of this type is recorded, a point should be deducted.
If a flare is set off, deduct a point.
If there is a chant which is inappropriate chant, deduct a point.
If an object is thrown, deduct a point, and so on.
You can be sure the club would then take swift action.
Of course, however, the reality is it will never happen.
The current football authorities are simply too afraid of the big two.
Gerard Dignan.
17E Denhead Crescent,
Dundee.
BBC needs to pay its own way
Sir, – The BBC shouldn't be considering scrapping free TV licences for the over-75s.
In fact, in my view, they should be getting rid of the licence fee altogether.
The corporation should have been deregulated years ago and advertising brought in as their main source of revenue.
The ITV – and its various regional areas – plus channels four and five seem to manage perfectly well without this £150.50 handout from each household every year.
OK, so none of them will ever be able to financially worry Netflix or Amazon Prime, but viewers will always pay out extra for those channels' output, as they will for Sky and BT.
Why, as the BBC continues to lose programmes and major sporting events to other channels, as well as hideously overpaying their directors and presenters, should we have to pay this outrageous levy for a terrestrial channel?
Eric Travers.
38 Gellatly Road,
Dunfermline.
Inappropriate traffic a problem
Sir, – Mr Pickering is, alas, far from being alone in being confronted by very large and often fast HGVs on the A984 between Dunkeld and Caputh ("Rolls-Royce driver in bid for £48,000 damages", Courier, November 2).
As a regular user of the A984 between Dunkeld and Meikleour I would, had I kept them, have many, many dash-cam video clips showing large commercial vehicles that are simply too wide for parts of this road.
The law regarding "how big is too big" appears to be vague.
Given the increasing density of heavy traffic on this particular road, it rather unfortunately seems likely that a serious mishap is probably inevitable at some point.
Ian Davidson.
Brae Street,
Dunkeld.
A dangerous political swing
Sir, – Some occidental societies appear to be heading into full-blown right-wing political scenarios.
The capacious maw of left-wing governments have become virtually toothless due to excessive chewing of a useless and over processed "political-cud".
Unfortunately, the resultant swing towards the far-right, to halt the slide into general apathy, indiscipline and rising levels of crime, may lead to more insidious types of terrorist activity.
Kenneth Miln.
6 Swallow Apts,
Union Street,
Monifieth.
Electric benefits will not last
Sir, – Incentives for electric cars, such as purchase subsidies, free Vehicle Excise Duty, and free charging, will remain until many are in use.
Then excise duty will be introduced under another name, and free charging will become expensive.
This has to happen to replace the various taxes lost on petrol and diesel cars.
Eventually there will be no advantage to owning an electric car, but all the inconveniences – as already so well described – will remain.
Plus, perhaps, the extra problem of being unable to charge when the wind is not blowing, if we are by then relying on part-time electricity from windmills.
Malcolm Parkin.
Gamekeepers Road,
Kinnesswood.
Traditions are worth keeping
Sir, – With regard to A A Bullions' letter to The Courier (November 3) I find it ironic when he states Scotland has a "reputation for friendliness" and then goes on to display an unhealthy dislike of our Gaelic language and culture and the people who try to preserve it.
This is perhaps not the best example of friendliness.
Perhaps he should display some of his friendliness to his fellow Scots who are the guardians of this unique part of our culture.
Maybe he could try and understand a little Gaelic.
He could then explain the meanings in a friendly manner to all the tourists – now that would be a good example of Scottish hospitality.
In fact it would be an outstanding example of friendliness and an excellent method on the preservation and promotion of a vital part of our Scottish history.
Mr Bullions could then have the satisfaction of passing on our wonderful, unique and inclusive culture to the many tourists who find it so intriguing.
Just a thought.
Bryan Auchterlonie.
Bluebell Cottage,
Perth.
Money is going up in smoke
Sir, – As Linda Ballingall of the Glenrothes and area heritage centre pointed out: "If Fife Council has £8,500 to spend on a fireworks display in Glenrothes, why isn't that money being spent on other more needy claims?" ("Council is accused of having money to burn", Courier, November 5).
On January 17 this year, after bumping over appalling potholes in a road near Ladybank for many, many years, I finally wrote a letter to the council asking them to get their act together regarding filling those glaring cavities.
No action was taken and no reply was received.
Then, in March, one of my front tyres literally blew up – at that very spot.
The point I'm making is that if that £8,500 was known to be available for fireworks, why wasn't it being used more wisely to maintain Fife road surfaces?
Archibald A Lawrie.
5 Church Wynd,
Kingskettle.