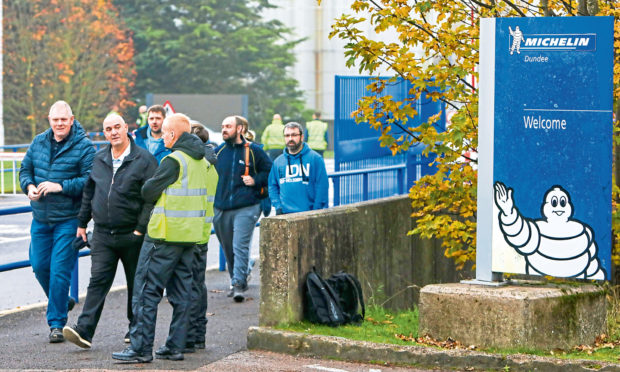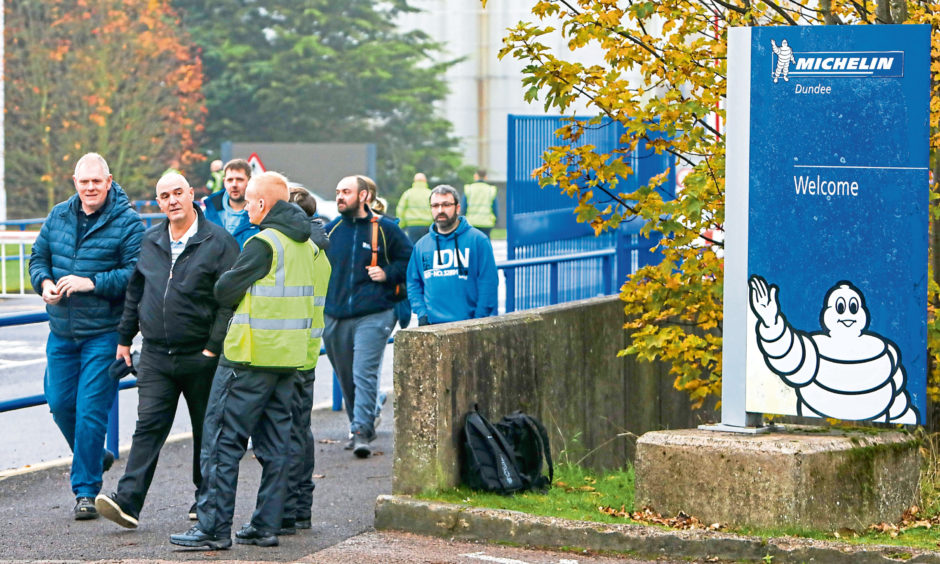 Sir, – To say I am appalled at the loss of the Michelin plant in Dundee would be an understatement; the situation is a disaster for a city which has suffered death from a thousand cuts – Timex, NCR and on and on – over the last 20 years.
We are not the only city in Scotland to watch jobs disappear by the thousands and no amount of fancy museums, hotels, etc, will compensate the loss of decent earnings.
According to Scottish Government reports we are facing a very serious problem in the near future of an ageing population overshadowing the younger generation.
No matter what your political leaning is, unless Scotland can attract large industrial companies such as car manufacturing our greatest export will continue to be our young people.
How many of the younger workforce in Michelin will cast their eyes towards foreign lands where their skills will be appreciated and paid for?
A few weeks ago I stated in a letter printed in this newspaper that our councillors and MPs should put all their energy into securing a lot of the work in decommissioning rigs for our dockyard. It is a definite must now.
Bill Duthie.
St Fillans Road,
Dundee.
Michelin blow calls for re-think
Sir, – In light of the impending job losses at Michelin, maybe the Scottish Government should reconsider its recent decision favouring Shetland's Dales Voe over Dundee for oil rig decommissioning work.
Jim Allison.
Little Carron Cottage,
St Andrews.
Bleak future in road ahead
Sir, – I was surprised to hear Michelin claim that the reason its Dundee plant was closing was "the current vogue for ever-larger, broad-wheeled cars". Surely the lighter electric or hydrogen cars which will replace the tax-targeted heavy diesel SUVs will require the plant's small, high-quality tyres with their low rolling resistance.
Michelin's French HQ assures us Brexit is not a factor – they cannot be serious. Does anyone believe foreign companies will retool their UK plants for electric cars? And where they go the small-tyre producers will follow. It is good politics to spread the manufacturing load but the outer limit will be the customs union border.
Rev Dr John Cameron.
Howard Place,
St Andrews.
Clubs must serve up more
Sir, – As a football fan for more than 60 years who is concerned about Scottish football, I was dismayed by a recent column by The Courier's Fife chief reporter Craig Smith, suggesting it was time to overturn the ban on drinking at matches.
Having witnessed the various forms of anti- social behaviour meted out over many years by a small number of so-called football fans, I cannot understand how lifting the alcohol ban from Scottish grounds is going to help anyone.
I have a pint before the game – and after if I feel like it – and if someone cannot sit for a couple of hours without a drink, they have a problem
Clubs may need the revenue, but will it improve the customer experience? For too long football clubs have treated their supporters with indifference, with primitive toilet facilities and second rate catering, knowing they will put up with it
Every season we see fewer and fewer people attending matches and if there is no change in the attitude of the management who run football it is inevitable some clubs, in their current form will disappear.
No amount of pints will save them
Barclay Asher.
Bradgate gardens,
Glenrothes.
Booze won't halt game's decline
Sir,- Craig Smith (The Courier, November 5) pleads the weakest case imaginable at the worst possible moment to support lifting the ban on alcohol at football grounds. He notes the practice he has witnessed of people starting drinking at 8am on match days. That could be anything from four to seven hours, or even more, before kick-off. Why would they need even more drink when they get to the grounds?
Decades of incidents preceded the hideous, drink-fuelled sectarian ugliness after the 1980 cup final that prompted the ban. I am old enough to remember the infamous, so-called "bottle party" at Dens Park during a Dundee v Celtic match long before that, and many others in between.
Craig Smith tries to gloss over Scotland's dreadful, endemic relationship with alcohol as "problematic." Tell that description to the emergency services, especially in our A&E departments.
And he shoves a caveat right up the gravamen of his argument with the seriously daft notion that "some sort of token scheme" or a ban on spirits might help regulate consumption. That is a pathetic blend of wishful thinking and immature naivety.
He wants Scottish football fans "to be treated like adults again." They don't need more access to alcohol to do that.
The low-life thugs who throw coins, set off flares and otherwise taint and tarnish football will not behave better with access to booze at football grounds.
If football clubs want to keep going they need good results on the pitch, and to create a family-friendly atmosphere on the terracing. I remain to be convinced the downward spiral of the game could ever be reversed by lifting the booze ban.
Michael Mulford.
Hogarth Drive,
Cupar.
Harry's service not in doubt
Sir – I see from the letters in today's Courier (November 5) that Mr Rankin is again venting his spleen against a member of the Royal Family – this time it is Prince Harry who is, according to him, gadding about on the other side of the world at our expense.
He has conveniently ignored the reason why Harry was there in the first place – to open the Invictus Games which he started in 2014 to give a purpose and hope of life to those service personnel who were badly injured, lost limbs or were seriously traumatised during their time serving their country overseas.
Harry, of course, knew from personal experience of the suffering these men and women experienced , having served as a helicopter pilot on the front line overseas.
Perhaps Mr Rankin has forgotten Prince Andrew served as a helicopter pilot in the Falklands War drawing Argentine exocet missiles away from the British warships. Even our Queen – then Princess Elizabeth – did her bit during the Second World War as an army motor mechanic.
Perhaps Mr Rankin should give a bit more thought in future before he pours more vitriol on our Royal Family. It may seem to him to be a waste of money for what Harry has achieved but how can one put a price on the benefits gained by the contestants and their families at the Invictus Games which were truly memorable and emotional for all of them?
John M Page.
Panter Crescent,
Montrose.
System driving us to despair
Sir, – This week I had the misfortune to try to use an Angus car park. What a fiasco.
I was faced with an extremely complicated type of payment machine which was very difficult to read and understand.
It was positioned for tall people and long queues were inevitable as people couldn't see what to do, couldn't remember their car numbers and were clutching coins – only to discover that only cards were accepted, which they didn't have. These problems affected young and old alike.
Functional, user-friendly machines have been successful for many years so why inflict these dreadful things on the motorist?
I was also aware that all the car parks were empty.
Avril Simpson.
Welton Corner,
Forfar.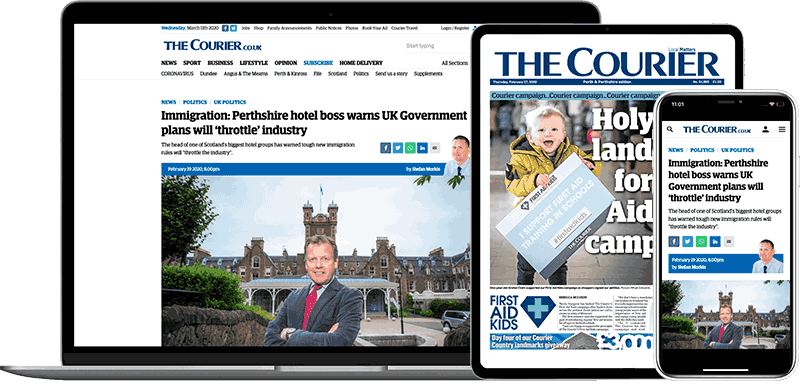 Help support quality local journalism … become a digital subscriber to The Courier
For as little as £5.99 a month you can access all of our content, including Premium articles.
Subscribe