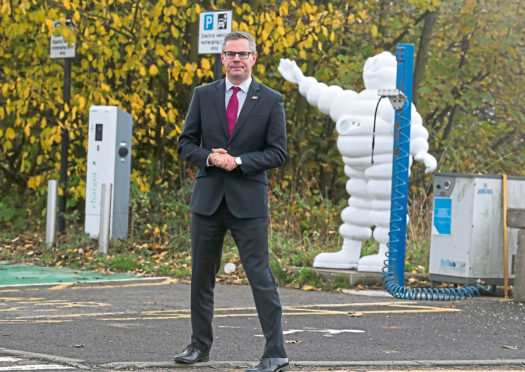 Sir, – Michelin bosses' decision to close the Dundee factory is a disgrace, demonstrating nothing but contempt for the workforce despite a recurring operating profit running into billions.
Derek Mackay, MSP and SNP finance secretary, has announced he will head an action group to save the plant.
But looking to a government action group to "save" the plant is not the way forward. Where will Michelin workers find alternative work? Retraining in how to flip burgers or learning how to make your Universal Credit claim for dole money is a pretty dismal prospect.
A fight back is possible, led by the Unite trade union and supported by thousands of ordinary workers in Dundee. However, Michelin employees must first take the fight to their bosses.
Michelin's plant and machinery is worth millions, not to mention the two wind turbines that dominate the Dundee landscape. Seizing control of this plant and machinery can be a powerful bargaining chip in the hands of the workforce.
If the greedy bosses won't guarantee jobs and keep the factory open, then we must demand that the government immediately nationalise the company with no compensation.
If we can bail out banks and bankers to the tune of billions, then impose 10 years of austerity on workers to pay back the money, why can't we bail out 845 workers and their families at Michelin?
Restructuring the plant to provide this service is possible, and could be achieved by a nationalised company and the highly skilled workforce.
Fight back and struggle is the only way forward.
Kyle Rourke.
Eskdale Avenue,
Dundee.
Textile past may offer a future
Sir, – According to a report I read, the overwhelming majority of British Army uniforms are outsourced from abroad, and from countries outside the EU at that.
Have any studies been undertaken to establish why uniforms cannot be cost effectively manufactured in the United Kingdom ?
Apropos the shocking Michelin scenario in Dundee, perhaps the time has arrived for an in-depth look into the possibilities of establishing a uniforms manufacturing plant in the city.
Dundee was once a centre of textile manufacturing and engineering expertise and there should be no shortage of technical data and operational skills to call upon for such a venture.
Kenneth Miln.
Union Street,
Monifieth.
More closures may be in offing
Sir, – I feel so very sorry for the workforce at the Michelin car plant in Dundee.
But when I read in The Courier (November 7) that Michelin informed the Scottish Government about the factory's closure days before the workers knew I smelled a rat.
I have been let down in the past by councillors and I do not trust governments.
I truly believe all this is because of Brexit and I will make a prediction that this will not be the end of happenings such as this.
We don't all wear blinkers.
Thomas Brown.
Garry Place,
Bankfoot.
Praise for a job well done
Sir, – Some months ago I wrote to you, venting my frustration about the plastic pollution everywhere, especially along the side of the roads between Glenrothes and Kirkcaldy.
This week my husband and I had to be in Kirkcaldy and whilst driving there, we both noticed there had been an enormous change for the better.
I don't know who has done the work, but loads and loads of filth has been removed, leaving the routes a sheer joy for the eyes.
What a job these people have done, what a super achievement. I admire their work.
The whole of Fife owes a big thank you to all those who have cleaned up the mess along the roads.
I hope that the spoilsports who still throw muck out of the car after eating their fast food will finally start using their brains and stop ruining the brilliant work from others.
Would it be an idea to put a heavy levy on take-away wrappings?
Maybe then the whole matter of dumping this filth would stop.
I'm just a little voice, but at least one person is very grateful and says thank you for cleaning a big mess.
Maaike Cook.
Cash Feus,
Strathmiglo.
Parking plan is poorly done
Sir, – Obviously no one in the community is happy with the new parking charges system that has come into being in Angus. Nonetheless, most would accept the inevitable. We have to pay in most places.
However, has it occurred to anyone that the new system undermines everyone's right to park and pay?
It is not obligatory for anyone to have a bank card of any description but it is everyone's right to a parking place, however they might pay. Without the former where does one go?
Moreover if one does have a card, it's extremely difficult, even for those of us who are IT literate, to fathom what to do with it at the parking place. Human rights? Just a thought.
Brenda Campbell.
Arbroath Road,
Forfar.
Unexpected item in area
Sir, – It was great to see Tesco selling Jute Christmas bags in its Dundee store – a perfect small gift from the original Jute Capital of the World. However, I was gobsmacked when I looked at the label and found it was made in India.
Mark Whitham.
Dewartown,
Midlothian.
Brexit fears for medicines
Sir, – Worries continue to grow for UK citizens who rely on single or multiple prescription drugs to sustain their quality of life.
In recent days we hear that Theresa May has refused to guarantee that the NHS, and therefore also the Scottish NHS, will have enough medicines in the event of a no-deal Brexit.
Meanwhile the Conservative health secretary Matt Hancock has revealed that a plan for stockpiling medicines had been put out to tender, which could cost tens of millions of pounds. However, it is not known if there are storage facilities which have the capacity, the security and the right environmental controls to function as medical stores. Even if there are, Mr Hancock in August this year said that his department would guarantee an extra six weeks of supply by March 29 2019. Only six weeks.
Uncertainty over the continuation of supply is adding unnecessary stress to many in Perthshire like me who cannot have their medication interrupted by even one day without serious consequences.
Advice that I have had from one local pharmacy that there should be "minimal" disruption are of no comfort; we need guarantees of long-term uninterrupted supply.
Not one region of Scotland voted for Brexit. The Scottish Government has for the past two years offered solutions which would keep Scotland and the rest of the UK in the single market and customs union, so avoiding many negative consequences such as this. We can only hope that this current Conservative government will listen and change direction before it is too late.
Dr Joe Toole.
Cowden Road,
Comrie.
All a matter of opinion
Sir, – The long-winded correspondence from your regular contributor, Alex Orr, on the arguments for a People's Vote completely misses the point.
The decision of the electorate on Brexit was not based on fact, but opinion. Everyone has one. Live with it.
AG Walker.
Puddledub Cottage,
Guthrie.
Fitting tribute to fallen heroes
Sir, – I was fortunate enough to go to the Grove School drama production For the Fallen last week.
This was a well devised and beautifully executed piece of work.
A number of pieces were particularly innovative such as the depiction of the Angel of Mons and the tank Julian.
A very fitting tribute to the 93 men on the Grove war memorial. Well done.
Christine Johnston.
Stanley Road,
Broughty Ferry.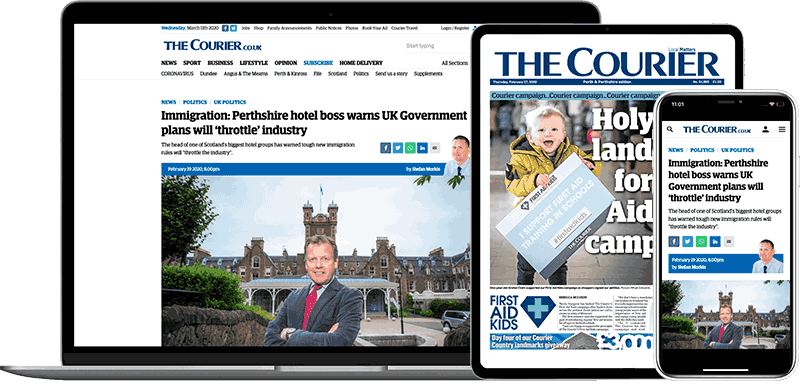 Help support quality local journalism … become a digital subscriber to The Courier
For as little as £5.99 a month you can access all of our content, including Premium articles.
Subscribe