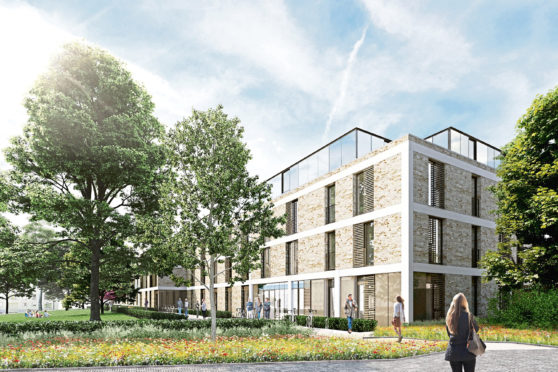 Sir, – The claim by Robertson Property that St Andrews is going to benefit to the tune of £23 million from their proposed development at Abbey Park, as well as gaining a landscaped park for the use of local residents, is wholly bogus.
As previous contributors have pointed out, the hotel and student residences are neither needed nor wanted.
Since Robertson already own the site it is hard to see how the hotel and student accommodation blocks will cost £23m.
What's more Robertson's policy is to use outside contractors, so St Andrews firms can expect precious few of the promised millions to come their way.
Furthermore, the longer term benefits fall far short of expectations, with only six full-time and 22 part-time jobs being created, compared with the 30-100 jobs previously expected from a hotel development.
As for the so-called landscaped park for the use of local residents, this is just a tiny strip of ground between the proposed concrete blocks and the existing townhouses.
Why on earth would locals travel to Abbey Park to make use of a postage stamp-size strip of grass overlooked by a four-storey hotel and student residence?
As for the existing residents of Abbey Park all they can look forward to if this planning application is approved is another two years of noise, dirt, dust and disruption, followed by the occupation of a hotel and student accommodation which they totally oppose.
Perhaps Robertson can explain how this is to their benefit?
Professor MP Collins.
Orchard Row,
St Andrews.
Actions over appearances
Sir, – Whilst others have been quick to criticise Jeremy Corbyn's sartorial choices, what I found most telling about the Leader of the Opposition's presence at the Cenotaph on Sunday was that he was the only politician singing Oh God Our Help In Ages Past without having to refer to the hymn sheet.
John Eoin Douglas.
Spey Terrace,
Edinburgh.
Thoughts on remembrance
Sir, – As David Dimbleby was speaking to old soldiers at the Cenotaph on Sunday, he said: "Let us think for a moment about what they achieved."
The thought that went through my mind was that as generals and politicians on both sides plotted the course of the war they gave little consideration to the millions of people who were being killed while they sat back.
And for some notion of nationality, they could think of no way to stop the hideous carnage.
AA Bullions.
Glencairn Crescent,
Leven.
Royal response was regrettable
Sir, – I find it disturbing that our so called head of state cannot make the effort to walk a few yards to lay a wreath on behalf of the nation to commemorate all those who gave their life to defend us.
To me this is the most important event of the year but she decides not to do it.
It would have taken about the same amount of effort to attend the Festival of Remembrance concert at the Albert Hall the night before.
Alister Rankin.
Whyterose Terrace,
Methil.
Waiting times seem wasteful
Sir, – I want to highlight the shocking inefficiency of the pharmacy department at Dundee's Ninewells Hospital.
Quite recently I had to wait for over five hours to get the prescribed medication for my brother prior to his discharge. (We could have been waiting even longer except for the intervention of the ward nurse, who went to collect it herself).
This apparently is the norm as I have spoken to ex-patients and families who have stated they had waited six, seven, or even more hours.
I have noticed several readers' letters sent to your paper regarding this very same subject during the last few years so clearly nothing has changed.
I know I will receive the same sad, old and oft-repeated response, "lessons will be learned" . We all now know they never are.
Isobel Bowman.
Abbey Road,
Coupar Angus.
Change must come on cycling
Sir, – I was delighted to open last week's Cycling Scotland conference which was hosted – for the first time – by Dundee.
It is estimated that event will have brought in over £125,000 to the city's economy over the two days.
Earlier in the day, I also took part in the opening of a new facility at Dundee Railway Station which will allow the safe storage of 120 bikes, protected by CCTV.
The Northern Links projects are merely the latest manifestation of the excitement around cycling that is building in the city.
Perhaps the most important request from cyclists is the need for good quality, segregated infrastructure.
When this is done right, there is no better pastime for individuals and families.
However, we must also ensure facilities are there for the functional cyclist going about their business around the city.
Looking more widely, if you want to encourage low emission zones cycling can have a vital role to play.
Likewise, if you want to see better air quality, healthier and fitter citizens and more social inclusion, cycling can have a vital role to play.
Attitudes will have to change and to cite two similar examples; who now would bring back cars into our high street or cigarette smoking into our restaurants and bars?
It is bold, transformational decisions such as these that councillors will need to take if we are going to re-balance the use of public space in favour of pedestrians and cyclists.
The car has dominated the use of our city streets for decades but I believe we are entering a period where cities across Scotland will start to challenge the "car is king" culture.
I'd like to think Dundee will lead on a public space renaissance that prioritises pedestrians, cyclists and public transport users over less sustainable forms of transport.
After all, Dundee is a city that has low levels of car ownership and therefore a high level of reliance on good bus services, well maintained footpaths and – increasingly – well-designed cycling infrastructure.
Councillors would be doing a disservice to future generations if we do not gasp the nettle now and projects such as the Northern Links proposals will go a long way to tackling the societal issues we face, as well as meeting the expectations of the existing cycling community.
Cllr Kevin Cordell.
City Chambers,
Dundee.
Preaching over parents' rights
Sir, – Perhaps, the most concerning aspect of the Scottish Government's plan to give Scottish school children lessons in gay rights is that no political party in Holyrood is willing to stand up for the alternative view that moral issues are a matter for the parents.
Instead, our political class is united in the totalitarian belief that moral issues should be decided by the state and then taught to our children without any reference to us.
It is unnecessary to share the views of evangelical Christians, Orthodox Jews and the vast majority of Muslims on gay rights to believe that they are, broadly speaking, entitled to bring up their children according to those moral beliefs.
Rightly, there are limits to this, so we have laws against, for example, forced marriage, FGM and honour killings.
However, we should no more prevent people from teaching their own children their own beliefs than we should prevent opposing political parties from campaigning.
If the Scottish political class is not prepared to accept limits on its entitlement to preach political correctness to other people's children, its members will find that new parties will rise to represent those voters who value their freedom of conscience.
Otto Inglis.
Inveralmond Grove,
Edinburgh.
Better to get back to basics
Sir, – I see that LGBTI is going to be taught in Scottish schools.
Might English, maths and sciences be considered at some stage?
Ronald James.
Golf Place,
Northmuir.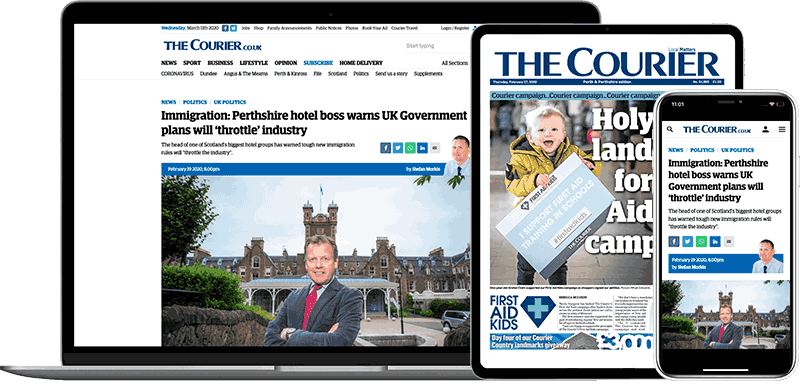 Help support quality local journalism … become a digital subscriber to The Courier
For as little as £5.99 a month you can access all of our content, including Premium articles.
Subscribe