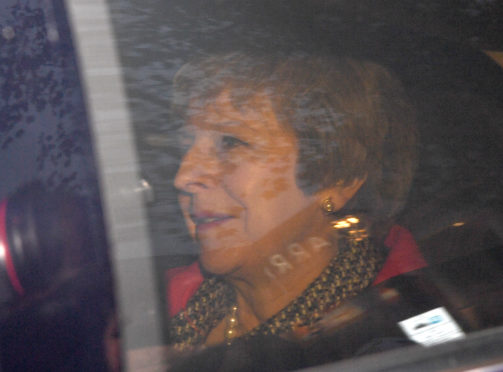 Sir, – With the UK government unravelling at an astonishing rate over the unmitigated disaster of Brexit I would like to point out a few cogent facts before the debate is lost in a fog of confusion.
The minister for Brexit has resigned over a deal he brokered.
The 500-plus pages of a dense legal document which the PM is defending has 100 mentions of Northern Ireland and no mention of Scotland.
Justifying this, the PM says this is because Scotland is part of the United Kingdom.
In effect, Northern Ireland will be in the position of attracting swathes of inward investment denied to Scotland despite 60% of Scots voting to stay within the EU.
Meanwhile, the Scottish Secretary states (at the time of writing) that he will not be resigning.
So the top Scottish Tory with a voice in cabinet stays in place whilst Scottish interests are marginalised.
Gathering pace behind the scenes there is talk from many of the more hard-line Brexiteers that only a "No Deal" scenario will be acceptable.
More than one has raised the spectre of the UK being a vassal state, subordinate to the power of the EU.
There is no point trying to debunk such palpable nonsense but let me just leave this thought hanging: If this mythical UK is being portrayed as subservient to the EU, just what exactly does this make Scotland?
Ignored, marginalised, treated with contempt – these are all phrases which have been used to characterise the engagement of politics in Scotland in relation to Westminster.
Unless Scotland grabs the opportunity to become independent we will be mired in the chaos that will result from the Cabinet of Catastrophe.
Graeme Finnie.
Balgillo,
Albert Street,
Blairgowrie.
Leave campaign is delusional
Sir, – It's clear Leave campaigners believe the mess we are in is everyone's fault but theirs yet this shambles is the direct consequence of their Little Englander delusions.
They assumed Northern Ireland was irrelevant and that car manufacturers in Germany would bully Brussels time servers into giving in to the demands of Imperial Britain.
After their sleazy campaign won, they treated half the nation with contempt, refused any compromises and opened up an unprecedented generational gulf in UK politics.
Worse still they demanded a precipitous invoking of Article 50 without a clue what came next and now the ship of state is sinking they jump off like the rats they are.
You couldn't make it up.
Rev Dr John Cameron.
10 Howard Place,
St Andrews.
Time for a brief history lesson
Sir, – A Customs Union (Zollverein) was devised by Bismarck to bind the smaller German states to Prussia.
It was very successful.
It was also this arrangement that Hitler used in Nazi occupied Europe.
Those in favour of such an arrangement (SNP and Lib Dems) should understand which page of history they are on.
Ian Strachan.
Eathie,
Golf Course Road,
Blairgowrie.
Scottish Labour may slip further
Sir, – In the 2016 Brexit referendum the overall UK vote was a narrow majority of 52% for Leave.
Scotland, however, voted strongly to stay in the EU (62%).
Meanwhile, the latest, very comprehensive, Survation opinion poll for Channel 4, taken just last week, suggests that the Scottish people are now even stronger in that view.
In response to this, the Lib Dems, in the Scottish Parliament won a vote on support for another referendum.
They were backed by the SNP and also the Greens.
Yet again, though, Labour voted with the Tories.
The Conservatives generally have nothing to lose when it comes to Scottish politics, but it is hard to see how Labour can ever regain their previous pre-eminent position in Scottish politics whilst so obviously disrespecting the Scottish people.
Les Mackay.
5 Carmichael Gardens,
Dundee.
UK must take back control
Sir, – It should be clear by now that the EU has a fifth column in the UK whose current purpose is to prevent Britain from escaping the EU's jurisdiction over its laws and policies.
From Scottish "nationalists" who choose Brussels over London and Edinburgh, to Labour MPs who are happy to see the EU preventing state aid on which their manifesto is based, and the thugs with megaphones and foreign flags who drown out broadcast interviews with their interminable chants of "No Brexit", all are marching to the EU's drum.
They want to reverse Brexit by supercharging project fear.
All ignore the reality of the EU's future plans and problems.
The EU is developing into a superstate with a common army, common taxation and a common foreign policy.
Countries are intended to become regions.
But its problems with Poland, Hungary, Austria, Italy and Greece, and with its banking system, will eventually break it.
It will go the way of all empires.
A clean Brexit will hasten its downfall.
We should move swiftly to trade on WTO rules to prevent the EU elite and their fifth column remaining in control of our laws.
We must take back control.
William Loneskie.
Amulree,
9 Justice Park,
Oxton.
Don't believe the power spin
Sir, – Alister Rankin (Letters, November 15) would appear to have fallen for the spin emanating from the wind generation lobby in believing that Scotland's electricity demand can be sourced entirely from wind.
The recent spin issued by WWF claiming that Scotland met 98% of demand was based on aggregate numbers and took no account of the low wind days in October when Scotland had to import electricity from England.
For instance, on October 30, Scotland had to import almost 2GW which is around 50% of our average demand.
There is no storage system which can compensate for such a shortfall for any length of time.
This should be no surprise as wind generation is highly unreliable – after all, it is weather dependent and cannot provide electricity in line with demand.
GM Lindsay.
Whinfield Gardens,
Kinross.
Remembering men of the 51st
Sir, – I was very interested in Ken Guild's letter (November 7) regarding recognition for the 51st as my father was part of the 51st Highland Division trapped at St Valery in 1940.
He was conscripted to the Gordon Highlanders at the outbreak of war in 1939 and trained at Bridge of Don Barracks in Aberdeen before joining the 1st Battalion in France in 1940.
Following the order to surrender at St Valery, my father and his comrades were marched to Rouen and then onwards to Luxembourg.
Several months later, on January 30 1941, the men finally arrived at their ultimate destination amid deep snow – Stalag 344 at Lamsdorf.
My father had to work in a cement factory starting at 6am and working until late afternoon surviving on four slices of bread and weak vegetable soup.
After two years working in the factory, he was transferred to a sugar beet factory where he worked with two oxen to haul carts.
At the end of the war in 1945, my father was loaded on to a cattle truck containing 45 prisoners and after about nine days travelling in cramped conditions, the prisoners were free and returned home.
Jim Murray.
40 Patrick Allan Fraser Street,
Arbroath.
Royal duties must be done
Sir, – In answer to Mr Chappell's letter (November 13) regarding my ability to lay a wreath and stand for 30 minutes when I am 92.
I don't know the answer, but if it was an important part of my duties and I could not do so I would stand down.
The Queen could be unemployed and live in luxury on benefits same as her son.
Alister Rankin,
93 Whyterose Terrace,
Methil.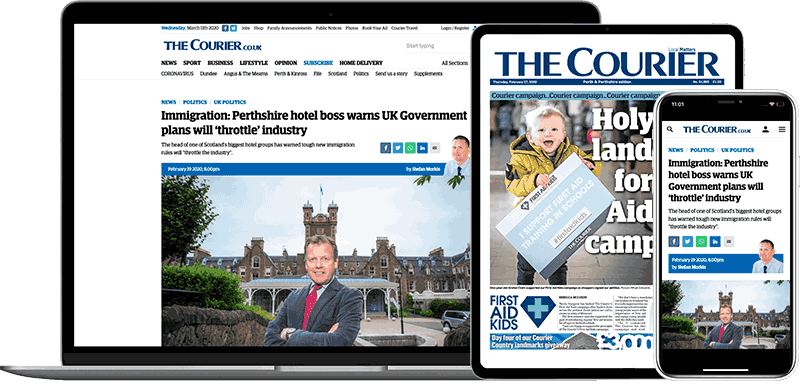 Help support quality local journalism … become a digital subscriber to The Courier
For as little as £5.99 a month you can access all of our content, including Premium articles.
Subscribe