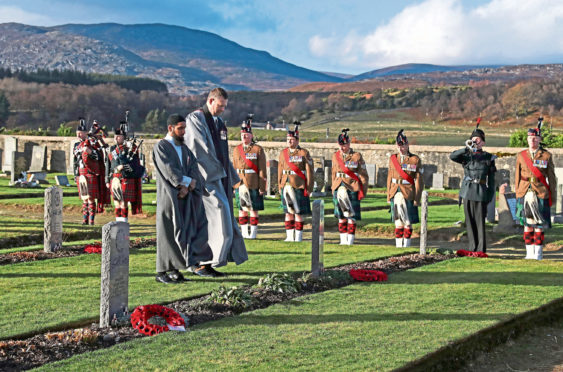 Sir, – Recently we honoured Scots troops, in particular those who fell during World War One.
However, we ought to also salute the memory of those from a black and minority ethnic background who gave their lives in what was, after all, a truly world war.
France recruited troops from her African and Indo-Chinese colonies to swell the ranks of her domestic troops slaughtered on the fields of northern Europe.
Meanwhile, "The Harlem Hellfighters" – black US troops – fought with divisions of the French army because their white fellow countrymen refused to serve alongside them.
Britain famously called on troops from her extensive Empire.
Indian troops shivered in the mud and squalor of the trenches in Europe and African Caribbean troops served in Palestine (and in Europe too).
What we forget is that the Great War was not fought in Europe and Gallipoli alone but all over Africa.
In fact the first shot fired during the war was fired by Sergeant Major Alhaji Grunshi of the Gold Coast Regiment when British and French troops invaded German Togoland.
These soldiers from five continents fought and died in a war which started because an obscure Austrian archduke was assassinated in Sarajevo – something which was of little interest or concern to the lands from which their colonial masters recruited them.
Alexandra MacRae.
8 Jubilee Park,
Letham,
Forfar.
A real sense of sportsmanship
Sir, – I read Jim Spence's recent article about sportsmanship (Courier, November 10) with interest and would like to make one observation.
A number of years ago I was at Muirton Park for a St Johnstone v Celtic game.
There was an incident at the Perth end when the referee awarded a penalty to Celtic.
Danny McGrain, who was awarded the penalty, went to the referee and he must have explained that he had tripped rather than been fouled and the referee cancelled his own decision and there was no penalty.
I will always remember McGrain's sense of sportsmanship.
T W Howison.
Silver Birch,
Parkhill Farm,
Newburgh.
Jazz show was Ferry nice
Sir, – Last Wednesday evening I was privileged to attend a jazz concert at the Post Office Bar in Broughty Ferry.
This was to celebrate the 60th anniversary of the East Coast Jazzmen.
A great night, ably compèred by Ron Elder, with the highlights being guests Walt Smith of Havana Swing, who gave a rendition of Poor Butterfly, and the incredible singing of Yvonne Robb, veteran vocalist of Storyville All Stars who contributed Down by the Riverside and Blueberry Hill to a standing ovation.
Yvonne is over 90 and still possesses a quite wonderful voice.
The capacity audience was treated to a superb evening of traditional jazz which included a rendition of the original hit for East Coast Jazzmen the Piper o' Dundee, introduced by Andi Lothian.
A special tribute is due to Dave Fimister who has been the band trumpeter since its inception.
Long may the East Coast Jazzmen keep up the good work.
Avril Simpson.
Field Studio,
Welton Corner,
Forfar.
Unions must now dig deep
Sir, – It is to be hoped that if the worst comes to the worst at the Michelin factory in Dundee the unions will dig deep into their own pockets and ensure workers get as much financial aid as possible.
It is only right that they ask for help from both Holyrood and Westminster, but charity begins at home.
Unions, mere custodians of their members' moneys, should be quickest off the mark to dole out cash to the owners.
I would like to hear just what unions will pledge to their members in the possible event of closure at Michelin.
It would ease a lot of burdens in a lot of homes in Dundee.
Robert Gritton.
62 Mameulah Road,
Newmachar.
Underwhelmed following visit
Sir, – My wife and I paid our first visit to the V&A last week and, like many people, we admired the architecture outside but were a bit underwhelmed by the inside.
We went into the Ocean Liners exhibition which brought back memories of our first cruise on the QE2 (we even saw the chairs and footage of the dining room) but the area of the other exhibits is small compared to the areas occupied by the café and restaurant.
On going outside, we were faced with the building opposite which is now looking worse than ever with the fake brick cladding.
If only it had been all glass then it would have reflected the V&A.
Nicoll Merchant.
14 Chapman Drive,
Carnoustie.
Holyrood hands are sadly tied
Sir, – Your columnist Jenny Hjul is back to her usual topic of attacking the Scottish Government in last week's column.
She stated: "In the more than 10 years that the SNP has been in power, the chasm between the disadvantaged and advantaged has grown so that it is almost inconceivable for young people from less affluent areas to access the top courses at the top institutions without special help".
This is rich coming from a woman who supports the Tory Government which has subjected the people of the UK, well the poor people anyway, to 10 years of austerity, causing 20% of the population to live on incomes below the poverty line, nearly one in three children to live in poverty, and which the Institute for Public Policy Research says has made the UK "the fifth most unequal in Europe".
England's Children's Commissioner in 2016 said that living in poverty has a lasting impact on children's lives, adversely affecting their development, education, health and wellbeing.
At the age of three, a child who has been raised in poverty is likely to have poorer health and a lower level of educational attainment than one who has not.
We all know this, but unfortunately there is very little that the Scottish Government can do when control of the economy and the benefits system are held by Westminster.
The Scottish Government is putting its main efforts into pre-school services, to try to make it easier for parents to get out to work, lessening the effects of poverty on young children while giving them a better start in life, but it is difficult in a time of austerity, and increasing inequality, and under a regime which cuts taxes for the rich, and implements a deliberately brutal benefits system for the poor.
And that's not even taking into account the catastrophic effects still to come from Westminster's dog's Brexit.
Les Mackay.
5 Carmichael Gardens,
Dundee.
A dangerous obsession
Sir, – The SNP's obsession with equality of outcome is resulting in declining academic standards, their hyper-liberal push to eliminate punishments in schools is fuelling chaos in the classroom, and their unbalanced fixation on well-being and children's rights is tending to make kids delicate, self-centred and demanding.
But, at least we are now "world leaders" in putting up posters in classrooms to indoctrinate children into a radical ideology of sexuality and gender.
This is not about tackling bullying and promoting inclusion, it's about indoctrination, plain and simple.
Civility and tolerance can be promoted without preaching that the teachings of the Catholic Church, for example, are outdated bigotry.
Wait, you might say, hasn't the Catholic Church backed the proposals?
Did they have any choice?
The tacit offer is "do it or we shut down your schools".
The insanity of teaching kids that they can choose whether they are a boy or a girl is already claiming casualties as young people are induced to develop gender identity disorders.
The insistence that all expressions of sexuality are equal has no grounding in evidence.
Monogamous heterosexual marriage as the context for sex correlates with the best outcomes for adults and kids.
Richard Lucas.
272 Bath Street,
Glasgow.
---
---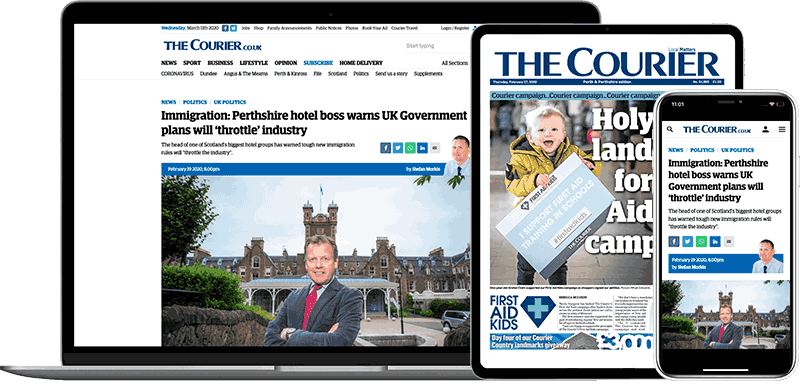 Help support quality local journalism … become a digital subscriber to The Courier
For as little as £5.99 a month you can access all of our content, including Premium articles.
Subscribe