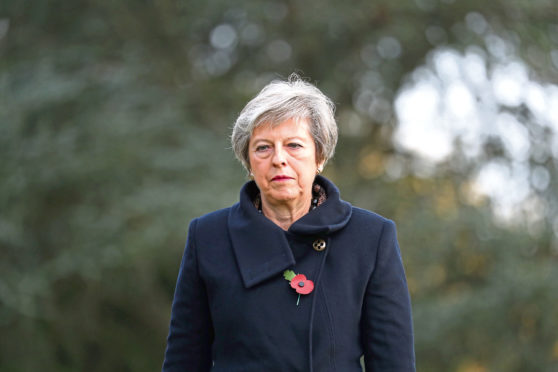 Sir, – I am totally appalled by the shocking abuse directed toward our Prime Minister Theresa May.
When the outcome of the EU referendum was clear and Mr Cameron left as he was not willing nor able to take on this challenge, no one was there to take over.
They were all too afraid to take on a heavy and very complicated task.
Only Mrs May showed the guts and courage to take over.
Since then there has been an awful lot of backstabbing and a lot of finger pointing but precious few ideas.
All the hard-Brexit supporters seem to forget that they should be putting the public first.
They get very well paid to serve the country but often only seem to be serving themselves.
Their behaviour is damaging and is making a fool of the UK in front of the whole world.
Meanwhile, First Minister Nicola Sturgeon is behaving like a child, saying "It's not fair because Northern Ireland gets more than me".
If Mrs Sturgeon had thought a bit further, she would realise that Scotland has no similar border between north and south so different rules do apply.
I admire the stamina and courage of our prime minister because, in spite of all adversity, she carries on.
Whatever deal is made, no one will be satisfied but please can all the MPs and MSPs finally stop all the fuss, and unite behind Mrs May and to the public job they are paid to do on behalf of this country's tax payers?
Maaike Cook.
Cash Feus,
Strathmiglo.
A new 'Project Fear' has begun
Sir, – The letters pages of November 17 made interesting reading and provided opportunities for alternative points of view.
Ian Strachan made an early start to the latest campaign of fear in response to the SNP/Lib Dem support for a customs union by pointing out that such a venture had been previously tried and failed in Europe by such historical figures like Bismarck and Hitler.
I hope his warning of Empires coming and going will be duly noted by the little Englander Brexiteers who think they still have one.
Project Fear was given further support from William Loneskie with his belief that there is a fifth column at work in the UK with the sole purpose of reversing Brexit.
He cautions against the future direction of the EU which he believes will turn into a super state with common army, common taxation and common foreign policy.
He then goes on to urge us to take back control of our own laws and by inference our own destiny, a privilege which he obviously denies to Scotland because Scotland cast a majority vote to remain as part of the EU.
Allan A MacDougall.
37 Forth Park,
Bridge of Allan.
The old system may be broken
Sir, – What appears as a higgledy piggledy Brexit divorce scenario is symptomatic of lackadaisical politics from all parties.
Democracy, once touted as the best of a bad lot of political systems, seems to be slipping rapidly down the depreciation column.
Perhaps the time has arrived for a more autonomous (not quite autocratic) style of governance, with priority directed towards discipline, responsibility, respect and fair-play.
All political parties aspiring to govern should provide the voting public with detailed strategic plans as to the way forward, and how these objectives are to be achieved.
Consultancy, or committee, orientated governance will simply not get the country back on course.
Kenneth Miln.
6 Swallow Apts,
Union Street,
Monifieth.
Impact of vote was not clear
Sir, – I am most concerned that few, if any, critics of the negotiated Brexit leave deal, including politicians, offer as part of their criticism any alternative which would be acceptable to the remaining European Union members.
What we want and what is eventually agreed in any negotiation rarely coincide and to blame the present government for the apparent chaotic state of affairs could be seen as somewhat short sighted when it was the will of the people that we should leave the European Union – and it was then left to those and such as those to negotiate the leaving.
That said as one who voted to leave, the effects of that decision were, I believe, neither adequately explained or appreciated by the population per se and to now lay it all at the door of one person is not acceptable.
Very few of the critics, in my opinion, would have understood or have been competent to negotiate any kind of deal, especially when 27 other countries were involved.
As such, to come away with any kind of deal which did not bankrupt the country must be a great achievement.
Let us not forget that in losing Great Britain the European Union is losing a major contributor to their budget so they will want the maximum amount of compensation before we leave if only to pay for all of the unseen costs such an organisation has.
Anthony Brunton.
Bellfield Mill Cottage,
Kinross.
Site Six hotel cash concern
Sir, – I read that Dundee Council is to "invest" £20m in a hotel development at Site Six.
What will be the return on this investment in a commercial development?
Or will it simply increase a private firm's profits?
If the intention is to improve conditions and create jobs in the city, surely £20m could be more usefully spent.
Is an attractive site not enough of an inducement to invest in a city without a monetary bribe?
I find this latest revelation astonishing.
Terry Smith.
33 Flass Road,
Wormit.
Truth does not suit everybody
Sir, – Every time hurricanes or tornadoes strike, snow covers the ground, winds reach gale force, waves crash over the sea walls, forest and bush fires destroy homes or there is a scorching summer or mild winter, drought or flooding, the global warming brigade blame mankind.
I am only surprised that they do not also blame mankind for earthquakes, volcanic eruptions and tsunamis.
If you are such a person look away now.
The latest report from the United Nations Intergovernmental Panel on Climate Change (IPCC) shows there is little basis for claiming these events have increased, due to greenhouse gases.
The IPCC's report noted that "there is only low confidence regarding changes in tropical cyclone numbers under global warming over the last four decades".
In a nutshell there is little or no link between climate change and extreme weather events.
This "inconvenient truth" must be told.
Clark Cross.
138 Springfield Road,
Linlithgow.
Cats continuing to cause chaos
Sir, – We have all seen notices telling dog owners to clean up after their pets, but how much longer will we have to wait before cat owners are told the same thing?
I used to enjoy my garden but now it is treated as one big litter tray by the many cats in the area.
Two years ago I had to give up growing vegetables altogether because of cats' dirt.
So I tried growing carrots in a tub and would you believe they even used the tub?
I used to moan about having to go out every two or three days to pick up several lots of cats' dirt and now I am absolutely sickened by it.
The last lot I had to lift was soft and crawling with worms.
Perhaps someone could tell me just how serious a health hazard this is, and what steps I can take to get my garden back.
Doreen Dingwall.
10 Baldovie Place,
Dundee.
Careful what you wish for
Sir, – Politicians of various hue and colour appear on television to say that higher living wages would solve many people's problems.
Do any of these wise men stop to think where the money comes from?
The two principal sources are the taxpayer or the employer.
We all know from where taxpayer money comes from and the employer – who needs to maintain profits – can raise prices or reduce the work force.
Is this really the best way forward?
A A Bullions.
6 Glencairn Crescent,
Leven.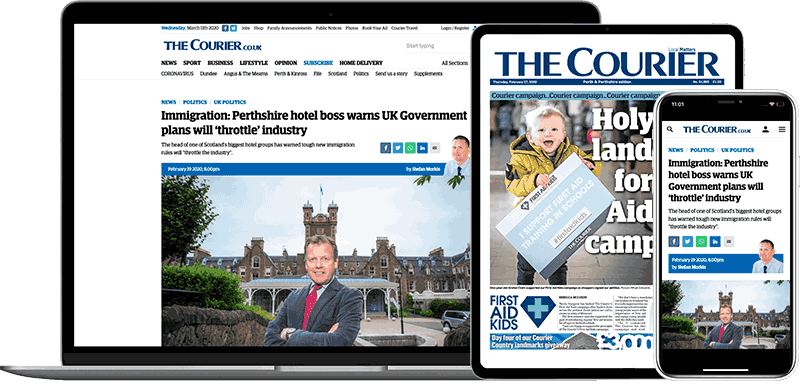 Help support quality local journalism … become a digital subscriber to The Courier
For as little as £5.99 a month you can access all of our content, including Premium articles.
Subscribe