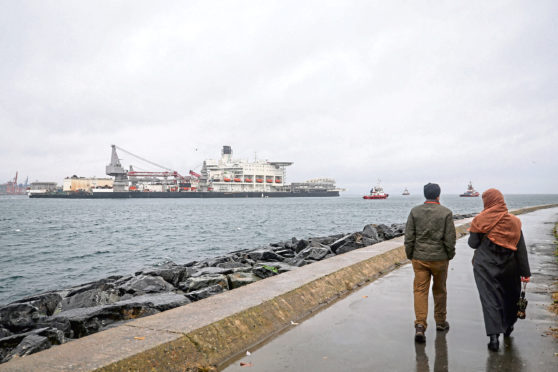 Sir, – With regard to decommissioning projects in the North Sea and Dundee in particular, the latest epistle (involving plans to build the Moonraker offshore heavy lift vessel)is almost fantasy (a little like the film of the same name).
There is already a very effective single lift catamaran vessel with the same specification called Allseas Pioneering Spirit .
It has removed three installations to date and has contracts for a few more in 2019/20.
The owners Hereema and a Norwegian consortium are already planning a slightly larger vessel to handle some larger structures in the Gulf of Mexico.
Their budget is $3 billion for a four year build.
Where does Mr (Lee) Johnson get support from investors for a specialist vessel where a competitor is operational and already designing/building a second unit – this is a very specialist market with 39 structures in the North Sea?
I suggest a smarter profitable alternative would be to partner with a Dutch/Norwegian consortium who have already done the ground work and are now a proven commodity, then figure out what Dundee can actually handle.
Callum Falconer says "it is a potential game changing solution".
It was in 2011 when Hereema ordered the Pioneering Spirit and it took four years to build.
How does ODS intend to deliver Moonraker in two and half years when the experts needed four in a very efficient Korean shipyard?
George Sangster.
Woodlands,
Logie.
Rationale is hard to fathom
Sir, – I am amazed that Angus councillors feel it necessary to form a "cross party committee" to investigate how the car parking charges came about ("Scrutiny of decision on parking charges", Courier, November 21).
This implies that the council senior officers simply purchased everything and began the scheme without consulting the councillors.
Numerous business owners and private citizens put forward multiple reasons to their elected representatives, personally and by email, explaining why the charges should not be implemented.
However, according to the said representatives, they were not really aware of what was going on.
On Tuesday in Brechin, of 100 spaces, only 17 were occupied.
The shortfall in income, when spread across the county, would hardly pay for the cost of the machines (£30,000 plus each) let alone pay toward road repairs.
Keith Parsonson.
15 Kinghorn Place,
Brechin.
Driven mad by botched repairs
Sir, – Why are there no complaints from motorists to the newspapers or to their councils about complete roads not being repaired instead of continually filling in potholes with repairs that don't last long?
I have complained to my council only to be told they don't have enough money to do that.
Well my question to them is where is the road fund/road tax going?
I am fed up hearing about it being used to combat emissions.
Come on motorists, start speaking up about this and make the councils more accountable for the ways they spend this money.
Earl Russell.
7 Albert Street,
Arbroath.
Getting drunk is unacceptable
Sir, – The perpetual alcohol debate in Scotland grinds on.
Pricing, advertising, information and availability are worthy topics, but political leadership is entirely absent when it comes to the central point.
The heart of the problem is cultural.
For as long as drunkenness is socially acceptable, the pain, damage, fear and cost caused by it will continue.
It is not just a matter of personal risk assessment, rather it is a matter of responsibility to family, friends, neighbours, wider society, the emergency services and the taxpayer.
There might be some value in tinkering with pricing and advertising restrictions, but political leadership should not just be about the nuts and bolts of policy.
I am not proposing any more stringent laws against drunkenness, but I am willing to say that it's not OK to get drunk – and the more widely held that view becomes, the better a society we will be.
Richard Lucas.
272 Bath Street,
Glasgow.
Affirmative action needed
Sir, – The Brexit fiasco will have an undoubted negative impact on Scotland which needs both immigrant workers and the EU subsidies for lagging regions and projects including some affecting mid Fife.
What created this disastrous disruption and utter loss of national credibility was a toxic cocktail of privileged, influential but utterly delusional right wing Tory ideologues and their dishonest media amplifiers, the utter neglect of the English regions in favour of the centre exacerbated by unnecessary and prolonged austerity alongside the quaint, mildly xenophobic nostalgia of many older voters.
The dubiously funded and dishonest Leave campaign merely threw extra petrol on to the mix.
Whether reality and common sense now dawns is questionable since every effort will be made to pass on blame by those who created this unnecessary mess to any convenient scapegoat.
Scotland will bear a heavy cost for an outcome it clearly overwhelmingly rejected.
But there are also lessons for what any Scottish Government can do to mitigate its impact and rebalance our increasingly unequal society.
As a recent BBC report shows, Scottish cities – especially Edinburgh –are becoming more dynamic and affluent.
Scotland as a whole cannot afford to continue to allow large areas and communities to lag behind.
Mid Fife, and especially Levenmouth, like a number of former coalfield areas, needs attention and investment of which it has been conspicuously starved over the past few decades.
Whatever the future of Scotland emerging from the current chaos, deliberate affirmative action is essential to give disadvantaged communities a greater stake and share in the country's economy and body politic.
That is simply not happening at present.
James Robertson.
Casan,
Leven.
Truth has been hard to find
Sir, – Your headline regarding the investigation of the head of Butterstone School was over sensational and misleading ("School head suspended before closure decision", Courier, November 21).
I know Butterstone school to be a caring institution.
The head involved was doing his very best to keep the school open and clearly has a lot of support as already several thousand people have signed a petition to keep the school open.
From your headline I expected to find he had been involved in some serious impropriety whereas the full article reveals that it was a "minor matter" and the Care Inspectorate were "satisfied that immediate concerns had been dealt with".
One wonders what has really been going on?
David Trudgill.
Newmill,
Blairgowrie.
Thinking about the victims
Sir, – I suppose it is reasonable that HM Inspectorate of Prisons for Scotland should show concern for the well-being of prisoners at Kirkcaldy Sheriff Court ("Worries over length of time prisoners held at town's sheriff court", Courier, November 22).
Is there a similar organisation for the well-being of victims?
A A Bullions.
6 Glencairn Crescent,
Leven.
Charities need more clarity
Sir, – There have been numerous reports recently about the obscene salaries paid to the directors of charities.
This leaves the public worried that their donations are going to the fat cats and not those most in need.
Too often there is a layer of "executives" creaming off donations.
All advertising for charities, whether in the press or on billboards, asking for money, and even the charity people on the streets and the "chuggers", should be legally bound to declare and display the salary of the chief executive and top officials.
The public can then decide which charity deserves support.
Clark Cross.
138 Springfield Road,
Linlithgow.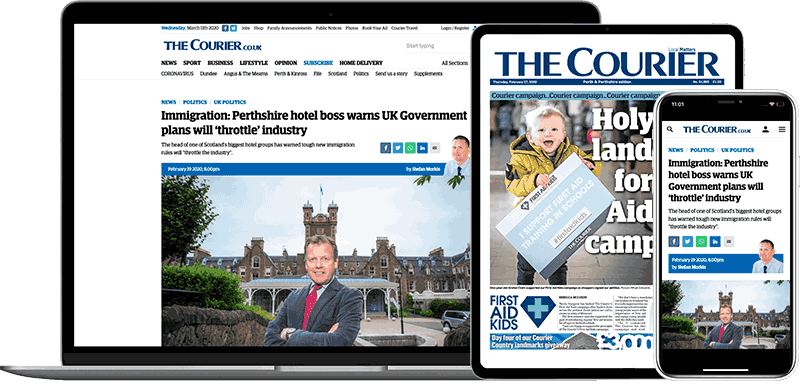 Help support quality local journalism … become a digital subscriber to The Courier
For as little as £5.99 a month you can access all of our content, including Premium articles.
Subscribe