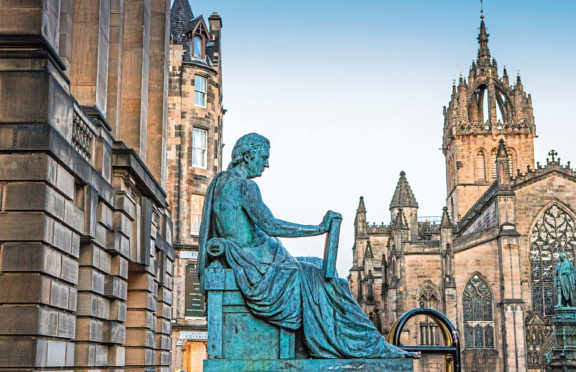 Sir, – With regard to the report in advising that new guidelines have set down the fundamental principles and purposes of sentencing for all offenders in Scottish Courts ("First sentencing guidelines in Scotland's courts introduced", Courier, November 26), I just wonder if the judges could perhaps have taken one more very important step by looking at the serving of sentences.
I would assume that some law exists at present which decided that a prisoner would have to serve just half of his allotted sentence if he behaved himself like a good little boy in prison.
I have to ask – what is the point of a sheriff taking time to consider all the relevant factors of a crime to enable him to pass a sentence which is commensurate to the severity of the crime when the offender has only got to serve half of the sentence?
Prison is supposed to be a deterrent so I think steps should be taken to ensure that a sentence is served for the full term, for example 10 years means 10 years, five years means five years and so on.
In addition, of course, life should mean life just as it does in America.
Perhaps this might go some way to make potential offenders think twice.
They should know before they commit a crime that they would have to serve the total sentence in prison.
No doubt there are some "do-gooders" who would say that this would be an infringement of their human rights but it is only the way to make the punishment fit the crime.
John M Page.
8 Panter Crescent,
Montrose.
Upgrade is for staff as well
Sir, – I write in response to the letter from A A Bullions regarding conditions at Kirkcaldy's holding cells (Letters, November 26).
There are indeed groups that support the victims of crime.
In regard to the conditions of the holding cells at Kirkcaldy, if they are substandard then they should be upgraded as the staff that work there would also face the same substandard conditions.
Upgrading of courts, police stations and prisons is not only about the conditions of the offenders but also about conditions of those who work within these establishments.
They provide a valuable and sometimes dangerous service and the least we can do is provide them with modern, healthy and safe environments.
Bryan Auchterlonie.
Bluebell Cottage,
Perth.
In defence of Jenny Hjul
Sir, – I feel compelled to counter the criticism of your columnist, Ms Hjul, by Colin Mayall. (Courier Letters, November 23).
Why is it, when anyone dares to criticise the SNP or any of its ministers, there is an automatic response of "hatred" of nationalism levied against the critic?
If Mr Mayall cares to look at the record of the SNP in power at Holyrood, he would perhaps notice the track-record of fiscal incompetence, and the habit of blaming Westminster for the ills that have befallen Scotland under the SNP's watch.
The most glaring defects of the First Minister include her habit of talking over anyone who disagrees with her during televised interviews, her failure to differentiate between aspiration and policy, and her unfailing habit to meddle in affairs that go beyond the brief and mandate of the devolved Government at Holyrood.
So more power to Ms Hjul's elbow in showing up such deficiencies.
Perhaps, as a result, she will cause the First Minister and her acolytes to reconsider the Holyrood role and responsibilities in Scotland, and the best way of achieving desired outcomes.
They may also realise these are not helped by the theatricals of Ian Blackford or the football antics of Hannah Bardell.
Derek Farmer.
Knightsward Farm,
Anstruther.
Not as available as he should be
Sir, – I have recently been informed that the Director General of the Nuclear Secretariat is the Rt Hon Dr Julian Lewis.
I decided to send him an email regarding the unsatisfactory case of the nuclear veterans and their disabled offspring.
I was shocked to discover the following notice appended to his name : "Constituency correspondence is not carried out by email" .
I was always under the impression that members of parliament were supposed to be available, especially when they take on a national role such as Director General of the Nuclear Secretariat.
Dr Lewis appears to be hidden under a bundle of red tape.
Dave Whyte.
73 Blackcraigs,
Kirkcaldy.
Driverless plan is plain crazy
Sir, – It has been reported that driverless buses will make trial runs on the Forth Road Bridge.
Just who are the fools that think this is a great idea?
What is the purpose?
Is it simply to save wages and to increase profits?
One rather wonders if the patients have taken over the asylum.
How many people would think it safe to sit in a bus with no driver?
Will the general public get a say on this?
How about trains, aircraft and pilotless helicopter for the North Sea oil workers?
The stupidity of our politicians is endless.
We are not short of people, so why do we need such danger on our roads?
Sadly, we voted for the people that are encouraging this stupidity.
They need to think about how we can put people back to work.
Anyone who has worked on maintenance will tell you everything that can go wrong sooner or later does indeed go wrong.
Even in our wee parliament the beams fell from the roof.
We don't have a government, we have accountants.
We live in a small country overflowing with politicians all milking the system.
What we need is for the people to have a democratic say to stop this kind of political madness but perhaps we don't live in a proper democracy after all.
John G Phimister.
63 St Clair Street,
Kirkcaldy.
Austerity has a shameful legacy
Sir, – The UK is the fifth largest economy in the world, yet a fifth of British citizens live in poverty, and, of these, four million are more than 50% below the poverty line, with 1.5 million destitute, unable to afford basic essentials.
Meanwhile, three million children of working parents live in poverty.
Homelessness is up 60% since 2010, and 1.3 million people have been referred to foodbanks over the last year, a rise of 50% in five years.
Just this week it was reported in the Lancet that poor people in the UK die almost 10 years earlier than the rich.
Yet as the poor get poorer, the rich get ever richer.
The UK is the fourth most unequal country in Europe, and seventh in the developed world, with the top 10% owning 53% of the wealth – and it is getting worse.
The OECD say that the rich in the UK earn 12 times as much as the poor, up from eight times more 30 years ago.
The United Nations' Special Rapporteur on poverty, Philip Alston, recently spent 12 days in the UK, only the second time the UN has felt it necessary for a Western European nation to have an investigation into poverty.
His report will be presented to the UN Human Rights Council next year, but his preliminary findings state that the UK Government has inflicted "great misery" on its people, with "punitive, mean spirited, and often callous" austerity policies.
He declared that levels of child poverty were "not just a disgrace, but a social calamity and an economic disaster", and concluded that, in the UK "poverty is a political choice", breaching several UN human rights agreements.
All of this is, as Mr Alston said, "a disgrace", and the Westminster Government should be thoroughly ashamed.
Les Mackay.
5 Carmichael Gardens,
Dundee.
Research is too far behind
Sir, – Over the past five years, the number of children referred to an NHS specialist service for those seeking to change gender has risen by 700%.
When they turn 16, they can demand life-changing body alterations, cutting off breasts or other appendages.
Will they regret it?
No one knows but the fact is that in no other medical field is such traumatic, devastating treatment so far ahead of research.
Rev Dr John Cameron.
10 Howard Place,
St Andrews.