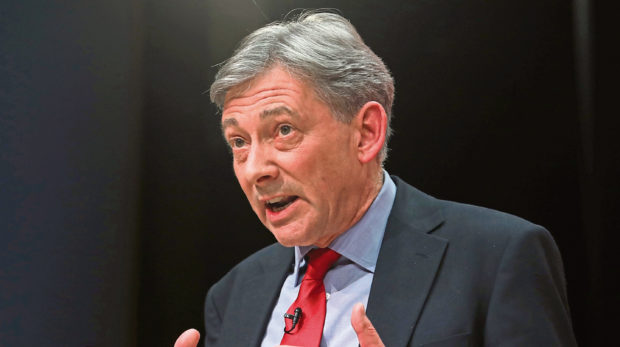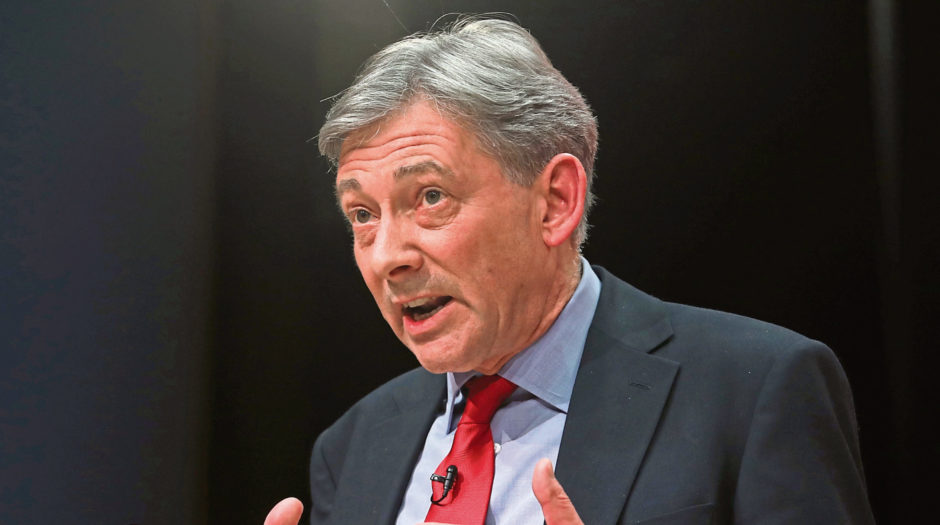 Sir, – British Labour's scatterbrained joke of a Scottish branch manager Richard Leonard is calling on Holyrood to scrap the Tories' two child limit for people on benefits.
Even by his own feeble standards this is an embarrassment.
Mr Leonard made a fool of himself by calling for Scottish Water to be nationalised.
This one, however, is in a category by itself.
It was "Scottish" Labour who stopped welfare from being devolved.
Richard Leonard's party thought that Westminster Tories being in charge of social security was preferable to Holyrood control.
The context to this was the referendum campaign when Labour stood in solidarity and took money from the Tories to front the Better Together campaign of lies and deceit.
This is part of an established pattern.
All throughout the 1980s the feeble 50 Labour MPs sitting at Westminster did nothing as Thatcher looted the North Sea.
When Holyrood had a symbolic vote before Tony Blair laid waste to Iraq; it was the Tories whose votes Labour relied upon to ensure Holyrood gave its approval.
The British Labour unionist seems to be able to block facts, ideas and sources that challenge their absurd notions of "socialism".
It is maintained by a mixture of control, compromise, conformity and blindness.
If any party deserves the moniker of Tartan Tories it's "Scottish" Labour.
Alan Hinnrichs.
2 Gillespie Terrace,
Dundee.
Parking policy is short sighted
Sir, – I am a resident of Angus but live on the fringes so car park charges are not a real concern personally.
However, Angus councillors have put their heads in the sand on car park charges.
The fact it is another tax on car drivers can be put to one side.
My concern is all the little towns throughout Angus which people will now bypass rather than pay parking charges.
The councillors have signed the death warrant for several towns now which were already struggling.
Why should I pay to shop in, say, Arbroath when I can travel a short distance and get free parking – and even public toilets too?
And to add to the mix, car parking in Dundee city centre will offer £1 parking all day on Sundays.
It is on the news daily how the high street is dying and now Angus Council have speeded up the death of the high street in small towns.
Yes, sure there are pressures on councils but there will be more pressure when the rates don't come in from the dead shops and businesses.
Derek H Shaw.
17 The Logan,
Liff.
Failing to take a stand
Sir, – A British Government minister was recently in Saudi Arabia expressing Britain's concern over the apparent murder of a Saudi citizen by the Saudi Government in Turkey.
To mark our concern over the naval dispute between Russia and Ukraine, our defence minister is sending a survey vessel to the Black Sea as he says Russia's actions threaten the security of other countries in the region.
That should put the wind up them…
These events are happening in far-off regions which is none of our concern and does not threaten us.
However, earlier this year Britain's security was penetrated by two Russian agents carrying lethal poison in an attempt to murder a Russian exile and who killed a British woman on British soil before returning unimpeded to their homeland where, incidentally, capital punishment has been abolished.
No sign of gunboat/survey ship diplomacy there.
It might be said that the killing of a single woman isn't enough to justify economic and diplomatic sanctions, in which case justice could have been done by taking a diplomat from the Russian Embassy and hanging him.
Russia wouldn't have retaliated over the death of just one of its citizens, would it?
How many British citizens have to be killed by a foreign power before the British Government takes preventative and punitive action or are our armed forces just an expensive showpiece?
George Dobbie.
51 Airlie Street,
Alyth.
Lessons have not been learnt
Sir, – I see that the heavily blinkered Rotherham Council have yet again negatively excelled themselves with regard to a convicted rapist being actively encouraged to access his son, who was the result of a rape.
Now this was the very council accused of systematic failures to address child grooming and group rape gangs, who had targeted and sexually abused some 1400 children over a period of 16 years.
Lessons have still not been learned.
In one particular case, a rapist had apparently been contacted and offered the chance to have a say and play a part in his child's life, and be reintroduced, thereby, into the life and welfare of his victim.
Furthermore, he was to have the opportunity to be a father figure to the child and equally to be given the opportunity to apologise for his actions, even after the child, who it is said has suffered continuing anxiety, refused to acknowledge his biological father.
There is a need for the law to be changed to safeguard the interests of the victim and exclude any parallel rights of the perpetrator in such cases.
Above and beyond that, councils such as Rotherham should be required to answer for actions, and lessons which appear never to have been learned.
David L Thomson.
24 Laurence Park,
Kinglassie.
Serious issue being ignored
Sir, – While our politicians are clowning around with Brexit, not one is talking serious about the dark menace that is Putin's Russia.
Joan Crook.
7 Demarco Drive,
Glenrothes.
Give jobs to local unemployed
Sir, – The front page of The Courier recently carried an article which said that, "A threat to available labour from elsewhere in Europe is likely to have a serious effect on meat producers, care providers, soft fruit and the education sector" ("Businesses face fight after Brexit", Courier, November 26).
Obviously those who are concerned about the lack of workers do not read The Courier which had an article recently which gave details about the fall in unemployment figures in Scotland.
Great news, but the article also stated that those out of work and seeking employment still totalled 103,000. So instead of plundering other countries of their young people with bribes of higher wages and benefits, those seeking workers should get themselves to the employment exchange where they will find many of the 103,000 unemployed desperate for a job.
Mike Rogalski.
82 Feus Road,
Perth.
New items to add to baby box
Sir, – The way things are progressing I think the Scottish Government ought to add a couple of items in the box given to every child born in Scotland.
First a handbook on gender choice, second perhaps, let us say, 10 £1 betting chips.
A A Bullions.
6 Glencairn Crescent,
Leven.
Fishing for a bright future
Sir, – One has to congratulate Ross Thompson MP for his sturdy and honest (and probably personally difficult) defence of his position on a Brexit deal which provides none of the guarantees which the fishing community of the North East of Scotland were promised.
Would that more of our elected politicians exhibited such constancy on difficult issues.
He is young enough, however, to perhaps not remember who it was who sold out the fishing rights in Scotland's territorial waters in the first place.
It leads me to wonder, does he believe an independent Scotland would ever have sold out Scotland's fishing communities?
Furthermore, does Mr Thompson believe that having the future of Scotland's fishing in the same hands that sold them out in the first place is ever a safe place to be?
Does he agree with me that the best agency to argue for Scotland's fishing concerns would be an independent Scotland?
David McEwan Hill .
1 Tom Nan Ragh,
Dalinlongart.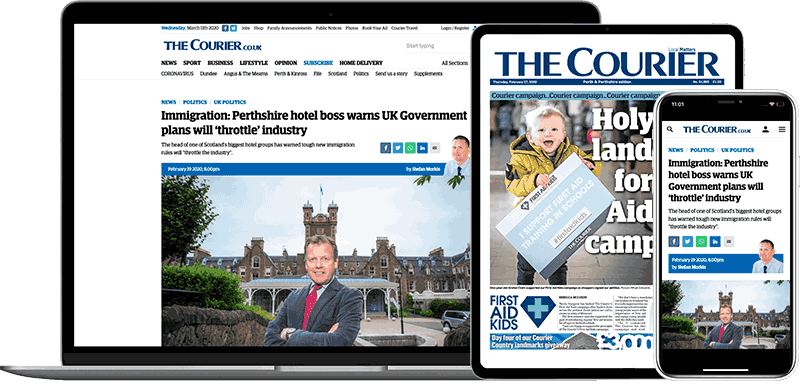 Help support quality local journalism … become a digital subscriber to The Courier
For as little as £5.99 a month you can access all of our content, including Premium articles.
Subscribe