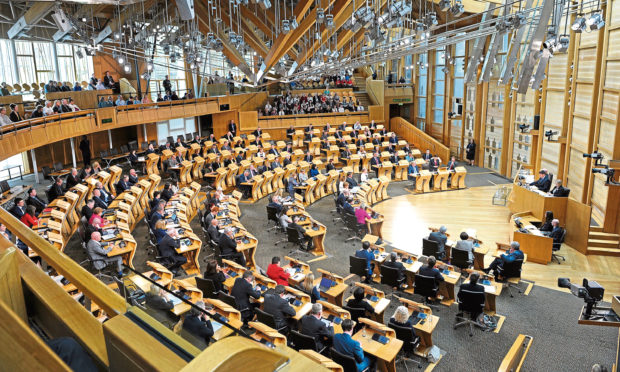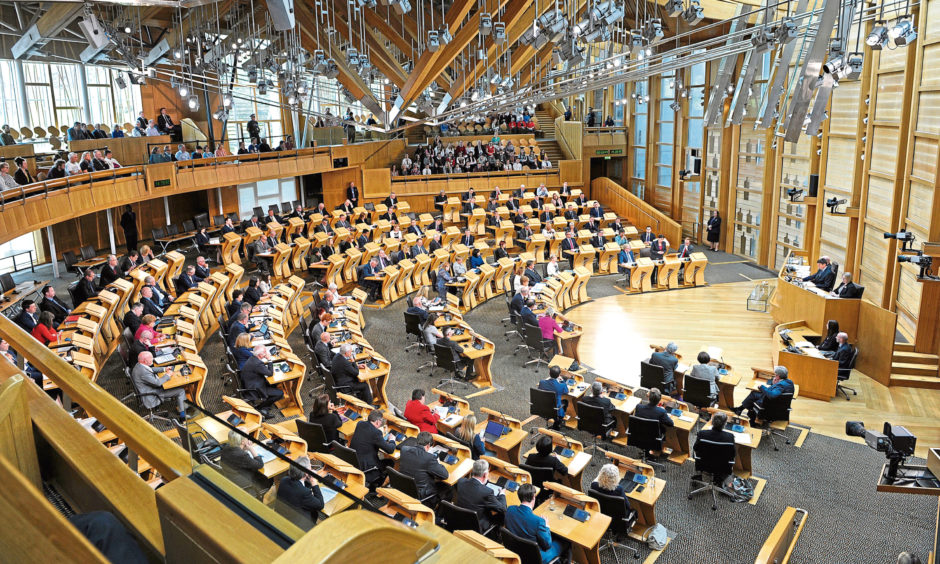 Sir, – Once again, we are seeing the fiction over facts contribution by Allan MacDougall, in his blinkered support for the SNP (Courier Letters, December 2).
How many times do we have to ask for the spending rationale of the Scottish Government?
Everyone has to live within their means and the consequence of not doing so can clearly be seen in the tragedy of Venezuela, and the looming economic problems of Argentina, Italy and Greece.
Scotland already receives a greater cash contribution from the UK Treasury than Wales or Northern Ireland calculated according to the Barnett formula and amounting to more than £14 billion per year.
Additionally, Holyrood now has devolved powers over income tax bands and revenues, plus a plethora of other tax revenue, such as landfill tax, property stamp duty and business rates.
As from the New Year, it will also be receiving VAT contribution.
Maybe Mr MacDougall can tell us from whence would come the current UK Treasury contributions to Holyrood were Scotland to secede from the UK.
I wonder how many voters are aware that Holyrood contributes more than £300 million in aid to other countries (on top of the annual UK spend of more than £13 billion) – and this at time when our health and education budgets are squeezed.
The SNP is beginning to look suspiciously like the Communist governments of old, obsessed with ideology and the need to keep the proletariat happy.
Derek Farmer,
Knightsward Farm,
Anstruther.
Virtue signalling not so powerful
Sir, – The costly climate alarmism conference in Poland headlined on the BBC news with a cataclysmal warning from veteran film producer David Attenborough.
The broadcast, like the conference, was basically a propaganda exercise for the renewables lobby.
Poland was castigated for relying on coal to generate electricity.
Just as an example, while writing this on Monday evening the GB National Grid status shows electricity demand at 42GW of which gas is producing 50%, nuclear 15%, coal 11%, wind 7% and French nuclear 5%.
During the "Beast from the East" coal stopped the grid crashing.
I will remind you that the Institution of Engineers in Scotland has warned that closing coal fired power stations like Longannet will make a black start of the grid when it crashes very problematic.
Yet still the UK Government plans to close our few remaining coal-fired power stations.
Do we want a secure energy supply or do we want virtue signalling on a massive scale from an eco-elite?
William Loneskie,
Amulree,
9 Justice Park,
Oxton.
Dundee is the place to be
Sir, – I just wanted to let you know after a recent, and all too brief, stay in your fair city, how much I enjoyed the sights and the hospitality afforded.
Despite the rain (and I'm from Manchester), I found the views around the quayside near the V&A stunning and the people, as I've always found to be the case when visiting Scotland, nothing less than friendly and helpful.
I was on business unfortunately but would absolutely recommend, to anyone that would listen, a visit.
Andy Williamson,
Ridge Crescent,
Whitefield,
Manchester.
Jobs claims are wide of the mark
Sir, – I was surprised to read claims that the new Retail Park on Cupar's Reekie/Tesco site would create 100 jobs.
No it won't.
Money spent here is money not spent in Cupar's town centre and elsewhere.
What will happen is that 100 "good" jobs that bring money into the local economy will be replaced with 100 "bad" jobs, the profits from which will disappear from the area, some out of country.
Fife Council must explain to the people of Cupar why they are wanting to impose this economic and environmental damage on our town, when there are far better uses for the site.
Andrew Collins,
Ladyburn House,
Skinners Steps,
Cupar.
People of Crieff have been failed
Sir, – Your journalist Jamie Buchan wrote an excellent article with regards to the uncertain future of the Crieff Monuments, for which my thanks ("Cross purposes: Call to relocate artefacts", Courier, December 4).
This issue requires "oxygen" to combat the disingenuous efforts of the three parties involved to sweep the matter under the carpet.
If space had permitted, the admission by Culture Perth and Kinross's operation manager that they had been unable to honour the opening hours promised to the Crieff public and visitors might also have been reproduced.
This manager stated that Crieff BID Company were also to blame, but can only fall back on the numbers from a now discredited public consultation to defend his stance.
Ward councillors McCall and Brock sit on the Crieff BID board but, as yet, are silent on the matter.
Quite a number of heads should be hanging in shame over this disgraceful episode.
Ian Hamilton,
Strathearn Court,
Crieff.
Grasping a golden chance
Sir, – I would rather miss breakfast than miss out on my morning papers, including The Courier.
However my current enjoyment is limited to reports of the antics of a parcel of rouges in Westminster caring only for the possible disaster of leaving Europe.
What of our representation in Edinburgh?
For all I know from my daily South China Morning Post, OUR parliament has disbanded.
Brexit is a golden opportunity for Scotland.
China awaits with open arms.
It would be a stretch for me to say we are all Jock Thamson's bairns but unlimited success awaits Scotland the brave and bold.
England be damned!
John Charleston,
Mui Wo Ferry Pier Road,
Lantau,
Hong Kong.
Links to remain post-Brexit
Sir, – In all the talk about Brexit there have been numerous references to bringing back political control to the UK but not much about how this will work when we are intertwined with Europe economically.
Many of the essential services in the UK are run by companies with their headquarters in other countries.
I am thinking of energy suppliers, railways, water and internet sellers.
When the pound loses value the FTSE 100 in London often goes up because the majority of the big companies have more income and investments abroad than they do in Britain.
Therefore, when we have left the EU we will still be very dependant on what happens in other countries.
It is interesting that some of the loudest voices demanding we bring back political control to the UK have not complained at all as energy companies and railway networks have gradually been taken over by foreign-based companies.
Robert Potter,
44 Menzieshill Road,
Dundee.
Treat served up at the Caird Hall
Sir, – I would like to express my gratitude to the Scottish Ensemble who this week gave such a wonderful concert in the Caird Hall, "Musica Adventus".
This consisted, as their leader Jonathan Morton said, of music spanning 400 years, from the Italian renaissance to our own day.
As always, they don't just perform wonderfully, but they seem to be performing specially for us, making it a special kind of event.
Oh, and also they don't charge for their informative programme notes.
Tony Black,
79 Blackness Ave,
Dundee.
Take time out to prepare
Sir, – While cycling early in the morning I come across many cars driving with their windows completely blocked with frost and only looking through a cleared area the size of a football.
This is also prevalent in cars on the school run and is not very safe in my opinion. Surely it would be better getting up earlier than risking people's lives.
Bob Duncan,
110 Caesar Avenue,
Carnegie.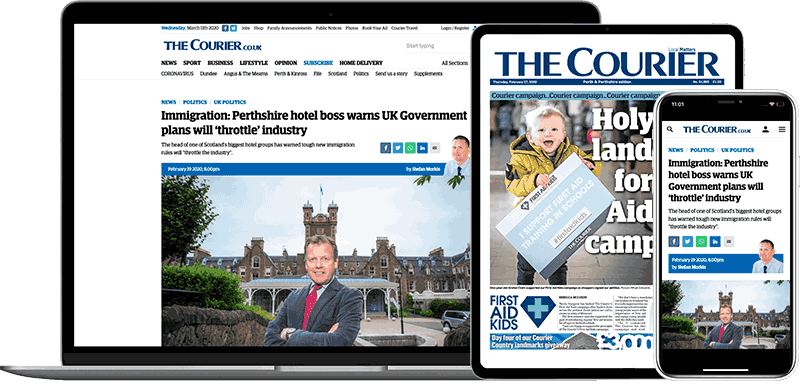 Help support quality local journalism … become a digital subscriber to The Courier
For as little as £5.99 a month you can access all of our content, including Premium articles.
Subscribe