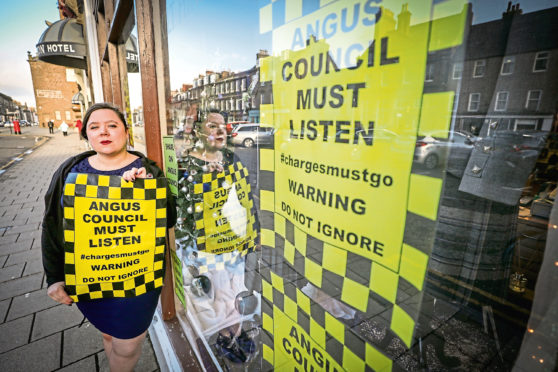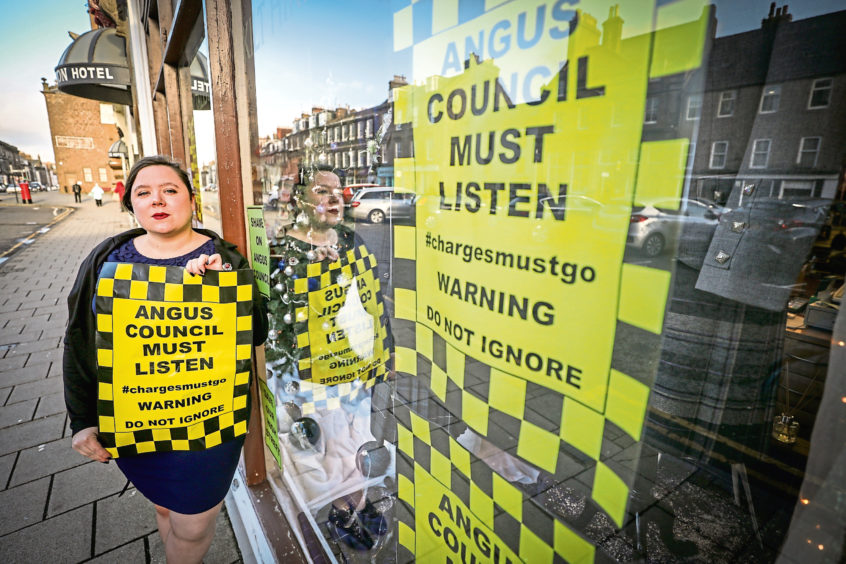 Sir, – I'm sure no Angus councillor wished to bring in parking charges, but here is the problem.
Due to a reduced grant from the Scottish Government, combined with increasing demand and overall inflation, Angus Council is having to cut £40 million out of the budget.
Do we take the money from education, social work, roads etc or charge a little more for services?
We have already reduced staff numbers considerably to make running the council more efficient.
In Brechin and other burghs a problem that has faced councillors for many years is the fact that there haven't been enough central parking areas. We even considered at one stage building a multi-storey car park in Brechin, but felt it would be out of place in the historical centre, as well as being very costly to justify.
The all party policy budget setting group looked at re-introducing parking charges and considered it may ease parking congestion in town centres, and would be a better option than taking more money from the other essential services. After all most car parks across the country charge for parking nowadays and it is accepted as a necessary evil. So at the February 2018 budget meeting all Angus councillors supported bringing in parking charges.
Some suggested we should charge for both on and off street parking, but the current Angus Council administration considered that was a step too far and the current half hour free on street parking would help customers who just want to pop in for a short time in town centre shops.
An important consideration was what tariff to set? We thought it wise to keep it reasonable and lower than most neighbouring areas. The other question was whether to go for a cashless system as it seems to be the way of the future or go for a more expensive cash alternative.
I am puzzled by the Angus retailer's poster campaign, as I cannot see how that will bring customers back to their shops. If I had a high street business, I would use my shop window to encourage the public to come in and benefit from shopping locally.
Cllr Bob Myles,
Former leader,
Angus Council.
Voters will have the last word
Sir, – The causes of the demise of the town centre since the 1960s has been well documented.
The rise in car usage and supermarkets with car parking opening off the main shopping streets was the start of the process of closures of local businesses. Charity shops then benefited from low or free rental of the empty properties.
Meanwhile, the increased use of online shopping further increased the pressure on locally-owned shops.
A wise policy to try to counter balance the impact of the supermarkets and encourage shoppers to shop locally was to offer free parking.
Angus Council is neither helping local shops, nor being very wise by imposing parking fees.
If this short-sighted policy results in the further loss of locally owned and run shops in the town centres of Angus we will know who is to blame and hopefully use the only recourse we have available to us – the vote.
Brian Batson,
Lour Road,
Forfar.
Political zombie faces more pain
Sir, – Theresa May has been humiliated yet again by the Eurocrats. The sight of her begging EU leaders to give her a bone to throw to get her EU "deal" through parliament was gut wrenching.
All throughout the Brexit withdrawal the Eurocrats have been unyielding. They would not even give May a cosmetic fig leaf.
After that she then faced an attempt to remove her from office by the craven ruthless Brexiteer oddballs. Even though she saw off the challenge; this too can only be described as a pyrrhic victory. She lumbers on in the knowledge that one third of her parliamentary party don't want her in position.
She has postponed the vote on the Brexit deal, hoping circumstances will change and she can save her skin. May is on borrowed time – a political zombie.
Jeremy Corbyn too seems to be competing with May for levels of incompetence.
He could have called a confidence vote which, even if May had won would have damaged her further. Instead Corbyn thinks he can change the country with dreams and talk.
The only "solution" will be for May to extend the withdrawal deadline. The Eurocrats will be amenable to this as it will simply put the UK in an even bigger hole.
The EU have sought from the start to make Brexit as painful as possible to deter others from leaving.
Alan Hinnrichs,
Gillespie Terrac,
Dundee.
This lady is for turning
Sir, – I am struck by the comment by Theresa May that she will not be leading the Conservatives into the next General Election.
However, I would take these comments with a pinch of salt. This is the same Theresa May who claimed categorically on numerous occasions that there would not be a snap General Election prior to her calling one in April 2017.
The same Theresa May also categorically claimed there would be a vote earlier this week on the withdrawal agreement, prior to it being pulled.
Ms May also noted that the withdrawal agreement was the only one on the table and the best that could be achieved. That was prior to her hawking herself around Europe's capitals to try to amend it.
Given Ms May's track record on u-turns, Conservative MPs and others should take her comments on standing down prior to the next General Election with more than a little scepticism.
Alex Orr,
Marchmont Road,
Edinburgh.
Method in May's manoeuvering
Sir, – Just supposing Remainer Theresa May is an incredibly shrewd, calculating politician who has formulated a spectacular plan to achieve what she believes is best for the UK.
She was aware from the moment the result of the EU referendum was announced that it was logical and logistical nonsense, and that withdrawal would become deeply unpopular, polarising so many opposite-facing people that there was no way, in a democracy, that it could be implemented.
And she recognised that in negotiations with the EU it held all the trump cards, so whatever the outcome the UK would be vastly worse off. But she went through the motions, as instructed by the referendum and Parliament while, at the same time, pursuing Plan May, which would recognise that the only way out of the impasse would be a second EU referendum which would inevitably have the opposite outcome from the first.
That second referendum now looks inevitable. This is why she has arranged a very well-timed legal ruling that the UK could say to the EU: "Actually, we've changed our minds. Business as usual from tomorrow, eh?"
Gordon Cook,
Gowanlea,
Friockheim.
This way to the Brexit exit
Sir, – The European Court of Justice has given us a way out of the impasse over Brexit. The Government should immediately revoke our Article 50 notice on the basis that the deal now available is entirely unacceptable.
We do not need a second referendum for that purpose. Parliament is perfectly entitled to say that there is no consensus either in the House or in the country at large as to how to effect our departure from the EU. We should also announce that the 2016 referendum result will be honoured at a future date when circumstances permit us to obtain a more favourable exit. We then resume full membership and await events.
Rev Dr John Cameron,
Howard Place,
St Andrews.
Heaping turmoil on crisis
Sir, – Nicola Sturgeon says the "UK faces chaos and crisis" due to the divisions over Brexit. Her answer of course is to offer us her own nationalist brand of turmoil and divisiveness by seeking to break-up the UK.
Despite the demonstrable difficulties in seeking to extract ourselves from the EU, a union we have been a member of for just over 40 years, she proposes we walk away from the UK that we have been a part of for over 300 years.
In the light of the Brexit negotiations, surely only the most die-hard of nationalists would now believe the SNP's 2014 claims that leaving the UK would be easy and result in all our problems being magically solved.
Keith Howell,
White Moss,
West Linton.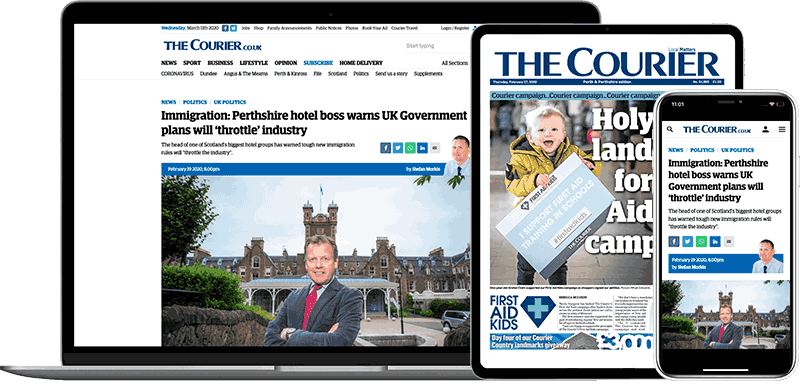 Help support quality local journalism … become a digital subscriber to The Courier
For as little as £5.99 a month you can access all of our content, including Premium articles.
Subscribe