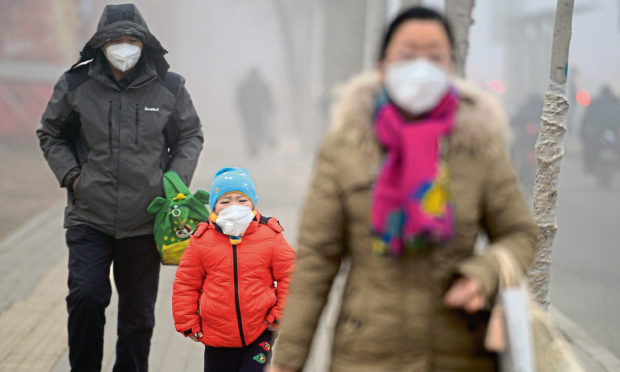 Sir, – I have no doubt that Gordon Pay is sincere in his views about climate change (Courier Letters, December 21).
However, it would appear that the rest of the world is simply not listening.
Ten rivers in Africa and Asia are responsible for an incredible 90% of all plastic waste in the seas.
Wind turbines are manufactured by using fossil fuels, the base needs 1,000 tons of concrete and the manufacture of the cement and steel used creates thousands of tons of CO2 and the rare metals cause environmental and health problems in China.
Meanwhile, there are 341,000 turbines in the world.
Mr Pay says that the IPCC was established in 1988 which is correct.
However, after – so far – 30 years and 24 years of climate conferences, except for a handful of countries, the Paris agreement is based on promises and not legally-binding climate change acts.
The promises made in Paris need to increase three fold to keep the global warming increase below 2C and no country has as yet signed up.
In the meantime China is forging ahead with new projects in both coal and gas.
These will dwarf any emission reductions the west can realistically achieve.
It is worth issuing a reminder – Scotland is responsible for 0.13 per cent (UK 1.3) of global emissions while India and China (at 36%) will grow their rate of emissions until after 2030.
Clark Cross,
138 Springfield Road,
Linlithgow.
UK must not be bullied by EU
Sir, – Many very brave Irish people fought and died to gain their independence from Britain and they finally got what they wanted in 1922 when the Irish Free State (which many years later renamed itself "Ireland") was formalised.
However, Irish independence comes at a cost and part of that cost is, after Brexit, people living in – or visiting – the Republic of Ireland (ROI) should have absolutely no right whatsoever to just enter or leave the UK any time they please and as often as they please without having to face any kind of border checks.
Fact is citizens of ROI voted to become a member of the EU – they did so of their own free will and, therefore, the ROI should be treated by the UK in the same way as any other EU state after Brexit.
In other words there absolutely has to be a hard border between Northern Ireland (which is part of the UK) and ROI after Brexit, whether ROI and the EU likes it or not.
I know that millions of people have travelled freely without interruption between the north and south of Ireland for many years – but Brexit is a game changer and Irish people can no longer have it both ways; they cannot realistically expect to be independent from the UK but still be able to enter and leave the UK as often as they please without any border checks – and vice-versa.
That is tough luck on those who work in the north and live in the south of Ireland – and vice-versa; they may have to look for more local employment after Brexit.
So be it.
Seems to me the UK Government is desperately trying to negotiate an honourable exit from the EU but the Irish Government and Jean-Claude Juncker are trying their utmost to blackmail and bully our sovereign state into accepting a deal that seeks to hold the UK to ransom.
They are very clearly – and shamelessly – trying to extort money from the UK.
Meanwhile, many UK politicians are trying to force a second referendum so as to reverse the democratically obtained vote to leave the EU.
Personally I think Brexit should go ahead with no deal at all – as the UK should never allow ourselves to be blackmailed or bullied by any person or body.
I also think we should then have a general election called immediately after Brexit.
Kenneth Brannan,
42 Greenlee Drive,
Dundee.
Lack of credible alternative
Sir, – William Loneskie (Courier Letters, December 8) challenges my belief that the present Scottish administration is delivering, "good government".
He supports his argument by referencing the episode of BBC Scotland's "Disclosure" series which dealt with NHS waiting times.
As someone who has experienced long-term chronic pain, I sympathise wholeheartedly with the sufferers featured and wish them well.
However, the BBC's approach to this subject raises some questions.
At no time did it break down the figures on missed targets in order to evaluate the numerous reasons they were missed or what percentage of the total number this represented.
The SNP set ambitious targets, between 90% and 95%, which even when missed are the best in the UK.
The programme's use of harrowing cases mirrored Richard Leonard's approach at First Minister's Questions, where an individual is placed in the public gallery in order to condemn the SNP's management of what is a large and complex organisation.
We have more doctors and nurses per head of population than the rest of the UK, in spite of a budget eaten away by Westminster, the burden of Labour's PFI folly and funds directed towards mitigating harmful Tory policies.
I am unaware of which shade of unionism Mr Loneskie supports.
No matter, they are both cheeks of the same face.
Nonetheless, his complaints regarding Scots' current choice of government would be more credible if he proposed a replacement which would in his eyes, deliver, "good government".
Ken Clark,
c/o 15 Thorter Way,
Dundee.
Recruitment woe no surprise
Sir, – It comes as no surprise to learn that the British Army have failed, again, to meet their recruitment targets ("British Army recruitment problems", Courier, December 14).
They are lucky to recruit any person.
In the 1950/60s over 21,000 service personnel were used, without their permission, as human guinea pigs, during the experimentation with nuclear weapons.
The documents showing the true radiation levels are not released, documents requested are denied.
No apology has ever been given, they are denied legal aid (given to criminals and illegal immigrants), they are refused a cytogenetic blood test, even with the offer of payment.
The authorities used these men, without their permission, and cast them aside once the task was completed.
Now they are attempting to say that there was virtually no radiation present at the test sites.
Dave Whyte,
73 Blackcraigs,
Kirkcaldy.
Row is a storm in a teacup
Sir, – I do not understand what all the fuss is about regarding Jeremy Corbyn apparently mouthing the words "stupid woman" during Prime Minister's Questions.
If he had addressed a man as a "stupid man" would that have caused the same reaction from men?
It does make me wonder – are woman becoming too sensitive to criticism?
Michael Malone,
3 Panbride Place,
Carnoustie.
The forgotten victims
Sir, – I read recently that the Defence Secretary Gavin Williamson recently announced the name of a new frigate for the navy, and claimed that "Britain has always played a major role in terms of…bringing peace and stability right around the world".
And I thought, tell that to the poor "refugees" trying to cross the Mediterranean for sanctuary in Europe.
In the first half of this year, up to the end of June, it is estimated that more than 1,500 people, men, women, and children, have died attempting this most perilous crossing.
We hear very little about this now, but it is particularly relevant to the UK, because, according to the United Nations Refugee Agency, the highest proportion of refugees trying to get to Europe in 2018 were Syrian at 41%, followed by 20% Afghan, and 15% Iraqi.
A common factor in all of these countries is current, or fairly recent, UK military involvement, as there has been also in Libya.
I am sure that the people of these countries would not thank Mr Williamson, nor the UK, for their "peace and stability".
Les Mackay,
5 Carmichael Gardens,
Dundee.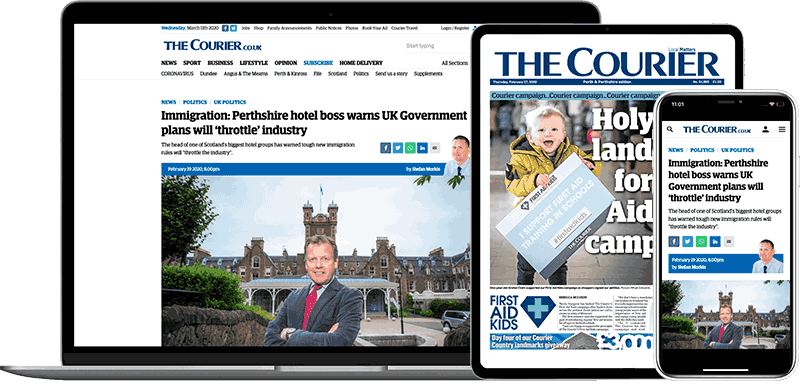 Help support quality local journalism … become a digital subscriber to The Courier
For as little as £5.99 a month you can access all of our content, including Premium articles.
Subscribe