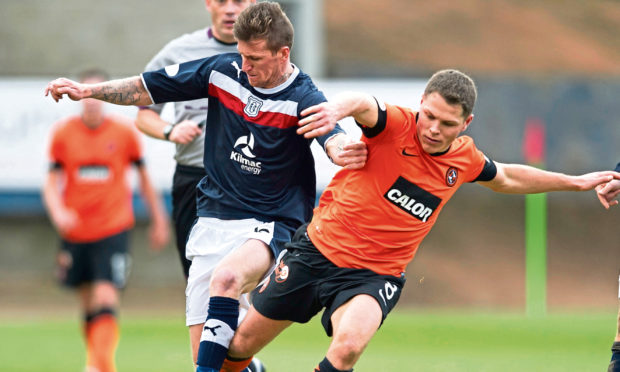 Sir, – At the beginning of 2019 there appear to be several similarities in the situations faced by Dundee and Dundee United.
Not only do they play within 200 yards of each other but both have recently appointed new managers and both are currently caught in mini leagues of three with Dundee trying to escape automatic relegation or the play-offs at the expense of St Mirren and Hamilton, whilst United are endeavouring to top the Championship at the expense of Ayr United and Ross County.
Furthermore, both now have American owners who doubtless seek adequate return on their investment.
It is obvious that this will never materialise given attendances of between five and six thousand.
To achieve the required return it would be necessary to either amalgamate the clubs and locate to a new purpose-built stadium with ancillary revenue streams attached, which might prove unpopular with a majority of both sets of supporters, or to ground share at a jointly owned new stadium with the aforementioned revenue streams.
It has been reported that the two American owners have no prior connection.
Regardless, it might make sense if they could consider all options in their shared quest to achieve a better return on their investments.
It would, at the same time, increase the chances of a local club or clubs being able to mount a realistic sustained challenge for a top six finish and European participation.
Bill Watson.
Seaton Estate,
Arbroath.
More than just the Fair City
Sir, – Perth, Perth, Perth.
I don't want to sound like a party pooper but reading about how much Perth will spend in 2019 ("With arts projects in offing, Perth will get groove back in 2019", Courier, December 31) has become as wearisome as looking at the ever-increasing number of large and empty decaying buildings in market towns, throughout the Perth and Kinross regional area.
While "the powers that be" intend squandering tens of millions of pounds from their windfall on extravagant and wasteful purchases within the Perth city limits, Perthshire residents who live outwith the Fair City are rightfully becoming resentful at their lack of inclusion in this massive spending spree.
Let's not celebrate Perth's progression in egotism until "Chambers" stop belittling the people from other Perthshire communities who, as always, will just have to make do until the next calling for austerity.
Andrew Brock.
1 Maxtone Terrace,
Gilmerton.
Cut out the middle-man
Sir, – Instead of spending £20,000 on exploring ways of helping the poor by farming Camperdown Park ("Proposal to grow produce in park to feed deprived families", Courier, January 2) why does the local council not just help the poor by giving them the money direct?
George Dobbie.
51 Airlie Street,
Alyth.
Insight is rather worrying
Sir, – At the end of four years of First World War commemorations, the service charity SSAFA conducted a survey among several thousand British citizens.
Half of those questioned thought that Winston Churchill was the wartime prime minister while 10% were pretty sure it was Margaret Thatcher.
One in five believed we fought the French and while most knew it was triggered by an assassination, 10% thought the victim was J F Kennedy.
Asked to name the war's biggest battle, 15% went for Pearl Harbour; 10% for Waterloo; 10% for Hastings; and 5% for Flodden.
These were typical of the folks we are assured understood the complexities of Brexit.
I wonder how many thought they were voting to leave the USSR?
Rev Dr John Cameron.
10 Howard Place,
St Andrews.
Tragedy must be remembered
Sir, – The people of the Western Isles are this new year marking the centenary of the loss of more than 200 men who were on board the ship the Iolaire, one of the UK's worst maritime disasters and one which had a devastating impact on the Western Isles.
To my shame, probably shared with many in Scotland, it is an incident I was not familiar with until relatively recently.
The loss of those returning home and who had survived the horrors of the First World War arose when the vessel hit the infamous "Beasts of Holm".
It came on top of the loss of a generation of young men from the Western Isles and was a disaster of unimaginable proportions.
By the time the war ended, an island of 29,000 people had sent 6,172 men to oceans and trenches where fully a fifth of them gave their young lives.
Despite being within reach of land, many on the Iolaire were wearing their uniforms including heavy boots, which made swimming from the wreck difficult — indeed many men of that time had never had the opportunity to learn to swim.
The anniversary of the tragedy is also a time to mark the heroics of many.
Those such as John Finlay Macleod from Ness on the Isle of Lewis who saved 40 lives, swimming ashore with a heaving line, along which many of the survivors made their way to safety.
This centenary marks a time to remember not only those who lost their lives on the Iolaire, but all those from communities across Scotland, whose voices often go unheard but who did so much, including paying the ultimate sacrifice, to give us the freedoms we enjoy today.
Alex Orr.
Flat 3,
2 Marchmont Road,
Edinburgh.
Not very cheery at the Bells
Sir, – I read with dismay and perhaps a degree of sadness that Alex Bell could end the year with the most depressing assessment of life in Scotland that I have read for a number of years ("My New Year's resolution), Courier, December 27).
His take on "wha's like us " was, in my opinion, a serious case of self-indulgence on his part verging on arrogance.
The use of this phrase to sum up the Scottish character was way off the mark and is a Scotland I do not recognise.
The majority of Scots do not view the world from the "wha's like us" perspective and when this phrase is quoted it is usually with tongue in cheek.
I see in the main, a welcoming, tolerant, caring, generous , outward looking, law abiding country with a social democratic government, desperately trying to make a difference for its citizens.
This is despite the difficulties of a dependent devolved country operating within a Westminster system which remains totally indifferent to its particular needs.
The use of the term "wha's like us" would be more appropriate in my opinion to other parts of the UK.
Of course the Scots are not perfect but I am sure our citizens know their weaknesses without being told by Mr Bell.
The eating habits of our nation are well known but suggesting we eat a diet "not fit for pigs" I consider to be in the sensationalist category.
There are many reasons for the Scottish diet and I fear a key one is economic.
The caricature of the drunken Scot is somewhat overdone by him, as Scotland tries to address the problem with its unit pricing and lower alcohol driving levels.
Finally I believe he really excels himself by suggesting that our new year's resolution 2019 "is to try to be less Scottish". How ridiculous a statement is this.
I would love to understand what he means.
His suggestion that we have to stop thinking "we are better than the English" and to shut up if we cannot justify it, should also be regarded at the very least misplaced with no foundation.
Dan Wood.
Charles Melvin Gdns,
Kirriemuir.
Bell claims have a ring of truth
Sir, – Alex Bell deserves respect for his transition from key SNP adviser to informed, objective observer of Scottish politics.
In doing so he has retained an honest belief in independence while pointing out glaring holes in the SNP arguments.
We've all been guilty at some point of his "wha's like us" topic this week.
It's just that the nationalists have become sad and embarrassing experts.
Allan Sutherland.
1 Willow Row,
Stonehaven.