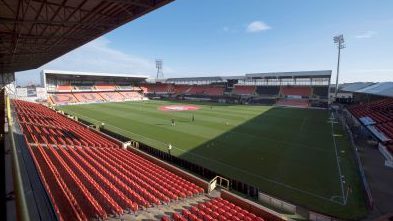 Sir, – It breaks my heart to write this but I feel I need to.
I have followed Dundee United since 1965 through thick and thin but this last four years have been torture.
I feel heartbroken for all the supporters.
Relegation was bad enough but most of us hoped we would have the quality to get back up to the top flight as soon as possible.
Sadly things at Tannadice just seem to get worse.
We have been turned over by the likes of Dumbarton Brechin with ease and as the years move on nothing improves – it just seems to be the same old story.
This season we have seen embarrassments against the likes of Arbroath and Alloa.
Meanwhile, there are no signs of any improvement.
The last manager (Csaba Laszlo) should have left last year and I am not sure the new man has made things any better.
Every time things seem to be improving, bang, it is back to the same old rubbish.
Every fan knows their team will lose games but it is how you lose them –we have been feeble in a league made up of part time players or those on a much lower wage than the United team.
To my mind we have players that think they are better but are failing to prove it.
They have an arrogance about them, thinking they are too good for the league they are in.
The manager says the team is improving but we are the laughing stock of the footballing world and will be lucky to ever get out of this league.
I am almost 70 and I just can't take any more of this.
I am not sure spending a pile of money on players again or taking in loanees will work either.
Maybe it is time to just pull the plug on the whole club and put us out of our misery or start again with juniors like Hearts did.
There can be no more excuses.
Gary G Kain,
38 Langton View,
East Calder.
Education in a sorry state
Sir, – The Scottish Government joke factory appears to get better and better.
Obviously the latest one comes from the illustrious department headed by John Swinney.
If it were not so serious, I would be laughing my socks off.
Instead, they show themselves to be even more ineptly delusional, by joking that in excess of 44,000 school children, speaking 158 different languages in Scotland, with hardly any ability in the English language, are being satisfactorily taught, by an ever-decreasing quantity of teaching staff, to an ever increasing pupil population.
I really would like to laugh.
Sadly, however, it is too serious for that.
In fact it is no less than yet another denial of a failure to take account of further impending problems.
Geoff Bray,
Heather Croft,
Letham.
Bad deal likely to be only deal
Sir, – I constantly hear from Brexiteers about "crashing out" of the EU on "WTO terms" but sadly in the brave new world of Trump and Xi Jinping the World Trade Organisation itself is under pressure as never before.
In addition, our goods schedules already face formal objections from almost every one of our potential trade partners.
As for supplementing WTO with third country trade deals, we lack both the expertise and economic clout, and everyone knows we are desperate for a deal.
In contrast, EU trade negotiators are the best there.
The fact is leaving their complex network of trade treaties to go it alone with ex-GP Liam Fox in charge is total lunacy.
Rev Dr John Cameron,
10 Howard Place,
St Andrews.
Response was wonderful
Sir, – Too often publicity is given to the short comings of NHS Tayside.
Seldom is the excellent service properly recognised, particularly the part played by the committed staff, when they are not with their families, while serving our community so professionally through all the challenges they face.
On Hogmanay, when the thoughts of so many of us were turning to celebrating the incoming year, our family had to dial 999 for medical assistance for a life-threatening condition.
Within minutes of the call a paramedic arrived followed shortly by an ambulance diverted from returning to its base in Blairgowrie.
The professionalism and patience, of the medical team ensured our eight-year-old niece recovered from an acute seizure calmly, and very satisfactorily, without the need for hospitalisation.
As advised by the paramedic, we took our niece to PRI for a check-up as a precautionary measure.
We cannot praise the NHS support enough.
While not an event we would wish to repeat, we certainly had cause to remember, and celebrate with thanks, the excellent NHS service on Hogmanay 2018.
David MacLehose,
Beech Grove,
Dundee Road,
Perth.
Comparison is deeply flawed
Sir, – I read the recent comments made by the Very Rev Dr John Chalmers with great interest.
However, his description of Robert Burns as "the Jesus of his day" is surely far beyond any stretch of the imagination ("Burns 'the Jesus of his day': Rev", Courier, December 31).
There is absolutely no doubt that Robert Burns possessed a poetic genius.
However, it is worth nothing that such gifts are God given.
As such God will call to account how such gifting is used.
It is true that Burns observed and exposed that which is false in religion.
However, it is here the similarity with Jesus must end.
Firstly, of course, Jesus' life was spotless and blameless.
Secondly he always pointed people to a solution, in order to escape their particular shortcoming.
He taught the gospel of truth, to show everyone the right way.
In addition, Jesus always had the grace to forgive those who turned their lives toward God, and this included the religious leaders of the day.
May 2019 be a year where many find hope in Jesus' message.
Wishing all Courier readers a very happy new year.
Stuart Wishart,
12 Walnut Grove,
Blairgowrie.