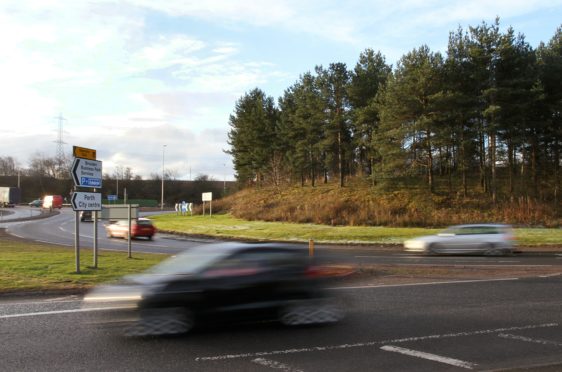 Madam, – Although your headline (Perth could lead the way with energy park, Courier, January 19) might sound exciting, a note of prudent caution must be struck before such ambitious plans can be approved.
Plans for a five-acre energy park to install solar power, biomass and dynamic heat pump technologies designed "to power thousands of local properties" require critical evaluation of the power likely to be generated before taxpayers' money or land could be safely, usefully allocated.
Solar power may be a useful adjunct in electricity generation in some properties.
Vast fields of solar panels, installed in sunnier countries than Scotland, have, in practice, been of only token practicality in power production and, ultimately, useless in combating climate changes.
Biomass-based generation, which actually worsens greenhouse gas release, is, like wind turbines, a "broken reed," with heavy environmental costs to the world's forests.
The appeal of the whole concept of a low-carbon UK economy is rather negated given our negligible proportionate contribution, 1.3%, to global greenhouse gas output.
Subsidies are the real ongoing attraction for continued installation of these "renewable" means of power generation.
The costs are met by electricity bill payers.
Our money for this is, essentially, wasted, for no really tangible benefits.
The promoters' proposal of "dynamic heat-pump" technology, whether depending on air or geothermal sources of dubious efficacy in cold climates, demands very careful, detailed evaluation by experts in electricity generation and commercial applications.
In summary, before the potential "Trojan Horse" of these energy park proposals can be welcomed and funded, rigorous, independent evaluations, using due diligence, are essential in scientific and commercial terms.
That remains to be done.
Dr Charles Wardrop,
111 Viewlands Rd West,
Perth.
Time to fit in second EU vote
Madam, – It was striking to note that according to Downing Street it will take more than a year to organise another EU referendum.
This is of course an attempt to undermine the call by the People's Vote campaign for such a plebiscite and is total and utter nonsense
It would be perfectly possible to organise a referendum to take place in much shorter order, without trampling on constitutional and practical requirements.
Indeed, the first EU referendum was called in February 2016 and the vote itself took place a mere four months later.
The referendum to establish the Scottish Parliament was held in September 1997 following the election of the Labour Party in May that year, again four months.
Further afield Greece's referendum to decide whether that nation should accept the bailout in the government-debt crisis was announced on June 27 2015, with the referendum taking place on July 5.
The idea that another EU referendum would take more than a year to organise is patent drivel.
Alex Orr,
2 Marchmont Road,
Edinburgh.
More than a paper exercise
Madam, – We had a general election in 2016 where the Conservatives promised to have a referendum on EU membership.
Other parties agreed to honour the result and the British electorate made the decision to leave the EU.
Most people probably imagined that it would be an administrative exercise largely undertaken by civil servants working away in the background with their European counterparts to make bureaucratic adjustments for the new arrangements, while our politicians got on with the daily task of running the nation.
How wrong we were.
What we are now witnessing is a vicious, divisive, political melee where ideology rules and the decision of the electorate is for some politicians an inconvenience at best and for others something that should be ignored or overturned.
Adding to this toxic situation with an enthusiasm born out of her own obsession with independence, First Minister Nicola Sturgeon has deployed all her energies and focus to use Brexit as a means to break up Britain for no social, economic, strategic or political advantage whatsoever.
Her support for a 'People's vote' on the Brexit deal and a second independence referendum will be met with a collective sigh from a weary electorate.
As Robert Louis Stevenson wrote "Politics is perhaps the only profession for which no preparation is thought necessary" and judging by our politician's efforts at this time, they appear to fit Stevenson's prescient description of them exceedingly well.
Iain G Richmond,
Guildy House,
Monikie.
Not the time to bet the farm
Madam, – We have arrived at an interesting situation where some senior SNP members are pushing for another referendum, as are many rank and file supporters, while others warn against rushing in where angels fear to tread.
Where experienced politicians such as Alex Neil, Kenny MacAskill, Pete Wishart, Jim Sillars, and Salmond's former adviser, Alex Bell, caution against precipitate action, others including Angus MacNeill and Alex Salmond are urging another attempt at betting the farm.
Last time, in 2014, they bet the farm on a false prospectus.
This time, they are betting it on no prospectus at all, with the Growth Commission report effectively binned.
This time, we are being urged to support the separatist cause simply on emotion and sentiment – as well as on false promises of nirvana.
Yet how can a referendum be held in Scotland at a time when various inquiries have been launched that have the potential to tear the SNP asunder? Do the pro-referendum people not understand that, in this context, revelations may be made which bring discredit on their movement.
Jill Stephenson,
Glenlockhart Valley,
Edinburgh
Jouking about in a car is no joke
Madam, – A few years ago, my friend, who is now 93, was involved in a collision similar to the one involving the Duke of Edinburgh.
He was not charged with any offence, but we both agreed he should not have "jouked" out like that from a side road.
The Concise Scots Dictionary gives as one meaning of jouk to dodge in and out.
It also refers the reader to the word "deuk"!
James Thomson,
15 Lorne Crescent,
Monifieth.
Driving forth a different agenda
Madam, – I think the nation owes Prince Philip a debt of gratitude for single-handedly changing the news agenda away from its tedious obsession with Brexit.
Rev Dr John Cameron,
10 Howard Place,
St Andrews.
Upper age limit for driving
Madam, – As there is an age when one can drive on the road should there not be an age when driving should stop, say 70?
I have always thought there should be an age limit.
Roy R M McIntosh,
50 Victoria Road,
Falkirk.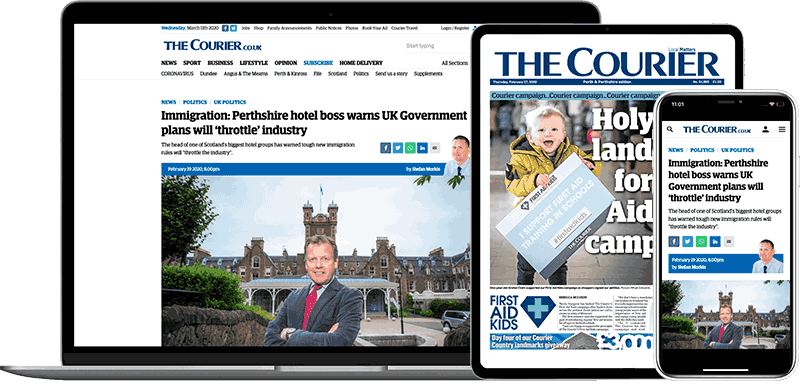 Help support quality local journalism … become a digital subscriber to The Courier
For as little as £5.99 a month you can access all of our content, including Premium articles.
Subscribe